Legends of the Pipe March Madness
This month, Get Piped is hosting an epic March Madness-style Pipe Smoking bracket contest called, "Legends of the Pipe." Where the men and women of the pipe community cast their votes on who they think should be titled "Ultimate Legend of the Pipe." The bracket will feature some of the most famous pipe smokers from both history and fantasy! But there can only be ONE Ultimate Legend!
The voting will be held on the Get Piped Instagram channel from now until the second week of March, but the results will be revealed weekly from each of the rounds on the Get Piped Podcast, every Thursday 0400 EST!
This also serves as a massive contest! Anyone may decide to fill out their own prediction bracket and submit it to Get Piped through either Instagram of e-mail; for a chance to win some awesome Get Piped merch, pipe accessories, and a new pipe! Winner will be selected based on the "perfect" or most "perfect" prediction!
The Ultimate Legend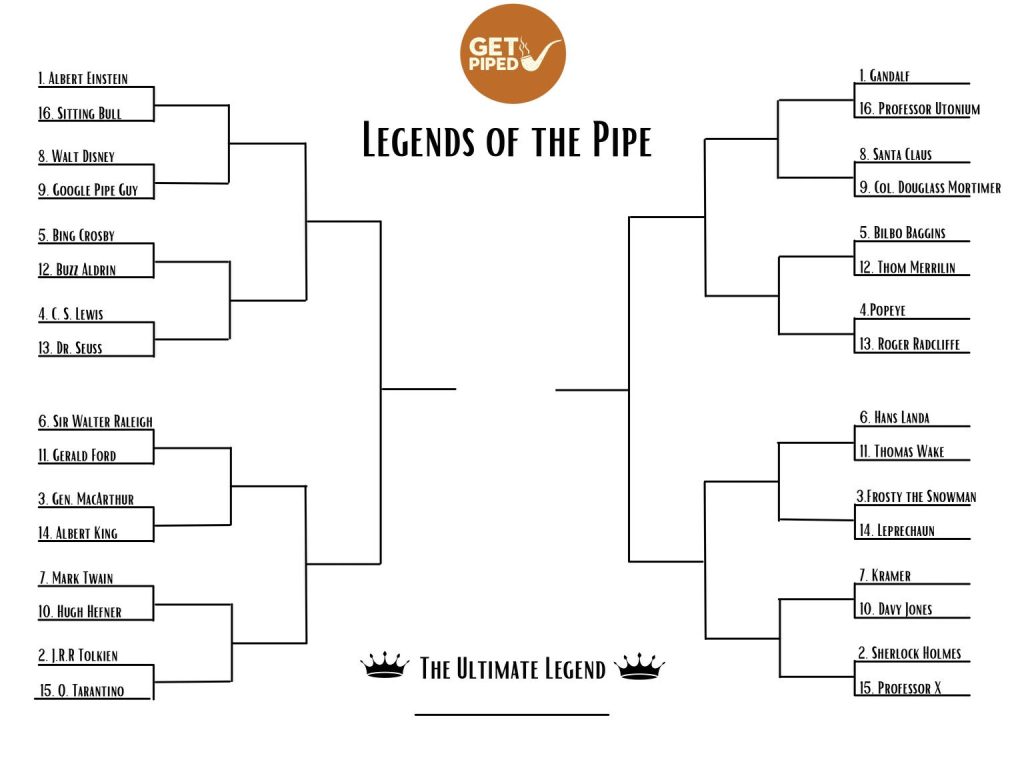 I know this bracket is a tiny bit blurry, at least it is to me. Maybe young eyes will have no problems. I've blown it up as big as I can on this page. It should be enough to get you started. I wanted to put it into a pdf so you could easily download and fill it out, but that looks even worse. I'll try to get you a good copy in the next day or so. If not, I'm sure it's good enough to work with.
Scanning the bracket, it looked pretty easy to me, until I got into about that third round. A few of those are pretty tough. I'm really anxious to see what people's picks are. Without a doubt some great material for live shows.
Speaking of Get Piped, their podcast has turned into a permanent fixture on Thursdays. Be sure to add them to your feed.
Asikyan Pipes
Yesterday I got my new Asikyan pipe in. If you would like to see it, go back to The Blob on the 24th. The photo I used is of my newest pipe. I wanted to get something different from the first one I got, which I showed way back on Jan. 16th. I really love that first one. It has become one of only three that I keep near me. I don't want to overdo it, but it is well used. This second one I wanted to mostly have a backup, and to expand it into something other than a single pipe. Not exactly a collection, but at least a set.
When I got it, there was no doubt I was floored. I have some very nice pipes that really fit me well. I've even had a bunch made that came out great. This wasn't a custom pipe, but I've never felt that a pipe has been made just for me like this one. I don't think I could have planned it this perfect. It was just luck I guess, since even though I picked it out, it really didn't matter which one I got, I even suggested another one. It didn't matter.
Fate
On paper it might have been a little bigger than I'm used to, and the bend is also more than I usually go for. Don't have very many bent pipes as I prefer straight pipes. Even after all that, I don't think there has ever been a more perfect pipe for me. My eyes got huge and I stopped what I was doing when I was baptizing it and was sitting in my Briar Report chair. My elbow was on the armrest holding the pipe and everything lined up perfect. It fits in my hand like no other pipe, and the length and bend are precise.
It seems like a bespoke pipe, that I just happened to get in. I need to take exact measurements of it for my next commission. The thing is, I'll bet nobody would be able to match it perfectly. It has to be fate.
No Sales Pitch
This is not hype. Asikyan pipes don't need it. Mr. & Mrs. Nish have uncovered Levon Asikyan and his pipes and introduced them to the world. And done a great job at it, by the way. They hold their own now and are at the point where the opposite is true. He can't make enough to keep up with the demand.
What did I tell you about the Briar Blues stock of Asikyan pipes? I told you last week when they were going to drop. You even knew about it here a day before the Insiders did. I told you to get ready since when they got a hold of them it would be like Piranhas on a chicken carcass. I was right. He might have one left, I'm not sure.
Now there are some on The Avid Piper's Instagram page. At least I think there are some. I wouldn't be surprised if there were only a few of those left. Although that page doesn't get as much traffic as the Briar Blues site, so you might be in luck if you wanted one.
Supply & Demand
If you got one of these in first few rounds, you are probably more lucky than you know. When people couldn't even pronounce Asikyan, they were a little hesitant. I remember Mike saying how the prices were too low for what you got. I whole-heartedly agreed with him. Now they can't even get them in as fast as people want them.
You know what that does to prices. Not that it's a bad thing, but it will be something you will have to take into consideration. The quality is right up there with pipes much more expensive, it's just the quantity that is the problem. One guy just can't meet that demand. I think if it's something you would really like to get one day, it has to be something you plan for.
It's not going to be a pipe you buy on a whim. What you need to do is keep your radar up for when they will be coming in. While I might not be able to give you exact dates, I might be able to keep you somewhat informed. Joining Briar Blues Insiders is a good step, and even then Mike will usually give you a little heads up as well.
I don't know what Nish's plans are in the future. I doubt he ever thought he would be the U.S. agent for a pipe company for more than a year, but for the time being, he's the best source there is.
Too Much Time On My Hands
OK, I'm going on too long. I was just so excited about my new pipe. I wish you all could have one so perfect.