Who I Would Like To Visit
Yesterday was such a busy day. Getting the newsletter out was a little harder than usual. I had posted the new puzzle for the month which I hope you'll give a try. It's a real good one. But I had put up the wrong file. Had to pull it back and correct it. Of course, the newsletter had the wrong description. Too late now. Throw in Easter shopping, camping out at the pharmacy and 16 hrs of work, it made for a manic day.
Maybe I should take a cue from Chad and sit back and watch a little golf.
One of the things I was getting ready yesterday was an article by Mr. Adam GP Floyd. I'm assuming the GP stands for Get Piped, of which he is the host. He wrote an article just for the Briar Report. Couldn't tell you how happy I was. When I first started reading the draft he mentions Pokey men. I've heard of them but have no idea who they are. Those kids.
But I guess they can be extremely popular and collectable. Just like other things I know. It ended up being a lot of wisdom in the article. Almost like he was speaking to me personally.
Speaking of which, I got another order in at The Pipe Nook for the other Pheonix pipe I wanted before they were all gone.
Who To Visit
On the Briar Blues live show the other day, Mike had an interesting question. He wanted to know, if you went to Italy, which pipe carver would you like to meet? He wasn't talking about any of the big pipe houses where they have many carvers, he was talking about small artisan shops. OK, I'll take a crack at it. I'd love to meet Mario Pascucci.
Pascucci Pipes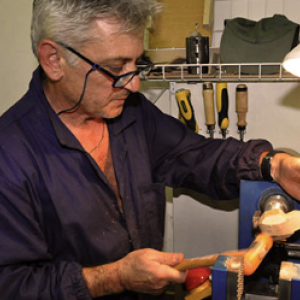 Mario Pascucci is from Pesaro Italy. It's a smallish sized city by American standards. It's almost directly east of Florence but all the way on the east coast. The City of Music. It's know for being a place for artisans and the like. Perfect for Signore Pascucci.
The reason I picked him was because he's not a really big name when it comes to pipe carvers but he's well established and most pipe guys that are worth their salt know about him. He has a long standing reputation as a first class pipe carver.
I wouldn't say he has a niche following but I'm sure he has a core group of collectors. He's small enough that those collectors enjoy a little bit of exclusivity. I kind of like that. Not a lot of people collecting Pascucci pipes, but popular enough so that people know about them. That's right in my sweet spot.
His designs are classic but have enough uniqueness about them that they stand out. For example you can see fairly big, chunky pipes with a plateau top and also very slim Canadian shapes that have shanks so delicate you would be afraid to be rough with.
From what I've read about Mario, he worked at the Mastro De Paja factory for 30 years before starting his own shop. He is the kind of guy that wants to hand select every single block of briar himself.
I sort of follow the guy. You can find his pipes in a few places. Iwan Ries & Co. always have a few. Pipe Tart carries his pipes. I don't think Smokingpipes carries Pascucci pipes, but you can find estates there every so often.
Anyway, that's the guy I'd pick.
I'll just order a couple more pipes, then pretend I saw Adam's article for the first time.