Anything happen while I was gone? I heard there was some kind of Pipe Show or something going on in Las Vegas. Sounds like I really missed a good time. From the shots I saw of the smoking lounge, it looks like there were a ton of people I would have liked to have met, and I'm sure they had a lot to share. The multimedia area was also a great idea and the only show I've seen so far was the one from Steph & Skip Cain.
Now that I'm getting back on my normal schedule, I hope to go back and see what some other people put out from the show.
Flat Cap On The Scene
Flat Cap Piper & Lady Fire were getting out the most timely and comprehensive videos from the show, at least that I could see. Including a complete tour of the convention floor. I'm sure there will be much more coming out in the coming days from others, but they are always quick to show you what goes on during these conventions.
My intentions are to go through their videos and talk about some of the events and vendors that they highlighted. It would be too much to put together at once, but if I took them one or two at a time and brought you more than just a two minute portion of the video, readers might get much more out of it. I saw some things there that really surprised me and I'm sure the attendees did as well.
Being the first time Mr. Levine hosted the Las Vegas International Pipe Show, it looks from here that he did an outstanding job. I'm going to be talking to some people coming up and share with you their thoughts, but for now I think it's safe to say to Mr. Levine, well done, Sir.
Long Way From The Back Steps
Mr Yardism was on the floor of the show and shared a nice walk around. Being the master of the cliff-hanger, you have to wait until the very end to catch an elbow shot. There is also a spot in his video where the Flat Cap Piper & Lady Fires video crosses, almost like some wrinkle in the Matrix.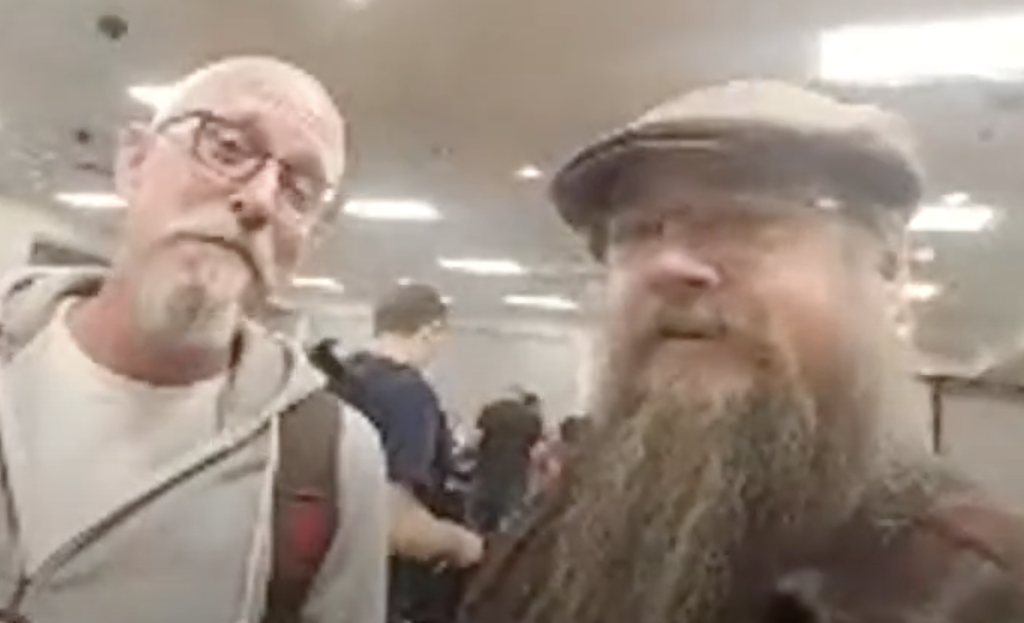 During his video I thought I saw a price tag on a tin of the Dunhill DeLuxe Navy Rolls at $50. Did I see that correctly? If that's true I'm sitting on thousands and thousands of dollars worth of the stuff. Planning ahead, it's the one thing I'm semi-good at. Not that I would ever sell it, but I'm never going to have to result to gas station tobacco and can enjoy my pipe for the rest of my life smoking what I like. Let that be a bit of advice to all you out there.
As mentioned before, I plan on highlighting some of the vendors that were at the show. Since Chad seemed to be impressed with one of them in particular let's start there.
Murf Sculptured Pipes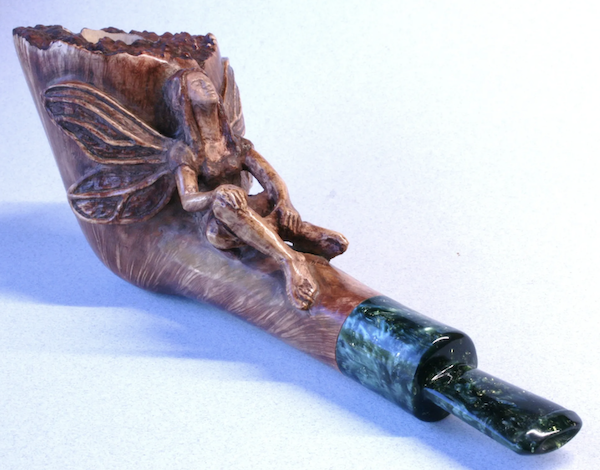 These unique and unorthodox hand crafted artistic smoking pipes for the Pipe Connoisseur.
Carved by Murf who has been creating original pipe designs since the 1973 He was the Grand Prize Winner of the Tinderbox National Pipe Carving Contest in 1983. His website includes a complete biography that is as interesting to read as any you are going to come across.
Murf doesn't consider himself as a pipe maker but a hobbist. But he's much more than that. An artist would be more accurate. He prides himself on drifting away from the usual pipe designs and creating true art. The pipes are distinct and unusual.
He does produce simple smokers but also sophisticated Ornamentation, Creatures of Whimsy, Mermaids, themed pipes like Halloween, Heel Art Gems and Ceanothus which are very unusual.
The pipes look like they have not only a lot of thought put into them, but a lot of time as well. The intricate designs are the perfect accompaniment for a long pipe smoke. It would be difficult to look through his catalog and not find a pipe that you would love. Murf is in a very elite group of carvers that are making one of a kind pipes that are no less than amazing.
Here are a few examples of his work.
Just click on an image to read more about each pipe.
That's all the time I have today. The Blobs are not back to a normal schedule, but should be shortly. The Newsletters will pick back up this coming week. Anything you have for me to pass along, now would be the time to start sending it in. editor@briarreport.com