Time To Look Back On Pipe Smoking Videos
Don't know if you caught the article that went out yesterday, the one about the new content creators. If not, you can take a minute to read it after you get done getting Blobbed.
Now that's some fresh content right  there. Right up to the minute pipe smoking news and information. The very  definition of fresh. I don't think even one other pipe and cigar smoking news source is manning the wire like we do around here. I know, I know, it's a grueling job, but we are happy to do it for you. Because if we don't, who will?
Time To Catch Up
There will be no Popping The Tin episode this afternoon, so now is a good time to go back and catch any you might  have missed. Do you know how many episodes there are to date? 57, that's how many. Just like that hot sauce. Or is it Steak Sauce? They have a review for everyone.
For instance, I'll bet Mr. Stokkebye's favorite episode is when they did Erik Stokkebye's 4th Generation. I wonder if he took any of their suggestions to heart. I wonder if he even watched. Or is reading this.
When you  do a little "look back" on some of these older shows it's might not be obvious, but in this case the Flat Cap Piper channel has doubled his subscription base since that aired. Another thousand people have joined in, and the new people might not have seen that video the first time around.
Great Content On File
Not just Flat Cap, but many other channels are in that same boat. When you subscribe to someone, do you glance at some of their videos that they have already made? Briar Blues is an excellent example of that. So many really  informative videos, especially  for someone new to pipe smoking. I often see videos and think that this same thing was covered a couple of years ago, but it starts to get lost or fade into history. What a shame, so many  wonderful videos that have been made over the years
When I discover something new, I like to go back and see if they have an introduction video and go from there. Pick out a couple older videos and then some newer ones. See how they have developed their channels. It can be quite interesting.
Buckeye Piper mentioned something similar last night when he did a VR to a Matches video. What a great idea, doing VRs to videos, no matter when they first came out. Adding your thoughts to a past video can make for very interesting content.
---
Pulvers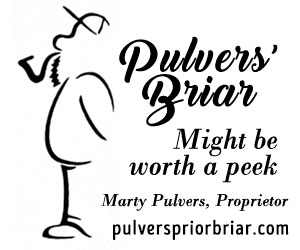 Today's sponsor is Pulvers' Briars. I'm sure you read all about it in yesterday's newsletter. I can't say enough good things about Pulvers'. Back in the day, as Smartibob likes to say, I was first attracted to the Pulvers' website because of the blog he puts up on the homepage. He's written some of the best, funniest, strangest, informative, off-the-wall stuff of anyone in the community. You  never know what you're going to get.
Then of course, you naturally want to see some of the pipes that are available on the website. I've seen pipes there that I've never seen anywhere else. Sometimes I like to just browse, I highly recommend you do the same. You might be amazed what pops up from time to time.
Might be worth a peek is what he says, and it's certainly true.
Mail Call
Thank you for all the kind notes I've gotten over the past couple of days. I mention that there is always a few times a year that this happens. Its usually when all the stars line up. Newsletter coming out, a particular news story and maybe something I said. When that happens I get a lot more emails than normal.
They are almost all very nice and it certainly makes my week. I try to reply to all of them, but sometimes they get lost in the spam or other places. Especially when you reply to the newsletter (actually hit reply on the newsletter). I get those, but not always timely.
Not really a lot of new stuff today. Monday's are always rough and by the time Tuesday rolls around I wish it were Friday. I have a feeling most people are thinking the same thing.
I need to take some time off and go camping behind the shed. Maybe get one of those fancy hammocks and cook me up some campfire grub.