While recording the latest Popping the Tin Video on "We Three Kings", I reminisced on one of my favorite childhood traditions. In Spain and all over Latin America, we celebrate Three Kings Day on January 6th. This is done in commemoration of The Feast of the Epiphany.
The Bible talks about the wisemen or magi that came bearing gifts for baby Jesus. In the Three Kings Day Tradition, the three Kings are given names Melchior, Gaspar, and Balthasar. Children believe that these 3 kings bring them gifts on Jan 6th if they have been good all year.
As a sign of welcome to the kings, the children fill shoeboxes with grass/hay and leave water for the camels that they will be riding. I remember preparing my shoebox full of grass to then find only a few pieces of grass all over the house in the morning and getting excited that the camels ate the grass. This tradition in my native country of Puerto Rico was greater than (and preceded) the Santa Claus tradition, and we used to get better gifts on Three Kings Day.
Unfortunately, it has now been lost with the new generation and only a few still keep the tradition going. I want to wish Happy Three Kings Day to all those that still celebrate this day!

–Flat Cap Piper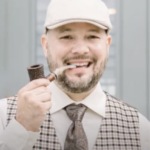 Flat Cap Piper from the YouTube channel of the same name co-hosts Popping The Tin along with Lady Fire.