The More The Merrier In YouTube Live Shows
A couple of the YTPC channels have been experimenting with bring people into the shows live. Flat Cap Piper has been doing dry runs all week and plans on bringing up to six people into the Saturday Sports Talk Live Show. Hope it works out, but you know how it is with new technology. Over A Pipe Live is a little further along on the learning curve in that department, and even he is still having some growing pains.
All this just keeps making things better and better. More interactive, more people becoming part of the show. It's all just amazing to me. I will stick in a word of warning here and I hope people don't take it the wrong way. Don't become obsessed. I take a ton of grief from people because I feel it's important to say things that are unpopular since most people won't. Either that or they don't see a problem in the first place.
Grown men playing video games is one of them. Another is being obsessed with things. It always comes at a cost. I don't happen to follow sports because as I got older I thought it was odd that a grown man would hero-worship 23 year olds. Especially when it was because they could catch a ball or something like that. Not that I don't like sports, but it just wasn't for me.
Exception
Now if you have kids and they are interested, there are fewer things that are better which you can share. In those cases it's great. So here's the warning, if you are getting up and your entire day or your whole weekend is consumed with "the big game" or every tiny aspect of a sport, you might want to step back and do a little self evaluation.
Don't take it wrong, just saying.
And I'm not picking on sports fans. You can become obsessed with anything, even pipe smoking. Don't let things that are unimportant take away from things that are important.
See, now I said that after talking about Flat Cap Piper's Sports show and you'll think I'm talking about those guys. I'm not. It was just that it made me think of it. Nothing wrong with enjoying, in this case football, and sharing it with your friends. It's actually a healthy way to participate. I'm talking about the guy who parks his rear end in his chair and stares at the tube all day long.
Give Me Liberty
I was alerted to the new Seattle Pipe Club blend Give Me Liberty from Mr. Matthew Tremblay of Picking and Piping. He caught it on Facebook. The description was from SPC's post.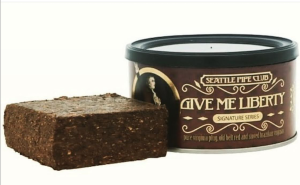 "Give Me Liberty" was Patrick Henry's famous 1775
call for Independence. And Joe Lankford's latest
tribute to our way of life and fine tobaccos.
The second Signature Series release after Hogshead
Pure Aged Virginia plug, Old Belt red and stoved
Virginias.
This special blend is predominantly Old Belt Red Virginia's from North Carolina combined with some lightly stoved Virginia from Brazil. Old Belt is the nation's oldest tobacco market. The tobaccos are aged and pressed into an easy to use plug. The result is a beautiful mahogany colored Virginia for a smooth and zesty all day smoke.
Here is a link to it from Boswell's.
The Professor
Professor Walker of WPC has some pipes available. Some of his own and an estate. His prices are so good there really is no obstacle in getting one. When I was checking out his latest pipe that he has, I noticed he really stepped up his game finishing the pipes. Even Mr. J. Mouton said the same thing, and that's some high praise. If nothing else, go watch the video to see what I mean. Especially look into that clean line into the uncoated bowl.
Maybe I'd better get more WPC pipes while they are still cheap!
Simon
As long as I've linked to WPC, may as well link to LCS just to be fair. He has a couple new pipes, this time a nice pair. But what's interesting is he is going to be selling pipe 599 which is an absolute beauty. An apple with oval shank and a carbon fiber stem. One of his best pipes, although he said he might make it a 3 star. Either way it does look like a fantastic pipe. It's going to be hard to find one with better grain.