The Fourth Bird is Eccentric
Be There or Be Square
This afternoon at 4 pm Eastern the Live Premiere of Popping The Tin with the esteemed Flat Cap Piper and his wonderful co-host Lady Fire will air. If you see one person waiting in the chat, that's me, I'm already there. Not much action at two in the morning, but by show time things will pick up, I'm sure.
This episode they are reviewing Eccentric, the fourth blend in the Birds of a Feather series. Put together by Sutliff, the signature series is blended by Mr. Per Georg Jensen. It's worth reading up on the series before watching the show this afternoon if you're not familiar with it.
I don't recall them tackling any of the blends in this line before, so I'm anxious to see what happens. Eccentric has Katerini Perique as well as Red Virginias and Orientals, plus some other components. I've been meaning to give these a try, and this one really sounds appealing.
Just checked the price on everyone's favorite online pipe tobacco retailer and it's now at $13.76 a tin (1/17/23). Just in case, you might want to consult TurboTin before you place an order.
A Happy Mistake
As I mentioned in the newsletter yesterday, I've cleaned up the rolls on the Pipe Maker & Restorer section of the News website. Much better, if I do say so myself. I had asked that if I omitted anyone, to please let me know. I've yet to get to the retailer's list, which is next, but I've been told that I've forgotten about one Happy Pipe retailer, The Happy Piper.
I've corrected my mistake and am overwhelmed at how long that list has become. I clicked on a few and they were all good, but I still need to go through and see if there is any dead wood.
As usual when something like this happens, I end up spending time on the new website poking around. The Happy Piper has a ton of stuff in stock. The selection of Zippos alone is fantastic. Might be my new go-to source for those.
I'm not even going to start naming all the lines of pipes they carry, but it's a lot. I also learned yesterday that they are in the process of building a brick and mortar location in Janesville, Wisconsin which will feature the largest walk-in humidor in Southern Wisconsin. Now, that's something we really need to find out more about.
I'll round up some news on the subject and pass it along. Sounds like my kind of place. In the meantime, head over and check out The Happy Piper website.
Cigars 2 Days In A Row
The Pipe Professor put out a post reviewing the Montecristo Espada Guard. It is a fine looking cigar and I've never had a bad Montecristo. It's a stick that made it to the Cigar Aficionado's Top 25 list in 2015 so you would expect it to be up there as far as taste goes. The professor was not blown away, although he liked it. With a price that's getting up there, you might want to read the review before you throw a box in your shopping cart. Just to be sure.
Let's Go Camping, Or Not
Mr. Robert L- of enasdad and the new Robert Leslie YouTube channels has challenged me to expand my horizons. On the first episode of Let's Go Camping with Robert, he not only pitched a tent in record time, but also cooked a gourmet dinner "in the wild". At least as gourmet as one can get wrapped in tin foil. I'm happy to see he had at least enough survival instinct to bring with him Marsala wine, although that might still seem like he's roughing it to some. A better choice would have been a Sauvignon blanc, but I guess you can't be choosy "deep" in the wilderness.
As far as Mr. Leslie's challenge. I will go so far as to smoke Boswell's Northwoods in front of my fireplace. My dinner will not be encased in aluminum.
---
Might Be Worth A Peek
Before I mentioned a retailer that stocks new pipes, but if Estates Pipes are your thing (hand raised) then Pulvers' Briars is where you're going to want to go.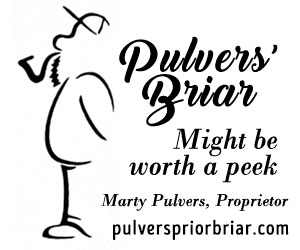 I'm going to give you a little "Inside Baseball" when it comes to Pulvers' Briars, it may seem funny or quirky, but it's actually a great piece of information. Mr. Marty Pulvers, proprietor and man of the world, works at his own pace. He's not what one thinks of when you think of someone running a business. Most places when they get new inventory in they are snapping photos, inspecting inventory, posting items, scrambling around to keep things moving. In and out, it's how you make a buck.
Not Mr. Pulvers. He doesn't care about stuff like that. He's got a ton of pipes and when he feels like it, he takes some pictures and puts them up. Might do some today, might do a bunch next week, you never know. When you talk about someone who marches to the beat of their own drum, that guy has a pipe in his mouth and his name is Marty.
Here's why that information is gold, his prices are just stupid low. I can't even believe what he sells some of those gems for. I see one and fall out of my chair and it almost always says the same thing, *Sold*.
The one thing you have to be if you want a deal on that site is ready. He's slow, but you have to be fast. When those pipes go up, if you're not one of the first to see it, you're going to miss out. Don't get me wrong, he always has a lot of pipes available, and you're sure to find something for a good price, but I'm talking about those really hard to find pipes or the ones he lets go for what really is a steal.
You have to check often, and one day you'll be so happy you did.

---