The Best Pipe Reamer, Tested By Briar Report
A pipe reamer is one of the most important tools a pipe smoker can own, but it is the most under utilized. I'll come right out and say it, the best pipe reamer is the Phillip Rivara design, hands down. The reason I am stating that right off the bat is because of the pipe roll I mentioned yesterday. I'll talk more about that tomorrow. 
There are so many styles of pipe reamers, and I have tried just about all of them. The Senior Pipe Reamer is really good, and was my main reamer for a long time. I would highly recommend that reamer for sure. I used that until Mike from Briar Blues recommended using the clam knife that Smokingpipes sells.
That was a big change for me because it forced me to change the way I ream the pipe. That reamer is best used in a reverse grip and made the job of cleaning pipes easier. Not of a single pipe but when you sat down cleaning multiple pipes. I used to be like so many others and let the pipes pile up for the week, or even month and do them all at once. 
Using The Clam Knife Pipe Reamer
At the time Mike was cleaning Estate Pipes for sale, so I imagine him having to clean and refurbish many, many at once. In those cases the ease of that clam knife really speeds up the process. The end of the knife is bent just enough that it gets the bottom of the bowl very nicely. And at under $20, the price of it is low enough that there's no reason anyone wouldn't get one just to try.
Not a fan of the Brigham reamer. It seems like it would work well, and it does an OK job, but it always left something to be desired. It was better than using a pocket knife, but not by much. the problem with a pocket knife is the tip of the knife. Most people's pocket knives have a point to the tip that you should never put in your pipe.
It doesn't take much for that tip to dig into the briar. You get good results on the sides, but tear up the bottom of the bowl. Even using something as nonaggressive as a sheepsfoot blade still isn't good for a pipe bowl. 
Phil Rivara Designed Pipe Reamer

The design of the Phillip Rivara Reamer is the best of all of those pipe reamers. It's as easy to use as the clam knife, but built about a million times better. It also has the best radius at the tip of the tool, which comes into contact with the bottom of the bowl. It allows you to get contact at the bottom equal to that of what you get along the sides of the bowl. 
I don't think you can really appreciate the design until you actually hold one in your hand. As soon as you do, you'll know what I'm talking about.
This last feature is completely psychological, but it's a valid. It's beautiful. When it comes to tools, function should be number one for sure, and I agree with that. But when you have something that is really nice to look at you tend to not want to stick it in a box, or toss it in a drawer. You leave it out to look at.
When something is sitting out on your desk or work space, you are more likely to use it. You won't let pipes start to accumulate until you have to ream a dozen of them, you do it right then, when it needs it. 
Big Advantage
The advantages of that are huge. Not only did I get that advice from Mike about the Smokingpipes reamer, but the best advice was about taking care of your pipes. I'm probably not going to be able to find the video, but he had a whole process of what to do after you smoked a pipe. My normal routine was to run a pipe cleaner through it and leave it there until I wanted to smoke it again. Then one day you would notice the cake has really built up so you put it with the ones to clean.
Mike's recommendation was to clean it right then. Not a deep cleaning, but to tend to the rim, look at the cake, etc. When you do it that way, the amount of work is almost zero. He also said to keep the cake down to almost nothing. The nickel thick cake rule of thumb is what I was using. I took all my pipes down to dime thickness or maybe even a little thinner. Just enough to give me a solid layer around the entire bowl.
That was great advice. My pipes are all in much better shape than they were. The amount of work I do to maintain them is probably lower than it was before. And the pipes actually smoke better. At least more consistent.
Having that beautiful Phillip Rivara Reamer on my desk (where at least 75% of my pipe smoking occurs) makes it easy to follow that strategy. I leave it out because it looks so nice and it takes almost no work to grab it and touch up the bowl if it needs it. 
Conclusion
Of course, the best reamer is the one you're going to actually use. If you already own one and don't use it, you are doing yourself a big disservice. If you are looking to buy the best one out there, the one I would choose is the Phillip Rivara Pipe Reamer. It has everything you could ever want. Perfect design, solid construction, and joy to look at.
---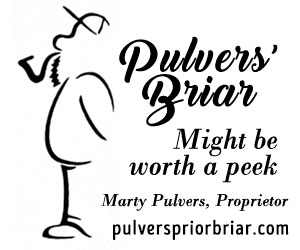 ---
ArmChair Piper's Anniversary
Enough about reamers. I wanted to mention it because I was thinking about them last night. It's an under appreciated tool, which can totally change the state of your pipe collection. Which to be honest can be quite an investment for some of us.
Not much new going around the YouTube Pipe Community. Today Ed the Armchair Piper is going to make the announcement that we scooped yesterday. His Anniversary Give Away is going to kick off today.
You should watch his video, no link yet, but here is a recap of what he has going on. Taken from the newsletter yesterday;
This is Ed The Armchair Piper's 3rd anniversary as a YTPC presenter and he's holding a Give Away to celebrate. We got a little inside information on the Give Away that will be announced on his channel tomorrow.
He is giving away 4 Savinelli Roma Lucite Pipes from the Pipe Nook to 4 different winners. The give away is open to all.
For the first pipe, just say "I'm in" in the comments of the video that is coming out tomorrow to be entered.
For the second pipe, do a VR by telling "what is the YTPC" and comment with "VR" and your link in the comments to be entered.
The third pipe, is open to anyone that has had a GAW, hosted a charity auction or donated to a charity auction since March 31st. 2022 to be entered. just say "GAW in the comments and tell a little about the event to be entered in this contest.
The final pipe contest will be a combination of all entries. One entry each for "I'm in" and "GAW" and Five entries for each "VR". (Yes, the VRs are heavily weighted).
Rules:
Must be subscribed to The Armchair Piper Channel.
No one can win more than once.
Ed will pay for shipping, but the winner will be responsible for any additional taxes or fees.
You know the other rules.
GAW will end March 30th at midnight EST. Pipes chosen are subject to stock on hand at The Pipe Nook. Drawing will be held March 31st, Ed's 3rd anniversary as a YTPC presenter.
I think I'll go watch the HolySmokeNPipePadre's latest video then see what's going on over on the forums. Should be a great pipe smoking day.