Take On This Month's Pipe Puzzle
August Pipe Puzzle
This month's Pipe Puzzle is out. Matthew sent it over to me this past week which surprised me since he's been so busy lately. He's recovered from surgery which is nice but I wasn't expecting anything this month, so it was a nice surprise. I know many of you imagine him spending his time chasing kids around, yelling at them, getting bit by the dog, stuff like that. I have a feeling he hides in the basement with an order of wings from Bobby's and listens to the Goo Goo Dolls.
Flat Cap & Lady Fire
Flat Cap Piper & Lady Fire spent some time in Niagara Falls. Not far from the above mentioned Puzzle Master. They posted an amazing video of their trip. Standing just feet away from where David Copperfield defied death almost going over The Falls himself. Just amazing! Flat Cap defied death himself going into downtown Niagara Falls which is most foolhardy.
If given the choice of going downtown (19th street or lower) or actually going over The Falls in a wooden whiskey barrel, I'd have to give it a lot of thought.
Flat Cap and Lady Fire also stopped by Smoker's Haven in West Seneca (much, much safer) on their trip to Western New York. I've always said that they have some of the best prices on hand carved pipes. Buying tobacco there is tough because NYS is messed up, but Smoker's Haven has an excellent selection of pipes, many made right there.
Smoker's Haven
For over a dozen years my Brian Kalnitz billiard was my Number 1. I've probably smoked that pipe more than any other single pipe. Currently an Asikyan is my Number 1, but I will always have a soft spot for that Kalnitz. Still smoke it about once or twice a week, it's like my oldest friend.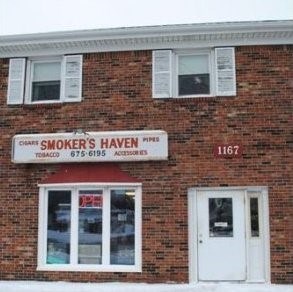 They have been there quite awhile, and its become a fixture, but I still can't help thinking about their original place on Main Street in Buffalo. It's been so long ago that I might be fuzzy on the details. I can still see the storefront in my mind although I don't remember the shop much. I like the new place (new in my mind, not theirs) and it's worth the trip for me even though it's over an hour away.
Every time I go, they are always busy. The kind of busy where they are moving big boxes around and running up the stairs. If you walk in with a pipe for a little clean up, Mr. Kalnitz will snatch it out of your hand and fire up the buffing wheel before you blink. It's sort of funny.
In his video, Flat Cap shows the Brian's Blend. It is pretty good. If I lived closer I might get a lot more of it, but because I only go a couple times a year, I don't get much of it. If I'm going to have to order online there are other blends I opt for. But I can see why people like it so much. Now that I'm writing this, I want some. Maybe I'll have to shoot up there and get some. Stupid NYS taxes, I put a curse on Albany.
West Coast Pipe Show Update
Will people always refer to it as The West Coast Pipe Show, even by accident? I'm trying to get into the habit of calling it the Las Vegas International Pipe Show, but my brain says West Coast. I know all the work they are putting into it to make it their own and want to make sure I do everything I can to get on board, but my brain is too slow. I'm sure in a year or two I'll have to think back to when they called it The West Coast Show. It helps if I say "Vegas – Baby" out loud whenever I think about it.
If you are even remotely interested in this event, watch the latest Briar Blues video on the subject. It's not a lot of new information as it is updated information. He's got a list of the YTPC people going to the show and it's at something like thirty people. I feel a little bad not going because as I look down the list, I want to meet every single one of them. There are some on the list I'd love to spend all day with, just chatting and smoking a pipe.
Then when I look at the vendors, I'd wonder when I'd have time to talk to people. There are some of those booths I'd hang around all day until they kicked me out. I wonder if Jason Mouton would let me sit with him behind the table so I can hear all the questions people ask him? That would make my trip, that's for sure.
Smokingpipes would probably be calling security on me to escort me out. They would pretend like they never heard of Briar Report.