Starting A Pipe Tobacco Journal This Year
One of the videos that really caught my eye the past week was from Mr. Blake MDCCCXXIXIXIIXXI who discussed pipe tobacco tasting and journaling. Something everyone seems to want to do, but never really get around to. I have to admit I'm just as guilty as anyone.
In the video he linked to some resources which I checked out and they were fantastic. Just the kind of thing that would make sticking to the goal of logging your tasting notes a breeze. One that I'm sure to use was from Mr Fred Hanna. I can't believe I've never seen this before. I'm so grateful to Mr. Hanna and to Blake for calling my attention to it.
My plan will be to get it in the proper size to be able to use an old planner binder which I can repurpose for just this application. I can't wait. There are more resources available, but I'm not going to link to them there. Not fair to Blake who spent the time rounding them up and making the video. You should really go over there and get them yourself. Say hi to him while you're there and give him a sub.
---
Briar Blues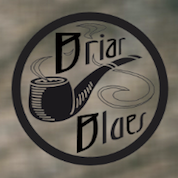 Today's Blob is sponsored by Briar Blues. The website for the discriminating pipe smoker. What I mean by that is if you want to take an existing collection and start to upgrade, Briar Blues is the perfect place to start. Castello, Radice, Asikyan, Ser Jacopo, and others. From Italy to Denmark to the U.S. of A. He's got you covered.
This past week Briar Blues held a drawing that was underwritten by Mr. Nish, The Avid Piper and importer of Asikyan pipes. If you had purchased an Asikyan pipe during 2022 your name was entered and were eligible in the drawing. Such a nice thing to do and I'm sure the winners will cherish their new Asikyan pipes just as much, or more, than the one they bought in the first place. In fact, I can guarantee it.
Since we are talking about Briar Blues, Armchair Ed talked about the Stanwell he got from Briar Blues on his Stanwell Pipe Madness video. His collection is insane. I mean that in a good way. Now that's a well loved collection. I'd like to think I treat my pipes well, and most I do, but some are tossed in a drawer or two. Ed always has a way of making me feel guilty. Maybe the trick is to treat all your pipes as if they were your favorite pipe. Huh! There might be a lot of wisdom in that.
---
Pokers
Old Man Things released a nice video about Poker Pipes. Don't have many pokers, maybe only a couple, now that I think about it. But after watching that video all I wanted to do was smoke a poker. Mike made a fantastic video about his Erik Nørding poker. Sweet pipe. I love the finish on those pipes and he has a great example of one. I'm sure that pipe will get a lot of use in its lifetime. Just like a good pipe should.
It's strange how people are effected by what they see. When it comes to will power, I have exactly the same amount as everyone else, it's just that mine is completely bifurcated. If we're talking about work, almost nothing can get me off track. I have a plan and I don't care what anyone else does, I'm moving forward. You can't shake me.
But when it comes to pipes and pipe tobacco, that's another story. I have used up all my will power on everything else. After seeing Mike smoke his new poker, I want to smoke one of mine. It's like when see Chad smoking his Asikyan pipe, I want to smoke one of my Asikyan pipes. When I see The Spurgeon Piper smoking Molto Dolce . . . well, lets not get carried away here.
The Pinnacle of Pipe Smoking Newsletters
The pipe smoking world's fastest growing newsletter is coming out today. If you're not subscribed, take a second and sign up. If you are subscribed you will be getting your copy later this afternoon.
And check out the latest news. Today we saw a pipe with Honest Abe's face on it that is in a museum collection. It was found at the location of a Union campsite at Folly Beach.