Snapshot – Christie's American Heritage
This is the inaugural edition of what hopefully will become the world famous Briar Report Snapshot. 

A Snapshot is where the staff of the Briar Report gets together and chooses something that we think would make for a great review. It could be anything. It might not even be something we think is good. We then go deep into our pool of volunteer reviewers and pick someone who we think would be the best match for that item.

The very first item we selected to review was a pipe tobacco blend from Christie's House of Pipes & Cigars located in Waynesboro, Pennsylvania, the blend is American Heritage. They describe the blend on their own site as follows:
This is a uniquely blend of toasted Cavendish, golden Burley and Virginia, it's a light aromatic that's more to the tradition of a natural tobacco flavor that is very smooth and pleasing.

From Christie's website
Introduction

We were first introduced to American Heritage by Mr. Randy Tuggle on Twitter. He had done his own review of the blend on Tobaccoreviews.com which you can read here. 

The blend was selected and the next step was to match it up with a reviewer. We thought it would be best to begin with a professional reviewer. someone with a critical palate and knew how to translate that into a review. Not only that, but because this was going to be the first one, every thing this reviewer does would be precedence setting. We needed the George Washington of pipe tobacco reviewers. 

We selected Donald who runs the review website Voodoo Review, which you can find at https://pipescigarsreviews.wordpress.com

A sample package of American Heritage was quickly dispatched and the first Snapshot was away. Voodoo Review  was given one month to see what he thought and to submit his findings. 

The Results
Donald From Voodoo Review
First of all, Thank You to Phil of Briar Report for making this happen through the Snap Shot program. It is an excellent opportunity for the pipe smoking community to get new blends, materials, and ideas. I hope it continues.
Secondly I want to thank the people of Christie's. I hope ya'll get to read this. If all I ever get to go by is the smell of the box, then I am a fan. http://www.christiepipes.com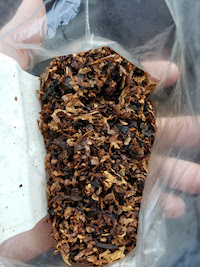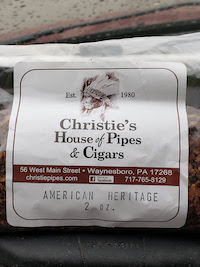 OK, on to the Review. So we all know what I am doing, I have made sure to not look at other reviews of this blend, I also am trying to go in blind. No description was viewed so I can't be biased one way or another on the blend. I am going to use 4 pipes. Meerschaum, Clay, "The Ugly Briar", and a Cob.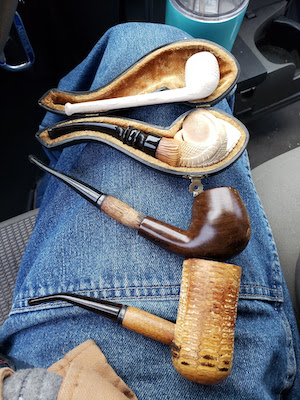 4 materials and 4 different bowl sizes. I am very rigid in my method. I do every review the same except for the order of pipes. Ok enough about me and what I do. Let's smoke.
First, the Bag/Tin note. American Heritage has a certain sweetness. I have tried for a solid week but still can't place it. Similar to Honey, but not strong enough to say for certain. The Box it was shipped in has the smell of fine tobacco. I almost shredded the box so I could smoke it. +1 point.
The blend is dry enough you can skip the drying process. +1 point.
Ribbon cut is great to view. Still in the bag it looks great. +1 point.
First couple of puffs and that Honey has switched to a Caramel. It's not over the top, I will say it is very well done. +1 point.
Let's talk about the smoke, it is THICK and white. And shocking, I just had a small taste of apple. +2 points.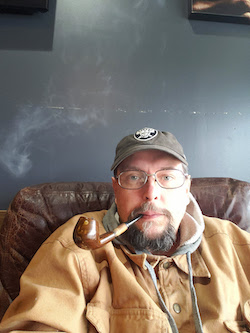 Impressive burn time of 25 minutes in the Meerschaum now let's try the Clay.
Easy to light, a smooth finish and primarily a straight Tobacco taste with hints of Honey, Caramel, and Apple. I have not owned this Clay pipe long enough to have a Ghost. 35 minutes to finish the Clay. What I taste is purely my opinion. But what about the ash?
Very clean burn with almost zero waste. +1point.
The salt and pepper color and the powder texture proves it. You will get your money's worth in this blend. Now on to the Cob so we can fine tune the size of the optimal bowl. With the lack of tongue bite I can already say this is a blend for everyone and an all day smoke.+2points.
I personally would like a little more strength but will say this is a medium. (No points given or removed)
No new flavors detected. We have the Good, the Bad, so now The Ugly.
Ok, let's look for anything that is not a positive. It is safe to say I really like the blend. My only issue is I think I like it too much. I'm not sure if you should purchase less than a pound. Because of a lack of strength you could easily smoke 6 bowls a day. +1point
Ok on to the points and the Binary.
10 points out of 10 it really is that good. But in the Binary, a 1 no reservations. If you are not breaking the budget for American Heritage then send some to a friend until you are. I can't believe you will be disappointed unless you are an Aromatic only smoker, even then I'm fairly certain you will still enjoy it.
As always,
Long Lives, Big Bowls, and Long Ashes.


What a great review. Exactly what we were hoping for. One funny thing I'd like to add. When we were discussing the publication details,  Don said that one thing about the blend which he did not include in the review, but stood out to him, was how little tamping was needed to keep the blend lit. What's funny is that is exactly what I had told Mr. Tuggle. Once I got it lit, I don't recall even having to relight it. It burned as close to perfect as I have ever seen. 

If you are interested in getting this blend, you need to contact Christie's by telephone at  717-765-8129   or use their contact page. The blend can be found on their website, along with their pricing. If you did not know they have free shipping on all orders over $75.
 
For the record Christie's did not sponsor this review, they are not advertisers on the Briar Report or Voodoo Review and no compensation or quid pro quo has taken place. 

If you would like to be part of the pool of people from whom we choose to send a Snapshot, please submit your name and email address to editor@briarreport.com You can read more about the Snapshot program on a previous article. 
Now that the first Snapshot is done, we will have to select the next item at our upcoming Saturday Staff Meeting. What will we choose?
Thank you to Donald at Voodoo Review. Be sure to check out his website and you can follow him on Twitter. He also has a brand new YouTube channel that you're going to want to subscribe to.
Until next time.
Briar Report Staff