Smoke Rings Around The World – 2022
Today is the day, the day we've all been waiting for. Smoke Rings Around The World, 2022 edition. If my calculations are correct, this is the second annual SRATW. By now I think everyone knows what's going on.
Everyone is encouraged to do smoke rings today (one week before Hobbit Day). No prize, no challenge, just for fun and just the thought that Smoke Rings will be smoked around the world today.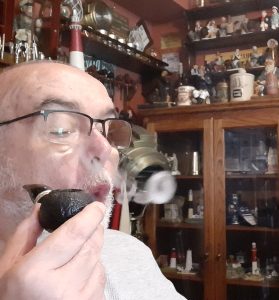 Martin from Over A Pipe will be doing a special show tonight on Over A Pipe Live at 9:15 Eastern, so be on the lookout. Tune in this evening to see who Martin has for guests.
Ed The Armchair Piper will be blowing the Ceremonial First Ring.
If this is a normal Thursday, Donald Hughes should be doing a tailgate. I'm not positive of the time, or if he will do one, so check in to see. Nine O'Clock is starting to get pretty late for me, so I'll need the boost to make sure I roll into Martin's show ready to go.
All in all it should be a fun day. Of course, it's what you make of it. If you're so inclined it would be nice to see some people showing off their smoke rings, and if you're not so inclined (like me) then hope to see you at the live event tonight.
Give Away Announced
Sonny The Piper announced his give away. It's set up on 100 subscriber milestone increments. The prizes will be Morgan Bones Pipes and tins of tobacco. He has a quick explanation here.
Speaking of Sonny, I was tipped off to his channel by Mr. SloMo Randy, who just so happened to shout out another smaller YTPC Channel. This time it was A Couple of Pipe Dreams. Been around for about a month, here is a link to his introduction video.
Happiness
About once a month I fill my tobacco jar. I have many tins open that I get tobacco out of during the month, but the big tobacco jar is the one that sits on my desk and use the most. Holds 8 oz of tobacco and keeps it fresh. When it gets low I think to myself that it didn't seem all that long ago when I filled it, but it's been a month already.
When I fill it up, there are very few better feelings in the world. Taking the first bowl out of it is such a treat. Don't know what it is about doing that, but I love it. Probably should hate it since it's a metaphor for my life passing by, but there's just something about a full tobacco jar that makes me feel so good.
Time for some Smoke Rings.