Send Us Your Suggestions For Pipe Smoking Content Creators
Pipe Smoking Community
First week of the new year is wrapping up. That sure went fast, hope the whole year isn't like that. With the new year comes a new quarter and we are already preparing the next round of New Pipe Smoking Content Creators. That's not new creators that smoke pipes, although they most likely do. Its people who produce content for the pipe smoking community.
As before we are looking for your input. In the maidan article of the series we not only introduced you to presenters selected by seasoned content hunters, but from readers like you as well. We didn't have an overwhelming amount of submissions, but a good amount.
Just keep in mind that I'm extending this invitation to everyone. What usually happens is people say after the fact, "why didn't you include [this] guy?" I can't possibly list everyone. I don't even know them all myself. I rely on most of these guys who are passing along names just like everyone else does. The time for surfing around looking at new things is non-existent for me.
So if you think a particular presenter should be included in an article which features new creators, speak up. Now's your chance.
On Deck
The next edition of the New Presenters series will come out in a few weeks, so be on the lookout for that.
Also, if you have a good name for the series, I'd love to hear it. Can't settle on anything really good. Keep in mind that the article doesn't have to be just new YouTube presenters, but anyone creating pipe smoking content. Bloggers, Instagrammers, Twittererers, anything.
Over A Pipe
I promised to remind you when the next Let 'er Rip Friday show was going to air. Big surprise, it's tonight, Friday. His guests tonight will be 70s music sensation Kiki Dee and wildlife expert Jack Hanna.
---
Pulvers' Briars
Today's Blob sponsor is the pipe expert and entrepreneur, Mr. M. Pulvers, of Pulvers' Prior Briar . I'm pretty sure he has the best prices on estate pipes. Can't say that as a guarantee, but trust me, I spend way more time looking at pipes than most people. I'm so easily distracted and end up looking around for way longer than I intended.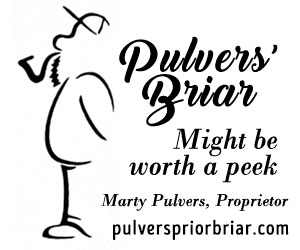 Unlike buying from an unknown seller on some of the auction sites, when you buy from Pulvers' you know exactly the source. Mr. Pulvers is so knowledgeable when it comes to pipes (and a lot of other subjects as well) you can be assured you are not going to be taken for any shady deals. He knows exactly what he's talking about and he loves to share that information.
Head over to Pulvers', read The Mill, then take a peek around and see what's available. While you're there, notice some of the prices on the sold pipes. You are going to kick yourself for missing out. Someone was smart enough to jump on a deal, and good for them. But it gives you a good idea of how quick pipes get bought up on that site. 
---
Going Into The Weekend
Today marks the last day of the Christmas Season. From here we go from holiday to rainy winter. Not something that is appealing. But it gives us the chance to catch up from the festivities. Probably haven't broken any New Year's resolutions yet, since it's only been a few days. Those will be broken next week. I'll be spending some time this week mapping out my pipe tobacco pantry and my strategy for the upcoming year.
If you're like me, you are thinking the first order of business is to clear out those half empty tins. Make your way through them and get them out of the way. Some got forgotten about and stowed and some pushed aside because they really didn't meet expectations. Either way, would hate for them to go to waste. Not going to open any new tins until the decks are clear.
I know what you're thinking, "you say that every year." I do, and I'm pretty good at sticking to it. Don't know if you think of such things, but I do.
Hope to see you on some of the live shows tonight. If I can stay awake that long I may join you. In the meantime, or over the weekend, check out the latest Pipe Smoking News and Information. Or as I like to say, my bread and butter.