Selling A Pipe Collection
If you are thinking about selling a pipe or a collection of pipes you have many options. The more you know about the pipes the better off you will be. If you have inherited the pipes you may not have that information and be in a position where you don't know what to do with them. This article hopes to walk you through the basics.
You may just be looking to give the pipes a good home and are not concerned about trying to sell them. Then again you may care nothing for them and want to get the best price you can. Either way is much better than just throwing them out. Especially if you have some nice pipes, they would certainly be much better of in the hands of someone who would really appreciate having them, whether they receive them as a gift or buy them.
Figure out what you have and what your options are. Decide on the best way to find them new homes. Sometimes it can be hard, particularly if you have just lost someone. There is no rush, when you feel it is time. Sit down and go through what you have and make your decisions then.
If you are the Pipe Smoker and you have a valuable collection that you want to liquidate, you should consider doing it when you can handle it yourself. Being in a position where you know exactly what you have and it's value it will be much easier. If not, and you want to keep it but know it will be sold when you are gone, you should leave detailed information for your Estate.
Keep in mind, the people behind will have no idea to what you have or its value. What would be simple to you, could be a burden to someone else. If your intentions are to give the pipes to someone specific or a group like a club, let someone who will be responsible for your estate know.
Just Getting Rid of Some Pipes
When not dealing with someone else's collection who has passed but your own pipes, it makes it much easier. You may just want to get rid of some pipes or to trade some. Regardless, you still want to get the best price for them. Go through some of these options and it might give you some good ideas.
Liquidating Your Estate Pipes – What You Need To Know.
Why are you selling your pipes? The answer might determine how you sell them. If you're looking to upgrade, making a deal with an Estate Pipe Dealer might be your best option. Following the wishes of a passed family member might mean giving them to the Pipe Club that they were a member of. It might also mean giving them to a loved one or family friend.
Two Year Test.
Often is the case where you look at your pipe rack and think to yourself "why do I have so many pipes?". Of course, you may have gotten that question from someone else. In some cases it is a good question. Why do you have the number of pipes you do could be because you have put together a good collection that you don't want to split up. Or it could be because you like to buy pipes. If the latter is the case, do you actually smoke them or are they gathering dust? A good rule of thumb is to ask yourself, have I smoked this particular pipe in the last two years? If the answer is no, then why do you have it? It may be in your best interest to find it a new home.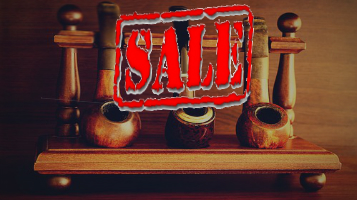 Another, more sad reason is that you have inherited some pipes because the owner passed away. They are no value to you except for the sentimental value. Some people may choose to keep a well used or prized pipe as a remembrance of its owner. Possibly giving them to a family member who smokes a pipe to remember them by, is a great idea. Besides the one or two you may put aside, if you are now the owner of a pipe collection you may be wondering if it's worth anything or just junk. It would be a good idea to eventually take some time and go through what you have. It may well be worth selling them.
Identification Is Key.
How to identify what you have.
A really good article was written by David of the Gentleman's Corner. The article eBay Tips & Strategies is a guide to buying pipes on eBay, but there is a lot of good information in there that crosses over well into this subject. When buying a pipe you should do as much research as possible, the same goes for selling a pipe. If you don't know what you have how can you expect to determine a fair price for it? You may even get ripped off and won't even know.
David gives some good advice that is worth reading. Here is a link to his eBay article.
[D]o your research. This will save you from getting ripped off, and help you to find treasures you weren't expecting.

David from Gentleman's Corner
Resources
Pipedia.org
Pipedia.org is a fantastic resource. You can search by pipe brands and pipe makers. You can also search by material and construction. Researching a pipe can sometimes be like going down a rabbit hole. The more information you start out with the better. Pay particular attention to not only the manufacturer but also the shape of the pipe, the size. Look for any markings including hallmarks and anything else stamped on the pipe. These marks can tell you what year it was made and the model of the pipe.
If you know nothing about pipes be aware that even the finish of the pipe is important. Note if the pipe has a smooth finish or if it's rough. If it's rough it may be what's called "sandblasted" or it may be "rusticated". One finish, sandblast, uses a process where an abrasive is shot at the wood using a jet of air. The other, rustication, is basically carved using a knife or other tool to make an interesting texture.
As far as the size and exact shape, most manufacturers provide a chart that you can compare to. Once you have determined exactly who made the pipe, look online for the specific chart you need.
When it comes to "one of a kind" pipes, you really need the expertise of a pro. It is so hard for an inexperienced person to put an accurate and fair price on items like this. In most cases you can get into the right ballpark on your own, but when you have little or nothing to compare it with, it can be tough to know for sure what you have.
Pipephil.eu
Another great tool is Pipephil.eu. David said about this website "This website has almost every Pipe maker, Pipe maker's mark and hallmark that you can think of. They also have examples of all of the different mark variations used throughout the years."
Condition
Not only do you have to know about the pedigree of the pipe, you should be able to determine what condition it is in. Looking for obvious defects or flaws. Teeth marks or burn-out areas are things to look for.
When you know what you have and what condition it is in, you finally need to decide what it is you want out of the sale. Giving them away or getting top dollar is going to result in two different paths.
Decide whether or not you want to restore any of the pipes. It might be more work than you want to get into, but if the cost of restoration is minimal to the value of the pipe, it might be worth it. Talk to an expert and get their opinion.
Again, on our website we have a list of Pipe Restorers. Don't hesitate to use resources that are available to you.
DIY
Cleaning them yourself is a great idea no matter what, as long as you don't go overboard and you generally know what you are doing. There are many videos on YouTube that walk you through the process. One that comes quickly to mind is a Briar Blues video "Pipe Cleaning from Start to Finish". Watch the video and see if cleaning the pipes might be something you want to tackle yourself.
For major repairs you should send them to a professional restorer. Damaging the pipe could destroy any value it has.
When you send in a pipe for restoration you can also use The opportunity to get advice from the restorer. They can offer sound advice on the best way to sell it. They may also be able to give you some facts and information you may not have uncovered otherwise. Generally, these people are the experts so it would be wise to use them as a resource.
What Are They Worth?
That is the first quesyion that pops into most people's minds. Understandable but sometimes a hard question to answer, especially for a novice. The old adage is they are worth only what someone is willing to pay you. That will take a little more digging into. You will have to see what people are willing to pay.
After you have gathered all the information you can begin the process of determining what they are worth. Things like looking for the pipe on Estate Pipe websites, eBay or classified sections in pipe forums can be helpful.
Take A Second
If in the course of your research you find that the value is somewhat high, it is recommended that you step back. Unless you really know what you are looking at, you don't want to take any missteps that could result in you getting taken advantage of. If you have something that you think is worth $1,000 or more it is highly recommended that you get a professional appraisal.
Find a qualified professional. Start with a local pipe dealer or a trusted online estate pipe dealer. Explain to them what you think you have. Provide photos and detailed descriptions to anyone you are dealing with online. They may ask for more information such as where the pipe was purchased, if you have original packaging or paperwork. They may also ask you to send it to them. In cases like these it is so worth it to get the information from a pro. Even if you're going to sell them on your own, having the backing from a trusted source makes buyers feel much more comfortable in paying a premium price.
Once you have determined the general value of the pipes you have, you can now decide what you are going to do with them.
Donate
After all your research you may have determined that selling them isn't worth your time. Instead of throwing them out, consider donating them. You may know a pipe smoker that would love to get some pipes.
Also consider bringing them to your local Goodwill or Salvation Army. There are people who shop at those stores who might not have the resources to get pipes brand new. There are people who regularly look for items just like that. Not only that, but you will be able to claim the value of them against your taxable income as long as you give them to a qualified, tax-exempt organization.
There are also people who go to these thrift store type shops and look for collectable items so they can sell them on sites like eBay. If you are looking to get a few dollars out of the collection, you might want to ask at the store if they know of any such people. You could make a deal with them and sell your items to them directly.
Pipe Clubs
If you are a member of a Pipe Club, or the owner of the pipes was a member, consider donating the collection to them. They will certainly be able to find good homes to any pipes you give them. They also frequently have raffles. Your donation can go towards them raising some money for the club. It is often the case that when someone was a member of a Pipe Club, they would want their collection to go to that club.
If you have a collection and that is you intention, let the person who will be dealing with your estate know, even write it down and leave it with your collection. To be very clear on matters like this makes it so much easier on everyone.
Value vs. Selling Price
Now that you know what they are worth on the secondary market, how much should you expect to get.
If you are getting rid of them yourself, you should be able to get 50 to 70% of the value towards store credit. On the other hand, if you want to sell them outright, only expect to get 40 to 60% of their value.
Where To Go to Sell Your Pipes
There are many Estate dealers. By listing a couple, we are not saying that these are the only ones to consider or that they are the best. If you go to our main website www.BriarReport.com you will see on the left hand column a list of Pipe & Tobacco Shops. In this list you can find many dealers that are open to purchasing Estate Pipes. Go through the list and visit their sites, you never know what you are going to find. Also, you may even find one near you.
Smoker's Haven
Smoker's Haven not only buys estate pipes but offers trades and has consignment agreements. Overall they are a great resource if you are considering selling your pipes.
Smokers' Haven will accept trades or purchase Individual Pipes and Pipe Collections. All brands of Pipes will be considered. [Quote from website]
Smokingpipes.com
If you've ever bought anything from Smokingpipes you have seen the insert slipped into your package by Terrence, Adam or Nikki.
Smokingpipes has a fantastic Estate pipe buying policy. Easy to use and very honest as to getting you fair market value for your pipe(s). Like most dealers they shy away from any piece that meeds major repair unless it is a particularly valuable pipe.
Link to their Estate Purchasing Guide
Excerpt
If you send us pipes for store credit or purchase, we spend a good amount of time evaluating and researching each piece. Once we've completed our evaluation, we'll submit our calculated values to your before we take any further action. Once we've contacted you, you may elect to:
Have the pipes returned to you at no cost (domestic only).
Have the trade credit applied to your House Account.
Request a company check to be mailed to your preferred address
Alternatives to Pipe Dealers
For whatever reason, if you choose to sell the pipes yourself or look for another route other than a pipe dealer, here are some good alternatives. Going through a consignment shop or an antique dealer. You can also sell them on an online store or auction site like eBay. Also, consider donating them which is a very nice way to ensure that the pipes continue on.
General Only Marketplaces
eBay
They have made it very easy to sell online. To get started go to your account or open one if you don't already have one.
List the items, fill in a description, upload pictures.
They are going to charge you 35¢ per item plus 10% of the sale price.
That's all there is to it. If you have any experience selling online, this might be a way to get the maximum retail value for your items. Of course, it takes much more work than selling them to a dealer, but if you're willing to put in the research and the time, it is a great alternative.
Consignment
Consignment shops work in two ways. By upfront payments or by profit sharing.
Upfront
They will just offer you a fixed price for what you have, either in cash or in store credit.
If you opt for this, make sure you now the value of what you have because they usually work off a predetermined scale. So for example they might say we will give you $5 for any pipe. A flat rate no matter what the pipe is. They will rarely go through them or even know what the value really is. If you have a pipe or collection that is valuable you have to be very careful. Some times the shop will be more antique and collectable oriented, and if you work with the owner you may come away with a better deal.
Profit Sharing
You get no money upfront. Instead the shop will put your items out for sale. They usually determine the price it will be marked. They will want to maximize what they sell for but they also want to be able to turn them around quickly. Make sure you are happy with what they plan on selling them for before you agree upon the arrangement.
Read the contract agreement. Are they allowed to mark down the price if an item isn't selling, and if so does that change the rate which they will take from the sale?
When the item is sold you and the shop split the sale price at a rate agreed upon beforehand.
Some shops work on a timed contract. A 30 day, 60 day or 90 day commitment to keep your items in their shop. The percentage of the sale you can expect to get range from 40 to 60%.
If you have higher end items try to negotiate a better rate. Getting 80 to 90% is not uncommon.
Do You Want to Be A Pipe Dealer?
We've just listed a few ways that you can sell your pipe collection on your own. You very well might get more money doing it this way rather than selling the entire collection as a whole or to a dealer. By doing so you have to understand that with that potential increase in profit comes all the aggravation that the dealers have to put up with. That's how they earn their money, right? But if you have a lot of pipes, you're most likely going to get at least something wrong, like misidentifying a pipe. You may transcribe numbers wrong or get bad information on the internet because you are a novice. Those seemingly little mistakes could be costly.
In every single collection, there are problems and gray areas and some confusion. Further, when selling individually, proper representation of the pipe is critical. Not knowing the meaning of a single digit in nomenclature can mean a big swing in dollars. Every single professional pipe seller, without exception, has made costly mistakes.

M. Pulvers
What will happen if/when someone buys a pipe from you and they didn't get what they wanted? You have to be able to deal with returns, or an angry customer. You may have to eat that loss, like pipe dealers and businessmen do all the time. They usually can absorb those losses because they sell hundreds of pipes. What if you are selling ten? One bad deal and there goes the money you hoped to raise.
Are You Sure?
Even selling them one at a time on a site like eBay might leave you wishing you had just sold them all to someone and been done with it. The nice pipes will be snatched up quick and the ones that are not so collectable or needing of work will go unsold. You might be able to handle the problems that go with selling them retail, but if you're inexperienced the down side is just as big. Some people like to sell their own house, while most leave it to a professional who has the experience to navigate the market and has direct access to buyers. There is no difference with selling your pipes, just on a different scale.
Not trying to discourage you from selling on your own, just give it some thought before you do, so there are no regrets later.
Conclusion
We would like to stress one thing we mentioned earlier. Please give serious thought to putting aside a pipe or two and giving it to a loved one. The amount of money this takes away from the collection as a whole is negligible. If you pick the ones that the person smoked the most, it is probably well worn and most in need of work. There's a good chance that it's the least valuable of the bunch. Given to the right person it can be a cherished keepsake worth far more than any money you could ever hope to get for it. Having Grandpa's pipe is right up there with his watch or his fountain pen.
This is by no means an exhaustive guide. There are many opinions on the subject. Hopefully this will at least get you started in the right direction. We hate to see a good pipe sit unwanted, so if you've been thinking about "thinning the herd" why not sell one or two and see what happens?
When you are getting rid of a collection from a loved one that has passed, we feel so sorry for you, and want to do everything we can to help you out. We hope you got something out of this article, especially if you had no idea where to even begin. If you need more information, there are so many people in this business that would be more than happy to help you, including ourselves.
If you know of someone in this position, please send them a link to this article as it may be of great help to them.
Thank you.

The Briar Report editorial staff would like to thank Mr. Marty Pulvers for his help in writing this article. Mr. Pulvers expertise in Estate Pipes and the Pipe business was invaluable.
Pulvers' Briars did not sponsor this article but was very generous in sharing his knowledge.