Santa Is A Tavern Pipe Man
Cracked open my third tin of C & D's Jolly Old St Nicholas a couple days ago. Only started smoking it on the first day of Advent. I had bought enough to last me several years, but at this rate I'll be out after two years. They better not wait too long to make a new batch available. Wish it would come out every year.
The reviews have been middle of the road. None bad, and none really great, but I sure enjoy it. Fits in with my Mr. Mellow smoking habits I've gotten into. If it were something I could age, I'd buy 100 tins, but it's not. They also make good Christmas gifts which also eats into my stash. But what fun is getting a good pipe tobacco and not sharing?
What Kind of Pipe Does Santa Smoke?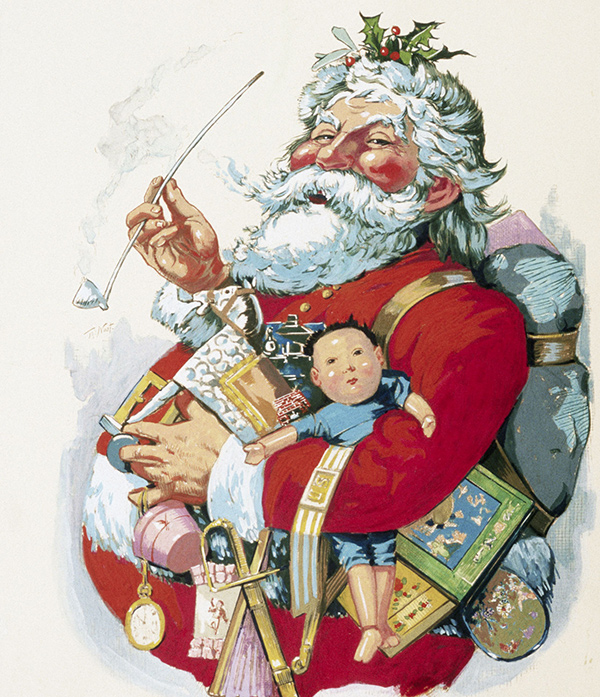 As promised, the results from the survey I put in this week's newsletter are in and I want to share them. The question was "What type of pipe does Santa Claus Smoke?"
The choices were Billiard, Bent Billiard, Churchwarden, Clay and Other. I was afraid that the photo I attached to the piece might skew the answers. The one included was the first illustration of Santa and he was smoking this ridiculously long clay pipe. It even had a pretty big curve in it. To me it looks like a tavern pipe. 
I saw one on the Smokingpipes website and it was 15.5″ long. This almost looks like a combination between the clay and the churchwarden. It also means, that the image I attached might just have influenced people's opinion. 
Santa By The Numbers
Here is the breakdown of the results. I was very happy with the responses and I think enough people took part to give us some good numbers. Also, the fact that the people taking part in the survey know what they are talking about helps. It's not like a Twitter poll where the numbers are skewed and the ballots are stuffed. All it takes is for one jerk to decide they want the poll to go a certain direction and they get a ton of people to vote a particular way. Not the case with this survey.
Billiard 11.2% (100)
Bent Billiard 24.7% (220)
Churchwarden 25.8% (230)
Clay 30.3% (270)
Other 7.9% (70)
The clear "winner" is Clay, with almost a third of the vote. Bent Billiard and Churchwarden each got about a quarter. Those results are very interesting.
44.6% of the people said they have actually been Santa, while 55.4% said they were not. Most of the people didn't bother to answer that second question.
Definitive History
I was going to use the above information and create a special post, but while researching I see that Smokingpipes did just that a couple years ago. Realizing that I couldn't really add much, I didn't want to waste too much time on it. But, there are two things I'd like to add to the discussion.
First, Santa is an amalgamation of a lot of things. Folklore, literature, and even Fifth Ave. marketing. Anything goes when it comes to Jolly Old St. Nick.
When you consider the fact that traditionally he has been thought of as a pipe smoker, it's only logical that people who do smoke pipes and have been Santa to their own kids, would have a little more to say on the subject. No agenda, just a thoughtful response to the question of what pipe will I smoke.
Considering that, it's safe to say that Santa prefers Clays, Churchwardens and even enjoys Bent Billiards. Not a surprise, and as far as I'm concerned, that's the answer.
Can't Tell Santa What To Do
One thing I learned from the Smokingpipes article is that some nuts decided to declare that Santa has ditched the pipe. A woke Canadian woman spent a couple hundred grand to republish Clement Moore's "A visit from St. Nicholas" and she removed the reference to his pipe.
It reminds me of a Calendar Company which used the famous photo of Norman Rockwell painting a self-portrait and they removed the pipe from the image. It really set me off. I wrote to them and asked them [what the heck?].
They wrote me back and said they purchased the rights to use the image from the Rockwell family and had permission to change it. Well, as far as I'm concerned they don't have that right. Not even the family. 
The only one that can make that call is Mr. Rockwell himself and since he's gone, it stands as is.
Same thing goes for the flake who declared that Santa quit smoking. Well let me tell you something lady, he picked it back up! If you can change it, then so can I. You are the idiot that spent almost a quarter of a million dollars to do what I just did for nothing.
Santa smokes long churchwardens as he reads his mail and goes over his list. He doesn't have to go sit out in the garage or Reindeer Stables, he just packs his pipe and enjoys himself, just as he deserves.
Now we just have to figure out which blend of pipe tobacco Mr. Claus smokes.