Regional Pipe Shows Coming Up in 2022
In yesterday's newsletter we linked to Miss Nicola White's video of Keens in New York City. I got a handful of inquiries and notes on the subject. We have featured her YouTube channel before but many people did not know about her. As we linked in the newsletter, here is the article that we wrote about her and her pipe collection. The name of her business is Tideline Art and is a "mudlarker". That's the Brit version of a Beachcomber. The truth is probably the other way around.
It may be by accident, but she specializes in clay pipes and has an amazing collection. It was only natural that she would visit Keens in NY while she was there. The video she made was amazing and a great history lesson.
Well, if you remember our own Armchair Clay Pipe Smoker, who was also mentioned in yesterday's Blob, had a short history lesson of his own just a few months ago. Now that I think about it, I should have linked to that video as well since it's the perfect lead-in to the Nicola White video.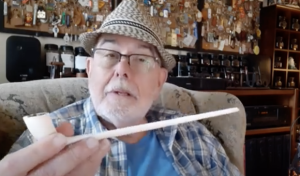 Capitaland Pipe Show
The other main topic of the weekly news letter was the future of the pipe shows. I talked about the drop of attendance at the Ohio Pipe Show and the cancellation of the Richmond Pipe Show. I sure hope I didn't sound too negative, although we should pay close attention to the direction of the Pipe Hobby.
Well, there is also good news and we want to make sure we promote those events, and hope you will too. Not only promoting, but attending if you can.
The Capitaland Pipe Show is coming up quick on October 1st, in Albany, NY. This is going to be an amazing show and there are still plenty of vendor spots available. The tables are super cheap and is intended to get as many vendors as possible to join in. Sutliff is one of the major sponsors. I'll pass along more information on the show as I learn more.
If you're interested in getting a table or finding out more, contact the show organizers at capitalandpipeshow@gmail.com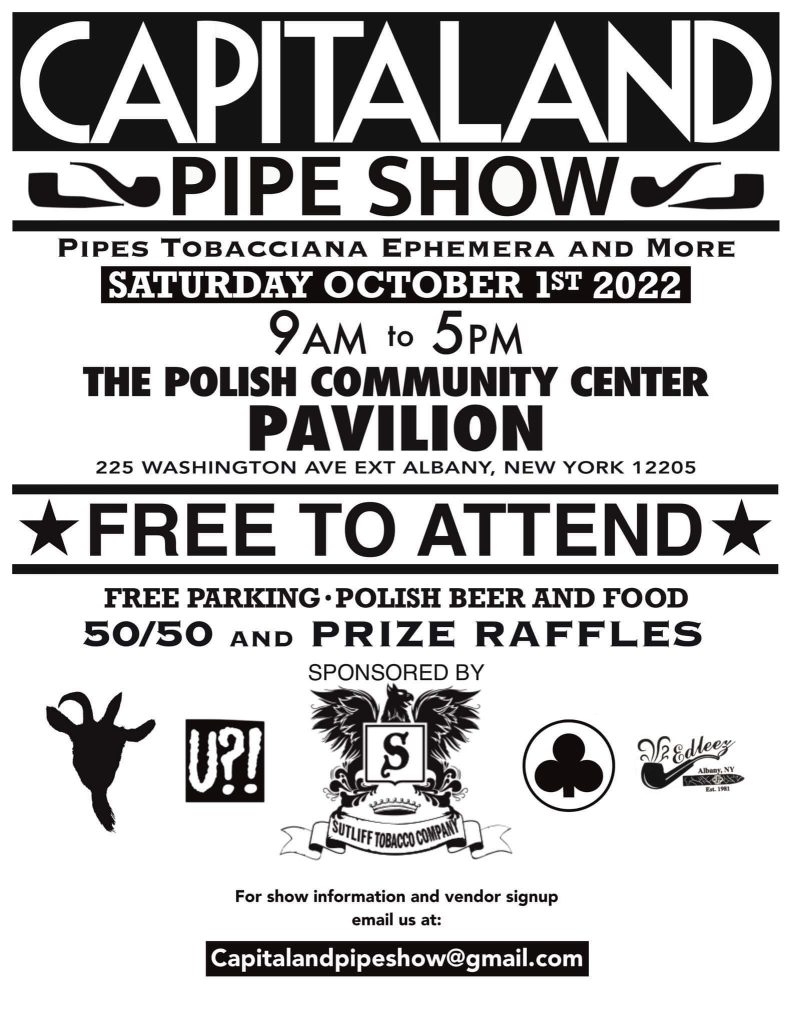 The Graywoodie Show
Related to the Capitaland Pipe Show is Greywoodie. Another one of the sponsors of the pipe show who hosts a bi-weekly podcast that comes out on Saturdays. A podcast brought to you by Greywoodie about pipes, pens, tobacco, and life. Hosted by Greywoodie owner, Nathan Davis, with cohost Eugene Falco, owner of UNCANNY?!
Check out that podcast, you'll love it. I tried to add it to my Apple Podcast subscriptions but I don't think they have been approved on that platform yet, although I understand it's pending. In the meantime use that link above. I'll let you know when it becomes available on other feeds. Good news, it is on Spotify if you use that.
Texas
The Texas Pipe Show is the other show that we haven't heard much of yet this year. It going to be Saturday, November 12th.
Where: Tobacco Cabana (Cedar Hill, Texas) – Lots of hotels and options.
When: Saturday, November 12th at 10 am
Who: Presented by the Texas Pipe Clubs (Dallas, Austin, Waco, Houston, etc).
You can find information on the show's official website, texaspipeshow.com That show has a good pedigree and people always have great things to say. If you're in the mind for a pipe show, keep Texas in mind and mark it on your calendar.
See there is a lot going on. A lot of pipe content and shows for those of us who love it. Please be sure to pass the word, the sponsors of these events will appreciate it.