Populating the 2023 Briar Report Events Calendar
The Infamous Briar Report Calendar
The calendar we maintain just keeps getting better and better every year. We have events on it that you can't find anywhere else. Do you think Cigar Aficionado is going to promote Tumultuous Tuesday  with I'm Just Chris? I don't think so.
As you know we've had more technical problems with that calendar than all the Over A Pipe Live shows combined. And like Martin, the hardest working man in the YTPC, we have been working them out. I'm almost proud of the calendar. I'm sure the eight people who use it would agree.
One thing I did last year was sunset all the entries. People change their schedules and the content they put out all the time. Inevitably the calendar gets clogged with inaccurate information. If I hadn't done that The Briar Bothy would be popping up every week. Bet you didn't know he changed his channel name to The Castello Codger? My kind of channel. Codger based with no content.
Unlike some platforms, I won't slap a Covid-19 warning on your content. The only big change I've made in the last year was that if you break one of Mike's Rules, I'm not going to add you to the calendar. That goes for not just Rule No. 1, but especially Rule No. 2.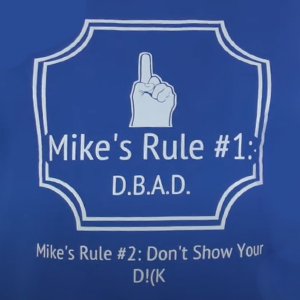 Had to really think about posting that image. I try hard to keep this site a bit gentlemanly, and keep the blue material off, but there's no way around it. Plus, while I don't like it, sadly, it needs to be said. Don't break those rules if you expect me to include you on this website.
Add Your Event
Technically what's different? I'm going to add a form that you will be able to add your event yourself. There is actually a way to do it where you could put it directly on the calendar, but that might be going a tad-bit too far. Events do need to go through at least some sort of vetting process or all the jokesters will come out of the woodwork.
On the front page of this site, there currently is a link directly to the submission form. Its located right under the upcoming events, near the bottom. There are some bugs as expected but for the most part the guts of the thing are there. Unlike the book recommendations, I believe it actually works. I will start to populate the 2023 calendar shortly, and if you want to make sure your event is added, just click on that image and it will send you directly to the form. Or since I already have the link handy, you can just click here.
Don't assume I'm going to list your show or event. A lot of these shows I have had to make a best guess at and usually I'm wrong. I've stopped doing that, if I'm not sure because the days keep changing or someone decides to take time off, I'm just leaving it off. Some times I'm pretty sure because people are specific when mentioning their show schedule, so I'll add that. But don't assume I'm watching.
It's also what I use to make the listing on our weekly newsletter. There are a bunch of people that use that listing to go by, not what's on the website. So if you want to be in the newsletter, fill out the form. Once is enough, just so I know the information is accurate.
Finally, if you noticed I published an error in the schedule, please let me know. I really want to get this right. There is nothing more important than helping you all promote your channels and events. I take it as seriously as you do. Just can't manage it all without a little help or correction from you.
Seattle Pipe Club Blend Sale
Smokingpipes is continuing on with their holiday specials. The next stop on this year's Christmas Crawl showcases a line of cult-classic pipe tobaccos crafted from recipes developed by pipe smokers, for pipe smokers. That's right: From now until November 21st, save 20% on all Seattle Pipe Club blends!