by Virginia Piper
It's a cloudy Sunday afternoon in March. I sit at my dining room table restoring a piano roll – a scroll containing holes that correspond to keys that our depressed by our player piano as the roll unwinds on to a capture spool. It is one of a few designated for this project.
After nearly 100 years, the paper has grown brittle and torn in places rendering it and others like it unplayable. Armed with a Scotch tape, I repair what I can while trying to prevent further damage along the way. I consider accompanying the activity with a pipe and immediately dismiss the idea fearing a stray ember landing on the dry ancient parchment could produce catastrophic results. I continue the work with moderate success.
The instrument  itself is a relic of that same time and place. There aren't that many player pianos around anymore. Nor are there many people who service them.  Each year, a gentleman travels 90 minutes to my home to tune it and provide any necessary repairs.  It's important to me. It rekindles fond memories spent with family singing songs written further back in the past. And I marvel when I think about the original owners of that piano and some of the ancient rolls. In 1905, this was likely their only form of musical entertainment in a world unlike our own.
Driven
I'm driven to preserve these artifacts for as long as possible.
It's not that I'm trapped in the past. In fact, I've readily embraced technology and much of what it has to offer. But I do have a connection to the past, the craftsmanship, artistry, and nostalgia for a simpler and sometimes idealized time.
This is one of the reasons I was drawn to pipes. And I'll bet a lot of you feel the same way. They're works of art crafted from briar, meerschaum, corn cobs, clay and other materials. We marvel at how those who enjoyed them were distinguished as wise, contemplative, and sometimes stylish. And in our fast paced world, we welcome the time to slow down.
Many of us have also embraced technology as it allows to automate our lives, and offers us an endless supply of information and entertainment possibilities and allows us to connect with others around the world who share our passion.
But as we touch a flame to a bowl of tobacco and gently puff away, we're surrounded of smoke that connects us to the people of the past who lived in that different time and place – perhaps while listening to a piano roll playing a favorite song on a player piano.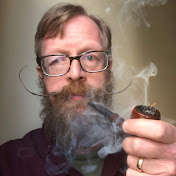 Virginia piper is a YouTube content creator and can also be found on Twitter.