Once In A Lifetime Amazing Castello Pipe Giveaway
Avid Piper
Nish, also known as Avid Piper has been quite active in the YTPC and pipe smoking community and has become more engaged lately. He has become the sole distributor for Asikyan pipes and is doing a wonderful job marketing the pipes and getting them into the hands of interested pipe smokers.
It's tough since people are just now starting to find out about Asikyan pipes.
The thing that makes Avid Piper stand out is that he is taking the proceeds from the sale of the pipes and is using them to help those in need. It is a totally non-profit endeavor. Something we support 100% and are grateful to people like Nish who so generously gives his time and money.
If you want to see what pipes are available, the best place to start your search is to go to the Asikyan Facebook page. You can see what's available right from that page. You can ask a question, see videos or share your photos.
Contact Info
You can contact Nish on his Instagram page. That is another place where you can see tons of photos. Be sure to follow him while you are there.
The other way is to contact him directly by emailing him at avidpiper@gmail.com
Asikyan Pipes
If you're wondering about Asikyan Pipes and want to find out more you can visit the Levon Asikyan page on Pipepedia. There you will learn a little about the carver and see examples of his work. There is also a handy shape chart for you to see.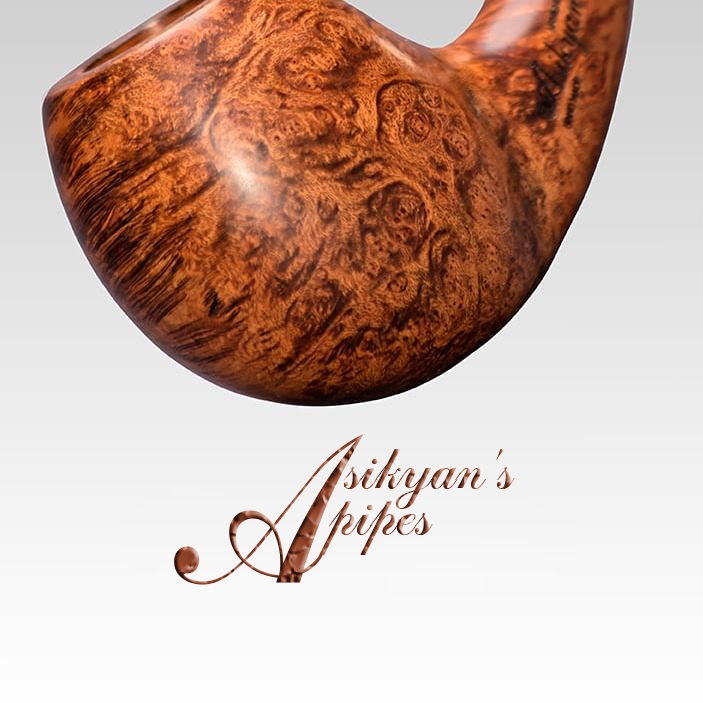 Mr. Asikyan had a jewelry business for many years, a business I am very engaged with, being a Watchmaker myself. He has taken that talent of using his hands working on jewelry and uses it to carve wonderful pipes. The craftsmanship in the former trade really pays off in the later.
Mr. Asikyan definitely has a distinct style and his work has a wide range. From traditional classic shapes to inspired Freehands. His pipes often feature bamboo and mixed finishes. There is sure to be a pipe that is right for you.
Giveaway Event
To draw attention to Asikyan Pipes, Avid Piper is holding a contest for people who purchase a pipe. It's a limited entry event, but the prize is worth it. The giveaway is more of a Thank You to people who are supporting Asikyan Pipes.
It's simple, the next 35 people who buy a pipe will be entered for a chance to win. Of course by the time you read this several pipes will have already been sold. The chances there will be any available up until the deadline arrives is very slim.
After you buy a pipe there is a way to increase your chances to win, so read carefully the guideline below and if you have any questions, don't hesitate to contact Avid Piper.
The Prize
A Castello Pipe. Not just any Castello pipe but a shape 55 Collection grade 4K. This is about as high a quality pipe as you can get. It is a new pipe that has never been smoked. One step down from a Fiammata grade, but even rarer since it has an 18k gold band and green lacquer inlay on the band. These add-ons make it super rare and highly collectable. Collection grade pipes with no adornments sell for an MSRP of $825. Throw on a gold band and you would add an addition $525.
Because of gold prices, Castello stopped including gold bands as an option about 20 years ago, which is why they are so coveted by collectors.
This pipe has a MSRP of $1,350 American!!! I can't even calculate what that would be in Canadian dollars.
Without a doubt this pipe would be the center piece in not only any Castello Collection, even for a serious Castello collector, but in any pipe collection for that matter.

How To Enter the Drawing
Purchase a Levon Asikyan pipe from the Avid Piper, and you get one entry into the drawing. This is almost a no-brainer since you get a great pipe for an amazing price without having to do anything. The entry is just something extra as a thank you.
Each pipe you buy equals one entry. So you can have multiple entries based solely on the number of pipes you buy.

After you buy a pipe and you're the type who makes videos, go ahead and make a video response. In the video do an honest review of your new Asikyan pipe. It doesn't matter if you fawn all over it, or you are not happy, let the world know what you think.
When I spoke with Mr. Avid Piper he stressed how he wanted the videos that people make to be 100% honest. It is more important to get useful feedback from actual pipe smokers than to just get a pat on the back.
Doing a video response will earn you an extra entry.
Each of the pipes are numbered, so Nish being the only authorized dealer, will know who buys each of the available pipes. He will take those names and draw one randomly from a hat. Can you even imagine being that one person whose name gets drawn? I can't.
The goal is to sell 35 pipes, which is also the maximum number of pipes to qualify for this event. If that minimum number is not met, there will be no drawing, but at least you will have your new Asikyan pipe, so you're really not out anything. It's a good number because if you enter, your odds of winning are very good.
The drawing is open to anyone worldwide. The only thing is that in the event there are any additional duties or taxes associated with sending the pipe to the winner, he or she would be responsible to pay those costs.
The Draw
The drawing will be on Thursday, December 23rd, during the Briar Blues Live Show. Nish (the Avid Piper) will call in and do the drawing live. As you know Mike rarely does live call-ins so this will be special. I can only think of one other time he has done this.
Just before Christmas, this live event may very well be the show of the year. Even if you're not entered, this is going to be a must watch show.
Video Explaining It All
There is a video explaining the giveaway and showing off the Castello pipe. Watch Mike give you a good look at that beautiful pipe and run through the rules. Just hit this link.
Good luck to everyone who enters and we are looking forward to seeing what people think about their new Asikyan pipes.