Nothing Cooler Than A Tomahawk Pipe
There are a couple of interesting news storied linked on our main News website. The one that caught my eye was the one where Chief Standing Bear's Tomahawk Pipe was returned to the Ponca Tribe. I did not include the photo of it in the link but will here so you can take a good look at it.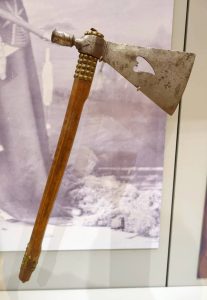 It's pretty amazing that they would combine those two things. Having to hollow out the handle would weaken it, so I might assume that it was more ceremonial than functional. But I suppose in a pinch you could use it. Either way it's a pretty cool pipe. If you want to read the story hit the link above.
You know, the Native Americans got the design for the tomahawk from Sailors who visited. They were originally boarding axes and the sailors would trade them to the Native people for food and other things.
Where's The News?
It's been tough finding stories. Every morning I wade through everything I can find about pipes or anything related. I've always had to ignore the stories that included "other kinds" of pipes, if you know what I mean. In the last year it's been terrible because between stories about the White House giving out free crack pipes (still don't know how accurate the stories are) and Hunter Biden stories, it wastes too much of my time. I'm not trying to make any kind of political observation, just saying that if you took out those two topics and companies trying to sell you market reports on pipe tobacco companies, the news would be sparse for sure.
The decision not to include new cigars released was probably a good one. I know I just got done saying the news is slow, but if I had done that, the entire page would be almost 100% recently released cigars. Doubt readers of that page are into it that much. I probably should pay closer attention to pipe tobacco releases. The problem there is they don't do press releases like the cigar companies do. Sutliff does some, but they are the only ones I know of. Of the rest, the first you hear about it is when they put up a sale. I'd rather pass on news and not advertisements if possible.
Yesterday I did mention the sale that was ending at P & C. Don't know why I bother. They have another starting today. The big Mix & Match sale. Not going to link to it, you can head over yourself if you want to go mixing and matching.
TPL History
In the forum This Pipe Life, they have an article on Mr. Graham Chapman. One of the founders and an actor on the Monty Python show. It's a nice write up and a reminder of Mr. Chapman. I remember him smoking his pipe. The forum calls those articles Profiles in Pipes. It's a pretty good series. Not a lot there, but fun and worth the time.
I don't talk about the forums much because they can be like a merry-go-round. They have never been particularly nice to this website, but that shouldn't matter. A lot of people like the forums and they can be informative and a fun place to hang out. Personally I skip all the talk about politics and ignore the two or three guys that usually elbow their way through those forums. What you're left with is a nice little resource and some great guys. I don't give them their due. Especially considering there isn't much for pipe smokers so I want to be as welcoming as I can. Every platform has their little problems and quirks. That doesn't mean I want to write them off.
Just A M-F Week
Not going to Blob this weekend. I have a big project going out and I need to wrap that up. See you on Monday.