No Mai Tais For Me, Just Emails
A couple of people mentioned to me that it is illegal to smoke in any State Park or beach in Hawaii. So therefore my plans, which I stated yesterday, will never work out. Thank you for pointing that out, but it's actually the thing I worry about the least.

First, the chances of me having my own nubile grass skirted beauty is pretty close to zero. The only thing with lower odds is Marty Pulvers sending me to Hawaii on a junket.

In fact, of all the things I mentioned, getting arrested for public smoking is most likely the one that has the best odds of actually coming true. Now that I think about it, Marty would probably be the one to call the cops on me.
Small Favor

If you don't mind, I'd like for you to do a little something today. It will only take you two seconds and would help me in reconciling some analytics among other things. All you have to do is send me an email. You don't even have to write one – leave it blank if you want. Just put in the subject line "I read The Blob today".

Only do it if you're reading this on Tuesday, April 19th, 2022. If it's after that date, don't email me unless you need something. I only want numbers for the current 24 hour period. editor@briarreport.com.

One of the things I wanted to double check was the time of day people read the Blob. Your email will have a time stamp, so don't even worry about including the time. Just fill out the subject and hit send. I also want to know if the original numbers I get are correct. It always revises after two days and I want to know if the original ones are incomplete or just as many people read the Blob from the day before as read it on the day it comes out.
Don't worry, I'm not gathering data or trying to farm emails to make a list I can sell. I'm going to count them up, then delete them. Those that know me, can verify it's true. I've had to ask people several times for their mailing address even though I've sent them things in the past. I want to do the opposite of what other people do. I know it's a pain, sorry.
TPI Auction
Right now the first pipe is being auctioned off in the Tobacco Pipes International Diamond in the Rough auction. I don't thinks that's really the name of it. He's putting the first of two Dr. Grabows up for auction. I'll just link to his channel but you will have to find the latest video which will have the auction going on.
It is only going on for 24 hours, so by the time you read this, no telling how much time you have left.
Royal Twist Deluxe Roll Cake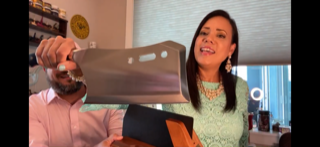 The Blend Survey that goes along with the latest Popping The Tin episode featuring Royal Twist Deluxe Roll Cake, is up. Did you see that one? Check out that cleaver Mrs. Flat Cap got. If you even had a slight inkling of crossing her, this should dispel that. Jeez!
That thing looks like it's made from half inch plate steel. It must weigh a ton. Well, if she ever has any troubles opening a tin, that should take care of it.
She could carve up Lichon in about two seconds with that.
He's Your Huckleberry
Just met a very nice gentleman who has his own YouTube channel. Mr. Huckleberry Finn. He goes under the moniker The Real Huck Finn. I was wondering if that's his real name. I suppose if using your real name is good enough for Mark Twain, it's good enough for Mr. Finn.
Not much content on his channel yet, but most of it is pipe smoking related. Totally worth your time to give him a sub. Hope to see more videos from him.
That's all for now, folks. Keep those cards and letters coming in.