Good morning, good afternoon, good evening depending on where ever Mr. Hiking Pipes might be. I'm putting this out a tad bit later than I usually do since I'm waiting for some things to be announced and I'm hoping to be able to catch them before The Blob goes to press. One thing I did see was a preview of the Astley's pipe auction MBSD Pipes is hosting. That is going to be an interesting event. I hope it does well so others are encouraged to make pipes like this available to the average guy.
Not that it is a direct analogy, but I was surprised and not surprised to see the Danish Pipe Shop's Brown Sugar Flake sold out on SmokingPipes in about three seconds. Typical. Probably all snatched up by someone overseas that will resell it at a stupid price. In a way I don't blame them, business is business, but on the other hand isn't there a better way to do it?
Was there a tin limit on that one? I'm not sure. Anyway there's none left for the average guy. Personally, I would never by a tin of pipe tobacco from someone reselling like that. It only creates a market for it. In a just world the person that bought it all up would get stuck with it. Maybe they are a Brown Sugar nut and want cases of it in their cellar, you never know.
Then again, maybe SmokingPipes only had a dozen to sell, but I doubt that. I have mixed feelings about artificial scarcity. Sure, everything is scarce on one level or another, but pipe tobacco is getting out of control. There's a lot of factors involved, so I probably shouldn't be surprised. Just don't want to go back to the days where people owned three pipes and smoked one blend. I could do it if I had to, but it's nice that I don't have to. 
Parée
One of the things I was waiting for was the video Mr. Flat Cap Piper is going to put out. It's about his and Lady Fire's recent trip to The City of Light. When he told me they were heading that way I was a bit surprised. For me, getting away means taking the wife to Ted's Hot Dogs which is about 20 minutes from here. Just hopping on a plane and going to France is so outside of my wheelhouse it seems unthinkable. Wow, I can't even imagine that. As soon as the plane's wheels came off the ground, I'd want to be back home. 
Anyway, any day now he's going to put out a video of that trip. I can't wait. Hope you saw the last Stay Lit cigar review. My favorite part was the look F.C. got when he said he liked the cigar. So funny. Some of those videos they make are not getting the views they deserve. They are so well done you would think they might get more views. I wonder if it's YouTube not recommending it to people who like reviews, or viewers not sharing it on their own?
Another guy who has been overseas is Mr. Pulvers from Pulvers' Briars. Like Mike from Briar Blues his destination was Italy. I can't wait for him to get back and settled in because 1) two of the pipes on my hunting list are Italian. I'm trying hard to stick to only buying pipes that are on a very short list. Only one crossed off so far this year and it's already April. Although I did slip once. 2) I'm hoping he has some good stories from the trip. He usually does. That's why you should read The Mill. Unless he was run down by an Alfa Romeo, he might just treat us to a good story or two.
Speaking of Mr. Pulvers, here's a quick ad from him during the intermission.
---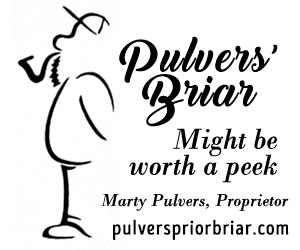 ---
Jumpin' & Jivin'
If you're a burley fan, the newest Paladin Piper video is for you. A review of Classic Burley Kake. He calls it a "sleeper blend" and he might be right. I'm not really a burley guy but this one might be something I'd like to sample. 
Speaking of Mr. Paladin Piper, he assisted Mr. Picking and Piping on this month's Pipe Puzzle. If you haven't given it a try, print it out and see how fast you can find all the Codger Blends.
Top of the List
Yesterday I said I wanted to mention more the people who consistently put out content in the Pipe Community. Doesn't matter if it's every day or once a month. They show up and give us stuff we actually want to watch. I'm done looking at anything political or to do with "culture". Why make myself mad?
If the subject doesn't interest me, I don't even give it one second of my time or even think about it. I'll leave that for the people getting their dopamine fix. Click, click, click.
One guy who I always put aside a minute for every day is Mr. Art with his Daily Five. Artie's Place if you're searching for it, but just use this link. The Daily Five is a great way to start the day and get you in the right frame of mind. The only thing is my start of the day is nowhere near his. So I save the one from the day before to watch. Therefore I'm always a day behind, but the only thing that matters is that I get the wrong weather report. No matter, I don't live in Poughkeepsie.
Too bad, since my transmission is shot. If I lived there, Art might give me a coupon or something. Or recommend a guy to haul my car to the junkyard.
I'm going to take off. My computer is slow it's driving me nuts. I can't stand sitting here waiting. You wouldn't believe how long it takes just to load a floppy disk.