New Year Calling with Simon
Watching the New Year with Simon. Never thought about it, but it seemed strange to watch the new year as it rings into Greenwich. Now that I have, I want to do it every year. I don't normally stay up late, but rather get up before the clock strikes twelve. Might not seem like a very big distinction, but it is. It's not really a New Year's celebration unless you stay up. 
But now I can watch it with our friends over in jolly ol' England and I don't have to stay up much past seven. That's a tradition I can live with. 
One thing that I found quite strange was the video stream he was watching, and possibly copyright violating. A warning was displayed on the screen about every two minutes. Something to the effect about flashing images. I get it that some people don't want to watch that, but it was a fireworks show! Of course it has flashing images, that's the whole point of it. How about if you don't like flashing images, watch something other than fireworks.
It will only get worse before it gets better, I hate to say.
Sunday night Simon had the drawing for his give away. If you didn't catch it, you can see it here. If you didn't win anything, sorry to hear, but you can alway buy a LCS briar pipe on your own.
First Pipe
I got so carried away yesterday that I forgot to mention my First Pipe of the Year Tradition. As I talk about every year, I like to begin each new year smoking the first blend I've ever smoked in my actual first pipe, which I still have. I smoke it more than once a year, but not much more. It's already had a major overhaul by a professional at Reborn Pipes.
Buttered Rum is that blend. It's not something I'd readily smoke anymore, but I always keep a bit on hand just for this tradition. I look forward to this pipe every year. 
Sponsor Time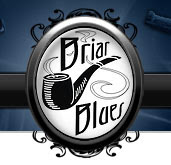 Let's take a break here to thank the sponsor of today's Blob, Briar Blues. What can I say about Briar Blues that you may not already know? If you're a serious collector of tobacco pipes, you certainly already know about them. If not, what are you waiting for? Head over and join the Insiders Club.
Castello, Radice, Kaywoodie, Asikyan and many more brands. Make it the first stop when you get that itch to buy a new pipe. 
The Briar Blues YouTube channel is also a good stop when you're in the mood for some pipe talk. Never know for sure when he will be live, but it's worth being subscribed and powering up that notification. You might just get lucky and spend a couple hours talking about my favorite subject.
The Three Wise Men
Today is the Flat Cap Piper & Lady Fire episode of Popping The Tin where they review We Three Kings from Cornell & Diehl. Mr. Flat Cap wrote a summary of his recollection of the Three Kings Day tradition. The premiere live show of Popping The Tin is on a little earlier than usual to accommodate some viewers who can't make the later time. 
The show is 4 pm Eastern and you can hit this link to be notified when it comes on. If there is another time which you feel might be better for the live showing of Popping The Tin, contact Flat Cap Piper and let him know what you think. He's trying to find a time that works with the most people as possible. If you're a fan, offer your suggestions and I know he will appreciate it. 
Happy Birthday Mr. Tolkien
As was mentioned in the newsletter, today is J.R.R. Tolkien's birthday. We had linked to a couple of nice documentaries if you are interested. So I guess today is a Capstan Blue day for me. Wouldn't it have been unbelievable to be a member of Tolkien's Tea Club, Barrovian Society? Sounds like something we should start for ourselves.
Don't forget to check out the latest News!