Behind The Blends
Aces.Gr a YouTube channel from Greece has gotten together with several others to produce a fantastic series on tobacco blends. The first video was released a few days ago. If it's indicative of what's to come, they really have something nice. There is a bit of a language barrier for English speakers, but I could still follow along and figure out what was going on.
The photography is amazing. They are featuring different blends and it is almost like a round table discussion. The live shows have begun and I'm sure many people will really enjoy them. The pipe smoking community has really become an international phenomenon so there is no doubt many people are going to enjoy this series.
Be sure to pass it along to all your international pipe smoking friends as we all share in this wonderful hobby.
Speaking of international channels, I just heard from Badger Ash, and found his YouTube channel. He has almost 300 subscribers and I didn't even know. It's hard to uncover new channels (to me) so I appreciate it when some of these good ones are pointed out.
West Coast Pipe Show
We just heard from the coordinator of the West Coast Pipe Show that it is still on hold. Mr. O'Neill said that he's hopeful that the Bill that recently went through the Senate which lifts travel mask mandates makes it's way through Congress and is signed into law.
The lifting of any travel restrictions will be a big factor whether or not people decided to go to the show, and they wanted to make sure there wasn't going to be anything standing in the way of people attending.
For now the show is still on hold, but there is a light at the end of the tunnel for all those that are itching to get back to what might now be the biggest Pipe Show in the country.
Boca To Boynton Give Away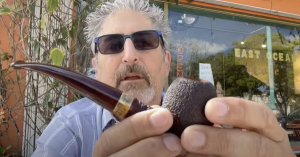 Yesterday we mentioned that the new Boca To Boynton v2.0 is out after beta testing. All the bugs have been worked out and it's bigger and better than ever. It's not a spinoff show like some thought. It's not a Joanie Loves Chachi kind of thing. Neptune is still the star of the show, but the fishing segments are still staged.
In that video yesterday, Charlie showed an Asikyan Pipe that he is going to be giving away. There isn't much needed to enter, in fact, there really isn't anything needed to enter. It would be nice to pass the word that he's on a new URL. It will get his subscription numbers up to where they should be. I think he was at 20K before the change over.
The Squirrel
Smokingpipes had two announcements yesterday. One was that the newest Cornell & Diehl small batch: Eight State Burley is now available. To my surprise, it was not sold out when I checked early this morning. Limited to 10 tins per day. [no link for them].
The second announcement was that a new line of Peterson Pipes is coming out. It's called the Iora. The description says it's named so because that's the Irish word for squirrel and the color is similar. I've never seen an Irish squirrel, but from the one's I know about, these pipes have more of a chipmunk hue to them. Aren't squirrels either gray or black?
Anyway, they are some pretty sweet looking pipes. Again, no link for them, but if Eddie Gray at The Pipe Nook starts carrying them, I'll be linking all over the place.