New Pipes From Jason & Simon
Let's get a couple of announcements out of the way. First, Mr. Donald Hughes will not be tailgating for the Thursday Night Live with Robert Show tonight. A scheduling conflict will cause him to have to skip this week. Also speaking of Robert, he put out another song yesterday about Questions For Codgers. You can watch the video before tonight's show and let him know your answers. Don't forget that show starts at 8:30 pm Eastern now.
Pipes, Pipes and More Pipes
I had mentioned in the past that I was going to start promoting the small pipe carvers more. Jason Mouton has finished about 15 or 20 pipes that will be available on tobaccopipes.com and Cup O' Joes. As usual they are fantastic pipes. He made videos showing them all off. As long as YouTube doesn't take any down, I'll just link you to his channel and you can browse the new pipes. If they were to mess with him, I'd attach some photos.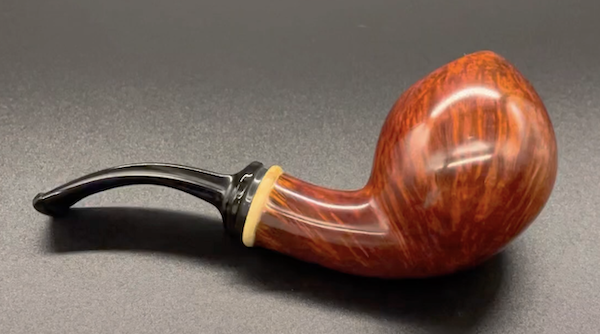 Ok, maybe just one photo.
599
As long as we're looking at new pipes, Simon put out a pretty cool pipe yesterday. No. 599 is a non-filtered pipe and the tenon is made from carbon fiber. He might spell fiber differently, not sure. It's an oval shanked pipe which I just love. And you have to admit the grain on this one is fantastic.

Unlike Jason, Simon releases the pipes as he goes along instead of batching them. So if you happen upon one you like, you need to contact him right away. Also, like Jason, he does commissions.
The pipes are available on his website for those interested in that pipe or any other he has available. There is a newsletter there, which I'm pretty sure I'm subscribed to, but I don't ever remember getting one. I don't want to sign up again, but I don't want to miss any either. I'll have to find out about those.
Your Boy
Cosmo, host of the CatDadPiper channel announced that on June 24th he's going to be holding a one year anniversary give away. So stay tuned for that.
Nostalgia
Finally today, Eric The Blue Collar Pipe Smoker has put out a video about pipe smoking from 1900 to 1929. So many great photos. It looks like it to him forever to put this together. As with everything else he does, it's first rate. Makes you wonder where he gets all those great photographs. I assume he gets them off the internet, but I never see any of those and it's pretty much how I spend all my time. I watched the video a few times, but the last time it took a long time because I kept stopping the video every couple of seconds to get a good look at some of the images.
Great job Eric, I can't wait for his videos to come out.