Neither Snow Nor Strike Nor Gloom of Night Will Keep My Pipe From Delivery
Happy to report that we got a very good response from yesterday's newsletter feature about new content creators. The original article did pretty good, and it has sparked an interest. Or maybe the spark has ignited me to do something. Either way, it's nice to see new people interested in the pipe smoking community.
Any one that has been around for awhile knows that we are in a new wave, or generation, of the YTPC. It happens with hobbies of all kinds. People come and go as their interests change. I see it in all kinds of things I'm interested in, and I see it in myself. In a way you miss some of the people who have moved on, and in another way you are excited for the people who have joined in. 
My 2¢
My personal feeling is that in the future it will get much bigger. When you look around and see what people were into the last few years, and factor in the woeful economy, hobbies like pipe smoking all of a sudden become quite appealing. It's easy to poo-poo things that are not politically correct. But when you're trying to save a buck and you want to sit at home and enjoy something, especially something as thoughtful and meditative as pipe smoking, all that goes out the window.
Might even see a rebound effect of people who leave, then return. Wouldn't that be great.
Sure, pipe smoking can be expensive, but only if you want it to be. We all know that there are inexpensive pipes to start off with. The tobacco can be bought in tins, you can chase limited runs or hard to get blends, but you can also buy bulk blends quite cheaply. You can spend as much or as little on this as you want. 
---
Estate Pipes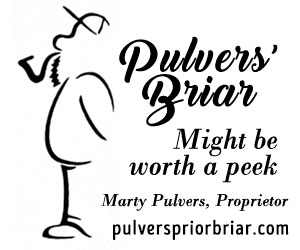 Didn't plan it this way, but that leads perfectly into today's Blob sponsor, Pulvers' Briar. I had mentioned inexpensive pipes, and there are also expensive collector or artisan pipes. But there is a mix of the two. You can get an estate pipes which are usually highly valued collector pipes, at a much lower price because they are not new. 
A lot of the estate pipes aren't even being made anymore, so you couldn't even buy a new one if you wanted to.
There are a few places where you can get a good selection of quality estate pipes and there is none better than Pulvers. He's been in the business a lot of years, and with that comes an unmatched amount of experience. The pipes on his site have all been gone through and you know you're getting what you expect. No surprises, except the good kind.
If you're not familiar with Pulvers, head over there and see what he has. You might just start that collection with a great pipe and you wouldn't have broken the bank. 
---
The Michigan Piper
Did you also see the give away that Doug, The Michigan Piper is holding? Had some details in the newsletter, but just in case your copy is sitting in the spam folder waiting to be deleted, here's a link to his video. I would list out all the prizes but he has really loaded up this give away, and it's too much. You really should go watch the video and check it out. I can't wait to see who wins. 
Mail Strike
Over the last week or two I've heard a couple of people comment on packages coming from overseas. They thought the amount of time it was taking was more than normal. There is a mail strike going on over there in London, so that might have something to do with it. 
I wondered about orders from Smokingpipes.eu which is based in Ireland. I know, I know that's not the UK, what's a guy supposed to think? It's the same general area. They said the only thing that has affected them lately has been the extreme weather they experienced. I hear that.
That's sure to slow things down a bit from normal, but not much. While we were on the subject, I found out they had a really good year when it came to shipping. Here in the US they are amazing. First rate the way things are packed up and shipped out. Sometimes I feel like when I order something from Smokingpipes I should head out to the Post Office right after I hit the Place Order button.
The European arm is catching up quick, even with the much higher demands of being located where they are. They had a strategy for this past holiday season that went off as planned. Usually after Black Friday, shipping over there is a nightmare, at least that's what I hear. When all was said and done, Smokingpipes.eu ended up nailing it. Good for them, I know they work really hard and have earned the reputation they built. 
If you have a pipe coming from overseas, I'd guess you have nothing to worry about except what is going to be the first blend you smoke in it.