Right off the bat, it seems like I may have published an error in yesterday's Blob. I reported that Donald Hughes would be enjoying his world's hottest lollipop during the one minute hold periods while taking on the world's hottest chocolate bar challenge on April 1st.
That scenario may be incorrect. You will have to watch his YouTube channel for a more detailed explanation. I may have made some assumptions that turned out not to be true. Unless you want to see him attempt that. In that case be sure to let him know.
That reminds me, if there are any inaccuracies or you would like for your opinion to be heard, you can always write a letter to the editor (editor@briarreport.com). Longtime readers know that I will print just about anything.
3-Year Aged
An alert reader tipped us off to Sutliff's latest announcement. The third and final roll out of their Aged series will be on on Wednesday, March 16th. The MacBaren HH Aged set featuring Balkan Blend, Burley Flake , and Pure Virginia will be available at TobaccoPipes.com.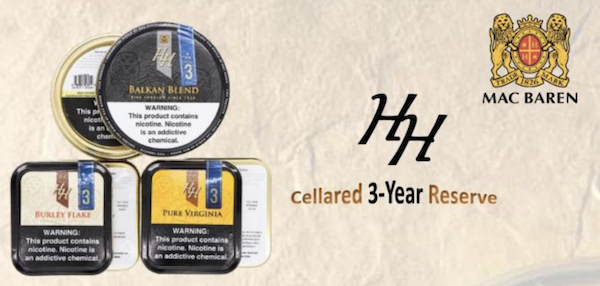 This past week I got excited when one of my all time favorite sports figures replied to me on Twitter. When I was young, I had plenty of idols. One day I'll tell you about when I met Ted Williams.
But now that I'm older I could really care less. Sure they are great athletes, but so what? I do hang on to a couple, mostly because I respect them for other reasons. Not just what they accomplished on the field, court or on the ice. Very few.
Fred
One of them is Fred Smerlas. What a great guy. He played on a Buffalo Bills team that was for the most part shambolic. He was the best nose tackle in that era, in not only mine but a lot of people's opinion. We used to go to the games to see how they could blow it. The stadium was brand new at the time and it was fun despite the losses. Knox's Nuts were more entertaining than the actual game. Now that I wrote that I can see where that might be taken the wrong way. Not intended, that's for sure.
Fred left just before the Bills became a powerhouse in the AFC. I remember Bill [Needleman] said on the day they got The Biscuit, that the team was going to be really good. It was the turning point. Turned out he was exactly right.
It was strange because after that you not only thought they could win, you sort of expected it.
But it wasn't just getting those key players. It was that win that got them into the 1988 playoffs that began that era. When Fred Smerlas' blocked field goal saved the big game, it was amazing. You still talk about it 34 years later. Fred was the big hero and was the link between the old Bills and the new. Fred sure made us all feel great back then.
The reason I've liked Fred Smerlas all these years is because he's genuinely a great guy. He hosted a radio show out of Rochester that I listened to every week. He would tell stories like how his wife, his tiny wife, challenged him to a foot race. She thought that his size would slow him down. Of course he totally burned her, to nobody's shock except hers. He's a professional athlete for crying out loud.
Anyway, I mentioned him on Twitter and he responded with a nice Tweet of his own. I got just as excited as when Mr. T liked something I said.
If athletes were more like Fred, I might still be a fan, but they aren't. Probably some nice gents in the group but the nuts with the prison tats, police records and contract disputes detract too much. What a shame.
So, here's the Tweet, just in case you're curious.

Muletown Pipe Show
If you're in Columbia at the Muletown Pipe Show be sure to be on the lookout for all the guys from the YouTube Pipe Community. Martin will be cruising around with his new steady-cam and Dr. Higgins is giving out free oral screenings. Hope everyone there has a lot of fun.