Marty Pulvers Remembers Ingo Garbe
Before I forget, today is the last day for the Estate Pipe discount on Briar Blues. You can save 15% on all Estate Pipes by using code Feb15 at checkout. Still a bunch of great pipes there. If you're an Insider you may have noticed some new pipes have been added to the Estate Pipes section in the last week. The general public hasn't been able to view them yet so you have a short window of opportunity to see what's available and still use that coupon code for the additional 15% off. Only for today.
Tomorrow the offer will be gone, but there will be another sale on a different group of pipes. Tune in tomorrow to find out what's going on sale at Briar Blues.
Ingo Garbe
Mr. Ingo Garbe passed away this past November. Personally I don't know much about him and have only ran across his name a few times. Mr. Marty Pulvers did know him, and that's where I found out about the news of his passing. There is a good write up in The Mill about their interactions. As usual, good reading and you get to find out a little more about Mr. Garbe.
I would link to his obituary, but it's all in German. Took a look at some of his pipes and I will have to say, they are amazing. Such great work. Herr Garbe had an eye for detail, I'll give him that. His pipes sell for quite a bit of money, which puts them a bit out of the range I typically like to be. Now that he's gone, I suspect they will be selling for even more. Good for those that already own one.
If I Can Do It . . .
Yesterday two things came to mind after writing the Blob. One was the photo that I had slightly altered. Not much, just replaced Alistair Cooke with Alfie the puppet in a photo. Good thing Alfie has a big head. Of course, I was laughing like a mental patient the whole time I was doing it. But now that I think about it, I don't really know anything about Photoshop. As close to a complete novice as you can get.
So I thought, if I, the neophyte can photoshop Alfie into the Battle of the Bulge, what can the government with their unlimited money and resources be able to do? What can they get away with that we would have no chance of ever knowing about? It's actually very scary. They could steal an election and tell me I'm nuts. There is nothing I could possibly do. I'm sure it's always been true, but technology can be just as evil as it is good. But can we really compare microfilm in a pumpkin to what's going on now?
It makes my head hurt thinking about it. Maybe it's something we can get Yardism on. Thought of the Year.
I'm In Big Trouble
The second thing was that I was ripping on the government again. About their stupid policies and addiction to power. When you combine those two thoughts, it doesn't look good for me. Leaves myself open to who knows what.
If you say that there are enough smart people out there that could catch it, you may be right, but so what. We all know what happens to people when they speak up. They get shutdown and ostracized. The brown shirts that run "tech" in this country are all of similar mind. Once they gang up on you, there's not much you can do. Stand on the roof of your house and shout, won't do much good. Probably get the local authorities to toss you in a cell. Label you a danger to yourself and others.
Doesn't matter if the government and private companies are separate, they all come from the same group of people. I better stop before this raises red flags at the NSA.
---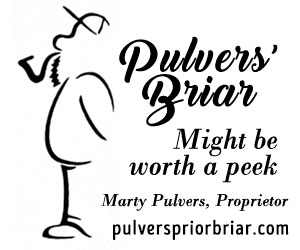 ---
It was pointed out to me by a major player in the pipe collecting game that there are a couple real steals on the Pulvers' website. Even I, an experienced pipe hunter who spends a lot of time on that website was unaware of these pipes. There are two sandblasted S. Bangs under $600. If you don't think that's amazing, go look and see what those pipes are currently selling for on any other website. I'll wait.
Not just a little cheaper, but a steal. Why they are still up, I have no idea. If you ever wanted one, but didn't want to fork over a grand, or more. this might be the best chance you're ever going to get.
Temptation
This afternoon there will be an episode of Popping The Tin with Flat Cap Piper & Lady Fire. It's been a few weeks since their last episode and we are really missing it. The blend they are doing this week is the collaboration between Sutliff and Missouri Meerschaum, Taste of Temptation. It appears it was released for Valentine's Day.
In case you are interested, the description is as follows; An Amaretto Cherry aromatic blend that tempts pipe smokers with its delectable profile. Capture the hearts of pipe smokers everywhere with this seasonal blend.
Taste of Temptation is currently available from all the major retailers, including The Country Squire.
Sgt. Savinelli
Sarge is now on Rumble. He made the announcement a couple days ago. Sounds like he's excited, which is great. Hopefully he will be making more videos. With him, that's always a good thing. He knows how to make a point or get a laugh and get out. Never wastes your time, even on a longer video. I really appreciate that.
I should follow his lead and transfer all my YouTube videos over to Rumble. Shouldn't take much time at all.
Founding Fathers
Today is the last day in A Piper Wondering's Rust Belt Pipes Founding Fathers project. Whew, that was a mouthful. I really hope he does well. It's nice to see people getting into all kinds of things, which makes the hobby better. You never know what's going to take off unless you try, right? We'll keep a close eye on Adam and see where this leads. If nothing else, he's very enthusiastic which is almost always a good sign.
Have you seen the new channel A Hoot And A Briar? If not, here's a link.
See you later. Be sure to check the news and see what's up. I'm talking about the real news, the pipe smoking news.