Let Me Sit In The Armchair
Thank you all so much who are sending me nice notes for Pipe Week. I read them all and wish you all a wonderful week as well, although you know that since I'm taking the time to reply to everyone. Isn't PIpe Week the perfect celebration. It ties together Father's Day, Juneteenth, the first day of Summer, St. John the Baptist Day. Everything tied together during Pipe Week. One reader even wished me a Happy Pipeteenth. Isn't that great?!
Distraction
This morning I got a little off track because I started watching the newest Boca To Boynton video. Charlie is something else and his video made me sit here for the last half an hour just thinking. Not good when you have to crank these Blobs out. I felt a little bad for the guy. The video was really coming from his heart, but he made the slight error of starting to name people.
It's a rookie mistake that I'm surprised he made, but understand since It's hard not to. Really hard. Once you say "there are some really great people" then start to name them, you're doomed. There's no way you can name them all. I'm not saying anyone will get upset, because they understand, I'm saying from Charlie's perspective. I guarantee you the minute he uploaded that video he wanted to kick himself because there was that name or two he thought he should have mentioned. Then another one later on.
Even though I mention people by name often, I always feel bad when I forget to mention someone's event or give away or what have you. I can justify it in my head because I ask people to remind me, but I know I often forget and it's my fault when a chance to do something or mention someone who really deserves it passes. I could give you a list of the top 5 people I would love nothing more than to sit down and enjoy a pipe together with. Then thinking about the person who would have been six or ninth or whatever will make me feel terrible that I didn't name them.
Charlie would be one of those guys, I can tell you that. But other than that, the list will go unmade. I couldn't agree with Boca To Boynton more about the YTPC and the pipe smoking community. Whether you make videos or not, or even comment or not, just being around makes us all better. I for one appreciate you all.
Look what Charlie started. Everyone is thinking about all the great people they know.
Heaven Can Wait, For Now
Ed The Armchair Piper is putting out a video each day this week for Pipe Week. I think that's a terrific idea. The first one had me hooked. The second one came out and he's replying to two of Yardism's questions. Those are always fun. Another thing that made me stop what I'm doing. It's a miracle that I get anything done.
I say this every time I talk about Mr. Armchair Piper, I say the same thing. When he laughs at his own jokes I can't stop laughing. I love it. He's got a way of making you feel so happy watching him. I don't want to say I'd add him to my list (see above), but I think you can make a good assumption. I wonder if he would let me sit in his armchair? He might have more than one, so its probably not a problem. But would he have me sit in "The armchair"? Wouldn't that be something?!
Bingo Barker Checking In
Yesterday I heard from Matthew that someone has called BINGO in the first annual YTPC Pipe Week Bingo Game. I didn't ask who it was because he may want to reveal it. The call was made early Monday morning at 9:30. I don't know if the card has been verified or not yet, but it looks like he has the first winner. You still have a chance to win. All you have to do is complete a Bingo card and get it in to Matthew. Rules and card can be found here.
To be honest I'm very impressed with the winner. I've been playing and figured I'd easily have the best time. I just wanted to see who got a Bingo after me. Then someone totally burns me. I'm still a square short and it's a whole day later. Can't wait for Matthew to make the announcement.
Smartibob
One of the things I learned from Mr. Parsimonious Piper was that Smartibob was scheduled for a hip replacement. I had no idea. Mr. Smartibob just emailed me last week and I gave him the typical four in the morning quick replay. Now I feel a little bad. There are a bunch of people lately that are going through some things like this and if it wasn't for Ethan I wouldn't know about half of them. Hope things go well for Smartibob and everyone else.
Pipe Week Pipe
Yesterday I ordered my Pipe Week Pipe. This morning I got the note saying "Great news! Your package has left the building. Right now, it's speeding to you headlong courtesy of the good folks at USPS. You can follow your package all the way to your door by clicking the tracking number above.*" Oh boy, I can't wait.
What I didn't do was go for the Small Batch that came out a few hours ago. The Haunted Bookshop Cake. Not that I'm not interested, it's just that I prefer to sit back and see what happens on some of these instead of jumping on the wagon. I like Haunted Bookshop, but not going to start grabbing up tins of this. You know I wouldn't be able to get just one tin. They might even be sold out as far as I know.
OH MY! I was going to give Smokingpipes a free link which I normally don't do, and their website is down. I've never seen that before. I know it's in the middle of the night, but it's odd. Maybe they are doing some maintenance. Too bad, I would have given them a freebie even though they probably are not even talking about Pipe Week.
To be fair, it does sound like an interesting blend. Here's what Smokingpipes has to say about it;
Experience Cornell and Diehl's best-selling Burley blend like never before with the exciting release of Haunted Bookshop Cake!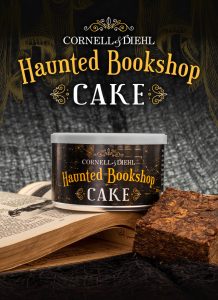 Among Cornell & Diehl's most popular and celebrated mixtures, Haunted Bookshop is a staple in tobacco cellars around the globe. The favorite everyday blend of countless pipe smokers, it expertly combines fine Virginias with a healthy dose of Burley and just a touch of spicy Perique to create one of the best-selling blends of all time.
Today, Cornell & Diehl further elevates the singular mixture with the introduction of Haunted Bookshop Cake. Available in convenient 2oz tins and presented in crumble cake format, Haunted Bookshop Cake combines all of the benefits of the pressing process — including increased aging potential and an enhanced melding of flavors — with the ease of preparation enjoyed from ribbon-cut blends. Pipe smokers can simply tear off a delicious chunk and load the bowl. No nonsense. No fuss. Just a terrific pipe tobacco blend in a new, user-friendly composition.
Enjoy the perennial best-selling Haunted Bookshop in its newest, and perhaps finest, iteration: Cornell & Diehl's Haunted Bookshop Cake is available today at Smokingpipes!
Looks like Tobaccopipes.com has it as well. So I'll give them the free link. Nothing against SP, but their website is up and yours isn't. Spreading the love.
See with all that talk about Haunted Bookshop Cake and now I want some! Crap. $11 too, not bad. Uuuuuuugh, it's out of stock already. I spent too much time watching Charlie and sitting around and now it's sold out. You know . . . I'm not even going there.
Videos
There might be some more Pipe Week videos, but I haven't gone through them yet. If there are I'll link to them tomorrow. If I've missed anything please let me know and I'll include them. Today is a big day, it's the Pipe Solstice.