It's The Briar Report's Birthday
Happy Anniversary to us. It's Briar Report's 6th birthday. Technically, it was this past weekend. Yeah, I don't much care either, but it's a good excuse to have a little fun.

Yesterday I asked people to shoot off an email if you read The Blob. Those emails were numbered when they came in and one was randomly selected to win a brand new Phoenix Pipe from The Pipe Nook. Of course it is from there, Phoenix Pipes are exclusive to The Pipe Nook.

The winner is Patrick — from Battle Creek, Michigan. Congratulations Patrick. He has already been contacted and just needs to pick out the shape he wants. They are available in six different shapes by the way. Once he does that, his new Phoenix Pipe will be on the way.
Birthday Gift

I've got two Phoenix pipes of my own already. I've smoked them hard, putting them through their paces. So far so good. One thing I've discovered is that if you don't put a filter in (they are all 9mm filtered pipes) you can make your own reverse calabash. Probably not the best thing to do, but heh, I did save a filter.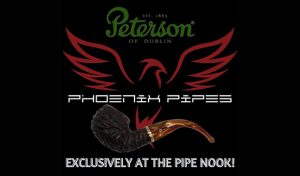 The intent of you sending me an email was of course to have you enter into a drawing, but I didn't want to say so. I just know that people would tell their friends or mention it on a video. Then the next thing you know the winner would have been someone who never reads The Blob and only came here one time to enter.
By the way, if you didn't win (in this case, you're not Patrick) you can still snag one of those pipes. Just hit that picture over there. Where ever there is.
As a bonus, I was able to get an idea about the accuracy of the analytics and the time of day people like to read the blob. Much more in the afternoon that I would have thought. Few early in the morning. I have a habit of thinking, what would I do. That's not a good measure. The right thing to do is keep an open mind, and not be surprised about anything.
Auctions
Don't forget that today at 10:00 CST is the Selkirk Auctioneers & Appraisers auction, dedicated to Pipes, Tobacciana and associated accoutrement. Here is the link for more information.
It is also day two of Tobacco Pipes International's auction where he's letting go of those collectable Dr. Grabows. Here is a link to that video.
Where Have All The Ads Gone?
I've always gotten my fair share of engagement with readers, not a lot, but here and there. Lately there has been a lot more than normal for some reason. Everything from a note clarifying something, to someone making a video explaining to me how ads appear on my website when viewed on a mobile phone.
Donald Hughes made that last one after I told people to look at the ads that run in the right hand column of this website. Important ads, by the way. Well it seems that they appear at the bottom on a phone. That explains why the number of page views is always more than the ad views.
Make sure you look at them or I'll have to enable pop-ups! Just kidding, I wouldn't do that to you. Thank you to Donald for teaching me something about my own website.
Dino
Yesterday someone asked me about the line I closed out with, "That's all for now, folks. Keep those cards and letters coming in." He wanted to know where it came from. That is what Dean Martin used to end his shows with. I don't know if I got it exactly correct, but I'll bet it's close. Now there's a guy that would not do well in the world now. Drank and smoked on air and made fun of it. Kind of a man's man. Good for him. We need more Dean Martins and less [insert name of anyone].