It's Ashton Month At Briar Blues
Oh boy, just The Blob to go and I'm done. The New Content Creator article is done and should be up by the time you read this. The Newsletter is in the can and will go out at approximately ten after three Eastern this afternoon. That's around noon Vancouver time and 4:10 am on Tuesday in the Philippines. Bet you didn't think anyone in the Philippines reads the Briar Report. If you did, you would be wrong.
The only problem with that is every time I post a new story, I'm already a day behind. If I moved to the Philippines I could bring you stories before they even happened! I'd be the greatest newsman in history. Maybe I could buy the house next door to Manny Pacquiao and he and I could hang out together. Can you believe he's 44?
Pipe Acquisition Disorder
One of the channels I watch often is Mr. Relaxed Piper. He's been saying that after another pipe or two, he's going to curb his pipe buying for the year. In fact, he just wants to buy certain Dr. Grabows he saw on eBay. Actually, the Bulldog he just got is very nice. I forgot who I said it to, might have been Paladin PIper on the S.M.R. channel, but I commented that I don't even pretend that I can control myself anymore.
Sure I buy too many pipes, but so what. It's fun and I love it. Of course, I'm much more discerning than I once was. My goal is to have a collection where every single pipe has something special about it. Like Nish, the Avid Piper likes to say, every pipe has a story. Even a Dr. Grabow that has been sitting in it's original packaging for 50 years and someone opens it up on camera then gives it it's maidan smoke, that's a cool story.
I have to admit, that I've also become more choosey over the years. Not that I only want top of the line pipes or anything like that. But all it takes is to get on certain pipe that is just the exact right shape and size that smoking it is an experience of it's own. When that happens it's earned a spot on my rack. You never know what's going to catch your eye.
Asikyan Pipes
My latest pipe came from Briar Blues. It was an Asikyan, but I did't purchase it. The pipe was a gift from The Avid Piper who gave some away in a drawing. I hate to be entered into drawings, but in this case I don't think I had a choice. And of course, one of the pipes came my way.
I would be saying this even if I hadn't won the pipe, it is an amazing smoker. Currently I have enough Asikyan pipes that I should get a dedicated rack just for those. Love every single one of them. The best part of that sub-collection is each pipe is totally different. Different shapes and sizes. Some filtered, some not. Asikyan has probably become my most smoked brand of pipe. Can't say enough good things about them.
Sponsor Today, Briar Blues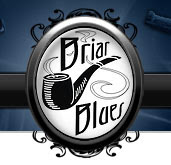 OK, I do't want to get off track, this is supposed to be the section of The Blob where we feature the sponsor of the day. Today it's Briar Blues. I started to talk about the Levon Asikyan pipes because Briar Blues carries them, but then I got carried away. He's got some on the site right now and there are a couple that come with their own Tobacco Jars. I have one of those and they are great.
But I'm not trying to steer you towards any particular brand, everyone has their own tastes. Plus there are so many other lines Briar Blues carries your best bet is to look around anyways. Castello for instance, another brand I can't stay away from, Radice, Tinskey, Kaywoodie and Ashton to name a few. Ashton by the way is being featured on the site and for the rest of the month you can get a 15% discount on Ashton pipes by just using the code Ash15 at checkout. Hmmm, do I have enough Ashtons in my collection?
Start Your Day Off Right
Normally on Monday's I'll mention to not forget opening the newsletter that will be coming out. But there are no problems there. It has a great rate of people who read them. So glad for that, and appreciative. The number of people who go on the news website ebbs and flows. Sometimes it's through the roof and sometimes I wonder if it's working. If you haven't been over there is awhile be sure to stop in, there are a lot of new stories that are linked.
Those that happen to like The Blob, or any other content on the magazine site be sure to pass it along. Now, if you hate it, pass it along to your enemies. I just don't know how anyone can get a good start to their pipe smoking day without checking out those sites. Unless it's watching The Daily Five on Artie's Place. Not enough people tune in each day which is a shame. He averages 45 seconds of your time but packs in some great thoughts for the day. Not a bad investment.