Happy Thanksgiving Pipe Smokers
Happy Thanksgiving. Although the chances of you reading this on Thanksgiving are awfully low. It's almost certainly after Thanksgiving and you are already into the swing of the holiday rush. But if it happens to actually be Thanksgiving, then I hope you have a wonderful day. Of course, if you're not in the United States you don't much care anyway.
Thanks for checking in no matter what day it is. Pipe smoking news and information never takes a day off, plus I'd much rather be doing this than helping cook Thanksgiving dinner.
Briar Blues Does Black Friday
As soon as you read this, the Black Friday Sale at Briar Blues is already going on. He is actually doing a "Pre-Black Friday" sale as the discount went live yesterday evening. To take advantage of the sale use coupon code Black10 at check out. the sale is for 10% off on anything, site wide. The coupon code is active right now and ends Sunday.
If you've had your eye on a new Castello, a Ser Jacopo, Asikyan or even a Kaywoodie pipe, now is your time. Those aren't the only names carried at Briar Blues, hit the store and see what's available. This sale is available to everyone, it's not just an Insider's deal.
One other good reason to shop at Briar Blues now is because Mike is taking off from December 2nd to the 14th for some much needed R and R. If you are thinking of getting a pipe for Christmas, getting it now will ensure it gets sent out with plenty of time to spare. The extra 10% off isn't bad either!
Black10, don't forget it. The sale only goes through to Sunday.
Esoterica News From Over A Pipe
Over A Pipe, Martin, is doing his best job trying to emulate the First-Rate pipe news reporting done here on The Briar Report. He has broken the story on the Briary not shipping out any of their Esoterica from the recent drop. Apparently due to staff shortages, they will only offer the tobacco in-house to walk-in customers. Now that's the kind of reporting we like to see. Well done, Martin.
For information about other drops, subscribe to his channel and hit the notification. Better yet, become a groupie (I know that sounds bad, but I can't think of another word right now, fan?) and he will even shoot you a text when the drops occur. Even before he goes live. Not a bad deal if you're an Esoterica hunter.
Southern Piper Anniversary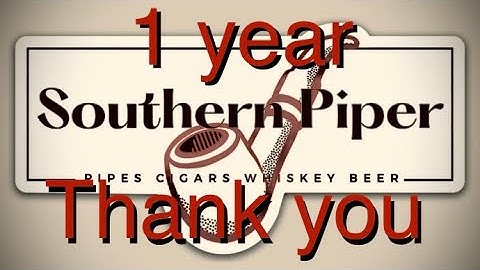 Happy Anniversary to Mr. Southern Piper who celebrated one year on YouTube yesterday. It's already been a whole year and his channel, as well as his pipe smoking journey has progressed quite a bit. He goes over it all in his latest video.
Andrew has decide to hold a little give away as a way to say thank you to all the people who have joined him along the way. Stop by and give him a happy anniversary and get in on that give away.
Thankfulness
As has been my custom on Thanksgiving, I wanted to take a moment to thank all of you and tell you how thankful I am to have all of this. Being part of a community like this is a wonderful blessing. Many people, I'm sure, think that pipe smoking is fading away into oblivion. Maybe there is some truth in that, especially if they had their way. But in reality it's better than ever. Might not be the raw numbers there once was, but the quality of everything about it is so much better.
I remember when I'd swing by the tobacco shop, which was easy for me to do since I lived above it, and pick up my pipe tobacco for the week. Maybe ogle a pipe or two, then be on my way. Didn't think much about it until the next week. Now everything is different. I can get all the information I want at the tip of my fingers. There is a thriving on-line community and I can talk with pipe smokers around the world whenever I want. It's actually amazing.
Not only that, it seems like my options are unlimited. So many more blends than before. Maybe because I didn't even know about them years ago. I'm also exposed to so many more pipes. When you really think about it, while pipe smoking in general might be waning, it does seem to be the best time to be a pipe smoker.
I'm thankful to not only everyone in the community but to all the people who work to keep it going. Places like Smokingpipes, Tobaccopipes, and Pipes & Cigars. Where would the hobby be without them? I don't even want to think about it. I'm so grateful.
There are also the small businesses that seem to keep it personal. They fill the gap between those giants and me. That tobacco shop I mentioned above is long gone, but places like The Pipe Nook and Briar Blues have stepped right in and I feel like I'm walking through the doors of that pipe shop whenever I talk to those guys.
Who would ever have thought I could click a button and instantly be exposed to the best pipe carvers in Japan and get one of their pipes as easily as buying anything else I might want? What a time to be alive, that's for sure.
Readers
And to all the people who go to my websites, not only this one but the News site as well, I am so thankful for you all.
Happy Thanksgiving to each and every one of you and your families.
The Pipe Nook
Beginning tonight at midnight, The Pipe Nook Black Friday sale will be going on. From his latest newsletter;
Use coupon code SALE15 in the coupon field at checkout, or click the link below, to receive 15% off everything in your cart from today through Pipe Tuesday, 11/29/22!
This is their last sale of the year. If you are even thinking about getting something from The Pipe Nook, this weekend is your best opportunity, not only to have the biggest selection, but to get the biggest savings.
By the time you read this, the sale may already be going on, if not it's only hours away. Happy Thanksgiving and Happy Shopping.