Happy International Pipe Smoking Day 2019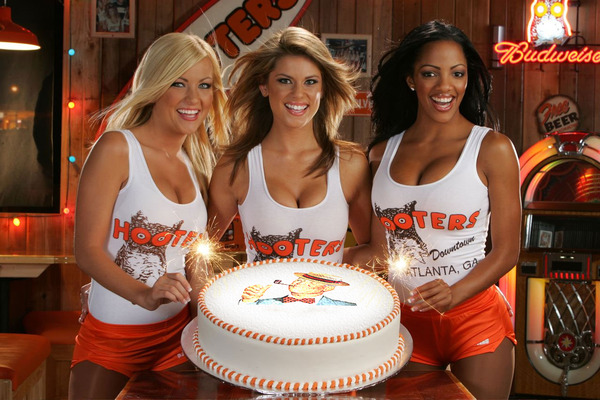 I can't believe it's IPSD again already. Time sure flies. It's hard to pull together the kind of material a holiday like this deserves and what we usually do is link to all the sales going on.
This year since we have much more space in the magazine we plan on bringing you a little more. Maybe in the years to come it will become a full blown Gala. For now it's a fun day pipe smokers share. Cigar smokers dust off their pipe and light it up and everyone else wonders what's the matter with us. Probably a little envious if you ask me.
Let's start with the sales so you don't miss out on those. By the way, if you are a retailer or know of one who does something for ISPD, please let us know and we'll be sure to add them to the list.
They are always front and center on ISPD and this year is no exception.T
Their sale goes through the 23rd
10% OFF STORE-WIDE (use Code "IPSD10")tobacco, accessories, AND cigars!20% OFF ALL PIPES (automatically applied)
$50+ Orders get our exclusive IPSD 2019 Blend
$125+ Orders get a FREE T-SHIRT
They have a special blend just in for ISPD. As you can see above They've cooked up a small batch blend that's available only for IPSD 2019–"Thin Mint"! This is their tribute to "cookie season"! Order at least $50 from Feb 18-23rd and receive a FREE ounce!
They also have a Free T-Shirt you can score if you order at least $125 worth of stuff during their ISPD sale. You can go to their site for more details but here is the photo that's up of it.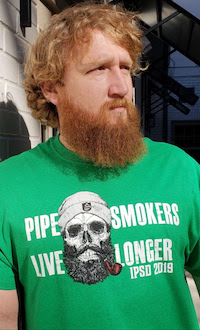 Mr. Chuck Stanion is taking the lead for Smokingpipes. He has a lot to say about ISPD.
The best day of the year, International Pipe Smokers Day (IPSD), arrives this Wednesday, on the 20th. Pipe smokers around the world will pause to raise a bowl in honor of our community of enthusiasts. Our activity is most often a solitary pursuit, but on this day we acknowledge the history and tradition of pipes, knowing that others are toasting the same event and sending into the cosmos our self-acknowledgement as a community.

Chuck Stanion
You can read more of Mr. Stanion on the Smokingpipes Daily Reader.
Smokingpipes is celebrating today through midnight Thursday by discounting everything on the site by 10% and lowering our free domestic shipping threshold from $95 to $50. With discounts and free shipping like that, it's hard not to celebrate, no matter what the world thinks.
Pipes & Cigars is going with the whole Pipe Smoking week theme. If anyone could take over and blow out ISPD it's them. They have a special deal unique to each day so you have to check in with them to see what it is.
It could be Captain Black Copper pouches for $3.50 each or maybe half off a Bentley. Personally I'll be checking their site often since I have my eye on a new Bentley and you never know.
Either way, P & C never lets you down when it comes to great deals so it would be smart to take a look.
Tobaccopipes.com has their sale event as well. 15% off of all pipes and accessories through the 21st. That have a huge selection so it's worth checking out. Plus their customer service is second to none.
Greetings From Around the Community
Starting this year we are going to be linking greetings and well wishes from around the Pipe Smoking Community. This section will be updated during the day so check back later in the day if you missed something. I don't expect things to be rolling in until later in the day when the parties start to kick off.
George Bruno Will Be Live
George Bruno will be live on his channel for International Pipe Smoking Day Puffcast.
Here's a link to the channel and be sure to set a reminder.
Over A Pipe Celebrates ISPD
Over A Pipe's video ISPD 2019: International Pipe Smoking Day – What are you smoking?
Virginia Piper Adds His Well wishes on ISPD
But as he says, he celebrates ISPD everyday! We raise our pipes to you as well, Virginia Piper.
The Briar Patch Forum
The forums should be hot today discussing ISPD. Here is a link to the popular Briar Patch forum and the thread they already have started.
This Pipe Life
The fine people over at This Pipe Life also have some ISPD chats going on.
Pipes Magazine
Finally for the forums is the Granddaddy forum at Pipes Magazine. They are sure to be having a lot of fun today. Happy ISPD my friends.
People Checking In
As the day progresses, lots of people are checking in with videos and content of their own.
Padre Piper is first in line.
Muttnchop Piper's IPSD wishes. He's smoking a chooch-warden as Ole' Berg is want to say.
TheCatholicPipesteader talks about his first IPSD.
Voodoo Review is teasing a special IPSD review. Get all the info from his quick video.
Pipes & Guitars a relative newcomer to the YTPC makes a IPSD video complete with a review of Shepherd's Pie.
A quick hello from Art at Pipes & Spirits.
Piper Dave one of our favorites wishes everyone a great IPSD.
OH! Dale Piper. What would IPSD be without a video from Dale? Actually what would any holiday be like? He makes the day feel special.
An IPSD song from Pickin' Piper.