Honestly I didn't even know there was such a thing until I first heard Armchair Piper Ed mention it. Now I learn it's a pretty big deal, at least it's a lot of fun, so why not go with it? CaneRod Piper Mike seems to have pulled it all together pretty nicely on his live show last night. The technology to bring Google Meet together with a live YouTube stream is cool. It really steps up get-togethers to another level. Of course, some of the bugs need to be worked out.
Sure, enjoying a quiet pipe is hard to beat, but meeting up with so many other pipe smokers is a nice thing too. Gives me a good feeling for the future of pipe smoking.
One word of wisdom for Mr. CaneRod. Never rely on people who "lobby" for you to do something. Almost everything nowadays is done on a whim. They will bug you to death and offer all kinds of things "you should do", but don't put much faith in it. It's the people who just decide to do something on the spur of the moment that will actually participate. I know it's more of a generality, but I'll bet I'm 90% correct.
Mr. Chum
I was going to kick off the evening with my favorite Glum Chum pal. I don't know if it's my computer or his. Well, he probably doesn't use a computer, not many people still do. They use their little glass G-d. Hooked up to the internet using some kind of magic waves or something. The magic was weak yesterday, and I felt pretty bad. I was really looking forward to a summer afternoon with him.
One live I did catch on Thursday was Mr. Donald Hughes. If you enjoy cigars as well as pipes, that's the place to be on Thursday nights. I've learned a bunch since he's been holding his cigar Master Classes. He almost got me to chime in when he was talking about Lanceros. I've switched over to them a year ago and have really enjoyed it. Cigar Guys, don't kill me, but the difference in flavor profiles in cigars isn't as much as cigar people think they are. Not saying they all taste the same or anything like that, there is a difference. But cigars mostly taste like cigars, the difference for the most part is some are good and some are not. Getting the subtle differences in some of them escapes me.
On an earlier edition of The Blob I talked about Parodis. I'm not talking about cigars like that, I'm talking about what people consider premium cigars. The flavor difference between them is not linear to the price difference. Oh, speaking about Parodis, I'll stick a pro tip in here. Don't smoke one of them before smoking a nice pipe tobacco. Pipe ghosting can be frustrating, but it is possible to ghost your entire mouth. Not very nice.
Lancero
What I will say is that when you smoke a Lancero, you can get a much better flavor than from a big fat stogie. I think that shape gives you the best indication of the true flavor of the particular cigar blend.
Frozen In My Tracks
I often get emails, both good and bad, and enjoy them all. There is no doubt I love hearing from people and it gives me an idea of not only what's going on, but what people are thinking as well.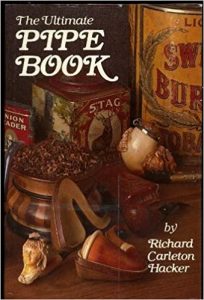 Yesterday I got an email from Mr. Richard Carleton Hacker. THE Mr. Richard Carleton Hacker! Author of The Ultimate Pipe Book, among others. At first I thought it was an ad for something and almost deleted it, but it was a personal note to me. I was absolutely floored. Turns out he is an actual reader of The Briar Report and had some very kind things to say.
He seems to thing there is a revitalization in pipe smoking. Heard similar things from other people in the business and it's always a nice thing to hear. I sure hope he's right.
Anyway, getting a personal note from someone like Mr. Hacker really makes one stop in their tracks for a minute. It's just me, posting some interesting news stories about pipe smoking and watching fish while smoking my pipe. He's a world famous author, and he reads The Briar Report. I don't think that has really sunk in yet.