Flat Cap Piper & Lady Fire Keepin' It Lit
Flat Cap Piper and Lady Fire return with a new episode of Popping The Tin. I would have featured it in yesterday's Blob if it hadn't already been locked and loaded with the article about the books. Flat Cap Piper & Lady Fire have been super busy, but haven't forgotten about us. Not only was I so happy to see them drop a new episode but one on an excellent blend. One of my favorites.
I've always been a big fan of Squadron Leader by Samuel Gawith. Recently it's been harder to get than it used to be. All of the Sammy G-'s have been like that.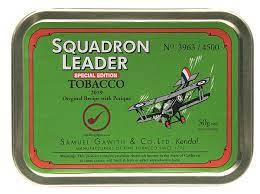 There was a middle period where I smoked much stronger blends. Started out mild, went strong, now I'm back to the less meaty blends. Squadron Leader fits in nicely with what I currently enjoy. I do add a nice big inch of perique to a new tin of SL if I don't want it too tame. It all goes into a jar anyway, which was the habit when I used to get it in those boxes. No way it was going to stay fresh in one of those.
The special mix Squadron Leader with perique is an amazing blend. They limit you to 6 or 8 when they come out and I usually give 2 or 3 of them away. But it's easy enough to make yourself, considering you can get the regular SL in the first place.
Without a doubt a Top 5 favorite of all time with me. All I have to do is have some straight perique tucked away, which is no problem.
Flat Cap Piper & Lady Fire did an excellent job with this blend. It might make getting it that much harder to get, but that's OK. I hope everyone get the chance to try it.
New Minoru Nagata Pipes
Last week I talked about the Minoru Nagata Pipe I got, the Swing Bamboo. I can't tell you enough how much I love it. Hopefully it piqued your interest in this wonderful Japanese carver. I wanted to let you know that Tobacco Pipes Japan just got in two new pipes from the workshop.
As luck would have it, they are both Morta wood and both have a bamboo shank.
Morta Bamboo Poker 2. A lovely morta pipe with a charming 2 knuckle bamboo shank. A zebra wood band marries the shank with the ebonite stem.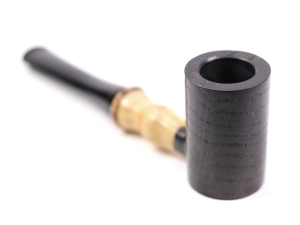 ON HOTEI ( Reverse Calabash ) A funky saucer bowl with a bamboo shank. Made of Morta wood, a reverse calabash.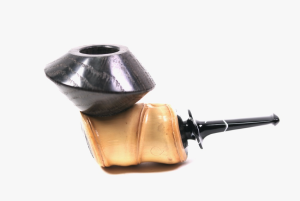 This isn't an advertisement, I just wanted you to see these pipes. For the most part I think they fly under the radar here in the U.S. which is too bad. I can't get over the quality of the pipe I got. I don't want to gush too much or people will start to think I'm knocking other carvers, but if you had one of these in your hand, you would know what I'm talking about.
A Day Behind
The plan was to get a day ahead, but since I put a larger post on Mondays to hit the newsletter crowd, I'm really a day behind on stuff I wanted to put in The Blob.
If you want me to get anything in the Newsletter you really should think ahead a little bit. Usually on Saturdays I'll ask people if they have anything since I try to do them on Saturdays. I really should start to ask on Fridays because then if there are any stragglers, there will still be time. I'll try to catch up during the week.
Check out Boca To Boyton's newest video which covers the Muletown Pipe Show, Asikyan pipe give away and his introduction to the YTPC take two.
Muletown
Some of the Muletown videos are starting to come out. Over A Pipe is breaking his up into segments to drop throughout the week. Dr. Higgins made a pretty cool video that is worth a watch. Southern Piper talked about the show and the Matches860 Tribute Smoke, and Smoking Cardboard talks about the show.
Pipes, Tobacco & Whiskey shared the Jeremy Reeves Blending Lecture. Ole' Pops chimed in with a video and Parsimonious Piper has some Morsels for Muletown.
I know there are some I've missed. So sorry, I don't have a Smokingpipes staff to do all the leg work and write beautiful emails everyday. I watch a few videos, smoke my pipe like a freight train while I'm trying to get eight things done and throw this together at 1:30 in the morning.
But I got to catch Flat Cap Piper so I'm happy. Now I can go watch Curmudgeon Piper . . . there goes my morning.