Burning Baccy Reviews Gold Block, The Aristocrat of Pipe Tobacco
Burning Baccy
By: Matthew Tremblay | YouTube: Picking and Piping
I think we all deserve to treat ourselves as royalty, don't you? Self-dubbed, "The Aristocrat of Pipe Tobacco," Gold Block is a classic tobacco that was blended to give smokers a special experience.
Gold Block was originally made by Ogdens of Liverpool (which also makes my favorite blend, St. Bruno) but is now produced by Mac Baren. The blend is an aromatic, mixing bright Virginias and burley, topped with an unknown sweetness.
I chose to purchase and review this tobacco, not just because of whom it was manufactured by, but because the tin was produced in 2016. During my short sojourn in pipe smoking, I've never tried a blend older than 3 years. Between the tin's age and its promise of making me feel dignified, I was going into my review pretty excited.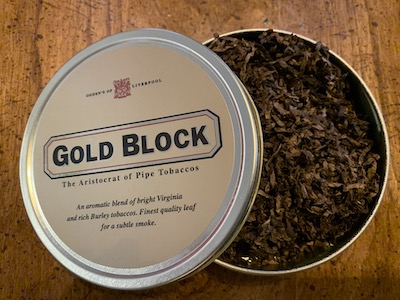 Tin Note

Gold Block's tin note offers a pleasant sweetness. I smell a subtle scent of molasses and brown sugar, grassy hay from the Virginias, and a light smokiness. Surprisingly, I did't get any nuttiness though, which I expected from the burleys.
Cut

The blend is a fine ribbon cut. The ribbons vary from a lighter tan to a darker, leathery brown hue.
Aroma

Similar to its tin note, the aroma of Gold Block when it's smoked is also mildly sweet. I find it pleasant and delectable, but with a softness to it. It offers a sugary smell that isn't profound or overbearing. I can't think of any smoker and most non-smokers who wouldn't enjoy it.
Taste

Initially, I noticed a faint sweetness in the taste too. I can't determine or find anything online that says what the added topping/casing is – just sugar and sweetness. It's not alcohol, floral, or fruitiness for sure. Regardless, the sweetness is quite subtle, much more muted than I expected. Perhaps the five years of age mellowed it significantly? Maybe I need to try a fresh tin of Gold Block, because I wish the sweetness/aromatic quality was much stronger.
The taste, as well, is pleasant. In addition to nutty molasses, I detect some grassy hay notes and a slight bit of tangy citrus. I even tasted light smokiness. It is evident that the tobacco is burley forward while being complimented by its component Virginias. The Virginias certainly add to the flavor, not enough to create any tongue bite. You also won't find any Lakeland essence or vinegar flavor in this blend, which I kind of expected. I don't find it overly complex either. There is a lack of character or depth, but it's hard to know if that's a product of its age.
Fans of OTC blends would likely really enjoy Gold Block. I find it reminiscent of those old-fashioned, burley-laden codger blends like Half and Half or Carter Hall. This blend has less nuttiness and more sweetness than those though, so it might offer a change of pace for OTC enthusiasts. The blend is certainly in that wheelhouse.
Of note, many reviews online say that the "newer" Mac Baren version isn't quite the same, and not as good as the original from Ogden's of Liverpool.
In Conclusion

Perhaps I went into my review with unfair expectations, comparing it to my favorite blend St. Bruno and thinking it was some sort of "royal blend," but I was a little disappointed in it. Don't get me wrong, I like it, but it needs more sweetness in my opinion. I don't know what it would be like to smoke a fresh tin of Gold Block, but I'm sure the topping would be more profound and make me enjoy it even more. On top of that, the burley is a little too precocious for my liking.
One online review aptly described Gold Block as an, "aging rock star." That's a perfect way to explain the blend – it's still putting out good music (flavor) but the age has changed its tune and softened over time.
On the Question

What do you do with tobaccos that you try and don't like? I heard and read a whole gamut of options. Some people like to trade them to other pipe smokers. Some will blend it with other tobaccos to try and salvage the taste. Many will just store them away in hopes that aging will improve its taste. I've also seen videos where people will press it to try and accentuate the components and meld the flavor.
So, what do you recommend that pipe smokers do in this situation? Let me know by dropping me a note at pickingandpiping@gmail.com. I'd also love to hear your thoughts about Gold Block if you've ever tried it. And, don't forget to check out my check out my YouTube channel. Thanks for reading!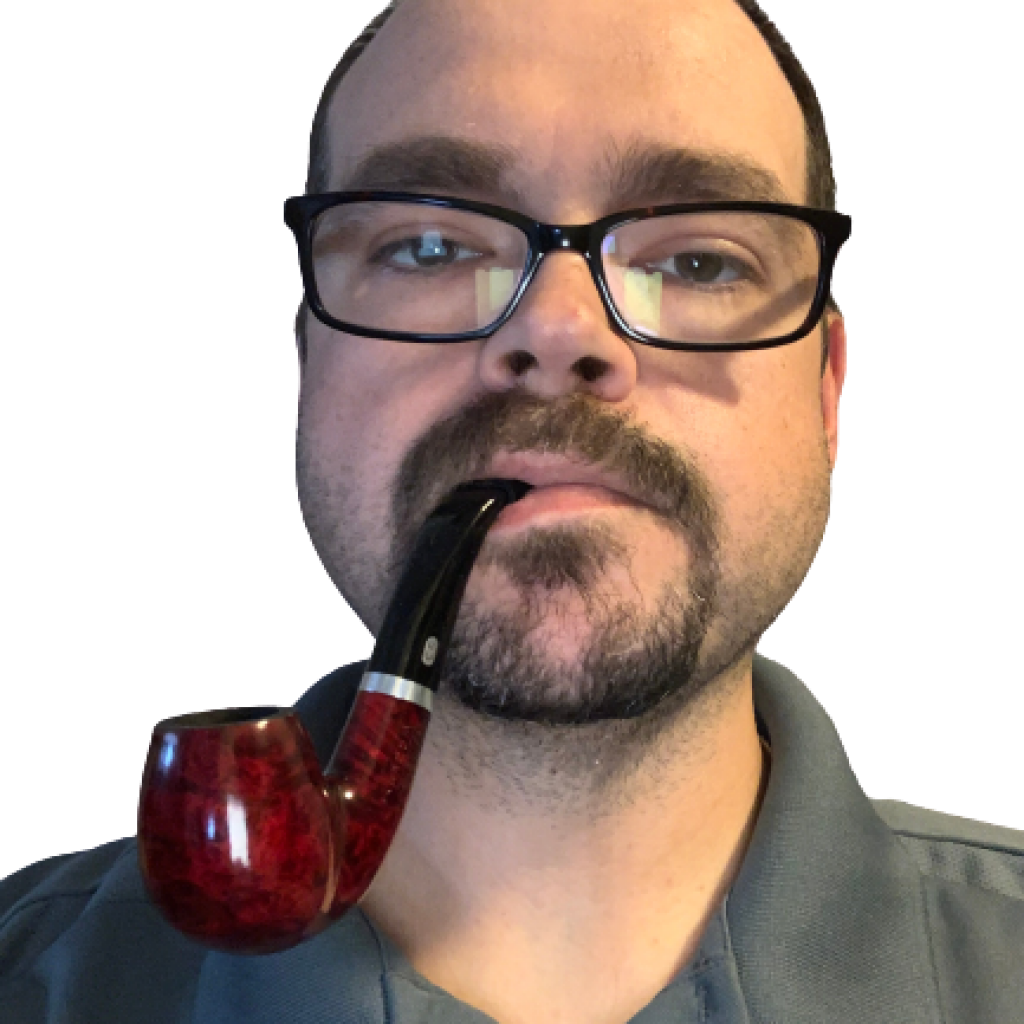 Matthew Tremblay is host of the Picking and Piping YouTube Channel and writes for the Briar Report Magazine.