Briar Report's Premium Cigar Gift Buying Guide

by Donald Hughes.

Many pipe smokers are just occasional premium cigar smokers or even outright novices when it comes to stogies. We thought it would be quite helpful to put together a list of great premium cigars for you to start out with, or even give as gifts. You can't just pass along pipe tobacco to those that rarely smoke since there is a prerequisite there. For instance, you need to have a pipe.

With premium cigars on the other hand, a match or lighter is all you really need. Assuming you have a pocket knife. While you may know every pipe tobacco blend that McClelland ever put out, you may not be quite so well informed about cigars. That's fine. This list will get you started and give you some strong recommendations. When buying as gifts, it's a good idea to find out what people generally like first. At least to gives you somewhere to start.
Where To Start
A person that likes Seltzer water with a twist of lime, they may enjoy a lighter cigar. If they like to brag how they took on the Death Nut Challenge and didn't see what all the fuss was about, then they might like a more full bodied premium cigar. Just like Pipe Tobacco, we usually tell people who don't know where to start to begin with the kinds of food and drink choices they normally make. You can get a pretty good idea which tobacco matches up with that. We also tell them to get one or two samples in each category and see which ones they like best.

Aromatics, Virginia/Perique, and English blends. Same for cigars. Connecticut, Habano, and Maduro.

Our list gives you a few recommendation in each of those categories. Of course, a cigar aficionado would want to drill down into these categories, but when you're starting out or buying gifts, the simpler the better. You want a great premium cigar at a good price. If you're getting them for yourself it's also a great place to start exploring. When you go to the local tobacconist or worse, browse around an online store, you can get overwhelmed quick.
We tried to make it easy for you by giving you a place to start and cut through all the noise. There isn't a cigar on this list that we don't think represents it's category well. Almost all premium cigar smokers will agree that you can't go wrong with anything on this list.
Size Recommendations
There are also size recommendations for each kind of cigar. This is just a general place to start if you're not sure. When you buy cigars there are usually many different sizes to choose from. If you're familiar with them and know what you like, go for it. If not, start out with the recommended sizes and go from there.

You may notice that we included links to Smokingpipes.com on cigars they carry. There are two reasons for this. First, the audience that is reading this is more inclined to be a Smokingpipes customer. The second, is that unlike some of the big box retailers, Smokingpipes sells cigars individually. You are not forced to buy a box or even a 5 pack. With that in mind it would be easy for someone who wanted to give one of these cigars a try to include it in their next order from Smokingpipes.

Disclosure; Smokingpipes in not an advertiser nor did they sponsor this content. None of the links are sponsored or are affiliate links.

Buying Guide

Connecticut
In general a lighter color cigar with a tendency to have less flavor and nicotine. Great for novice smokers and those that prefer less nicotine from their pipes or cigars in general. Tip: Remember the smaller the ring guage, the more flavor you will get.Recommended shape: Lancero.Lanceros are cigars with a smaller ring gauge, like a 38, and are quite long. Lanceros are usually 7 to 7 1/2 inches long. Think Gomez Addams.
Rose of Sharon by Southern Draw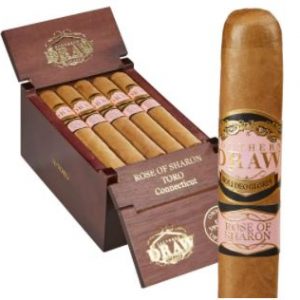 The founder of Southern Draw Cigars, Robert Holt, wanted to do something special for his wife, Sharon. After all he has credited her with much of his success. What he did was blend a special cigar and named it after her, The Rose of Sharon.

It is an excellent cigar. Constructed with Nicaraguan and Dominican long fillers and wrapped with a beautiful Ecuadorian Sun Grown Connecticut wrapper.
It has been described as having a little bit of spice to it with undertones of oak and leather. It's surprising how complex this cigar is.
Cigars International link https://www.cigarsinternational.com/p/southern-draw-rose-of-sharon/2006541/
JR Cigars link https://www.jrcigars.com/item/southern-draw-rose-of-sharon/perfecto/SDRSPE.html
Smokingpipes link https://www.smokingpipes.com/cigars/southern-draw/moreinfo.cfm?product_id=303786
Grupo de Maestros by H. Upmann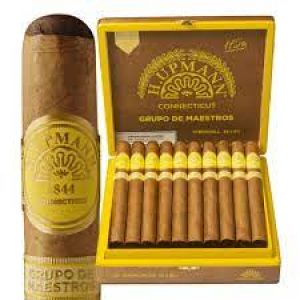 Rated 89 by Cigar Aficionado the Grupo de Maestros is a blond cigar with a Maduro cap which makes it look quite interesting.
A medium to mild strength cigar with just a little bit of spice and hint of orange. Everybody knows H. Upmann, even casual cigar smokers. They are in a position to buy some of the finest tobaccos in the world like the Pilotico tobacco which this cigar features.
It has a Connecticut wrapper and a blend of Dominican and Nicaraguan tobaccos. And as mentioned before, that distinctive Maduro cap. You would think that since it's the part you cut off that it wouldn't matter and might just be a gimmick, but it's not. When you first draw on the cigar is has that Maduro "thickness" to it which you don't expect in a Connecticut cigar. It really adds something special. I have to admit I actually like it.

Halfwheel had a fantastic article on the Grupo de Maestros. Their reviews are second to none and I find them more honest than some of the more famous reviewers.
Cigars Daily link: https://cigarsdaily.com/product/h-upmann-groupo-de-maestros-connecticut-toro/
JR Cigars link: https://www.jrcigars.com/cigars/handmade-cigars/h.-upmann-cigars/h.-upmann-connecticut-by-grupo-de-maestros/
Camacho 6 Year Barrel Aged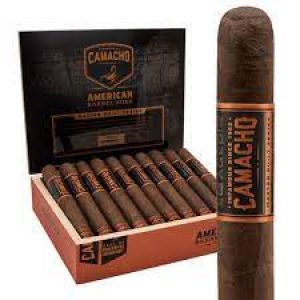 We have seen some of the pipe tobaccos go the barrel aged route like Seattle Pipe Club's Plum Pudding and Mississippi River with really good results. Camacho has done it with this particular cigar and has scored a big hit. Not only does the aging of the tobacco for 6 years really add to the flavor but adding the additional barrel aging puts the cigar over the top.

First of all, the cigar uses almost 100% American leaves. An oily Pennsylvania Broadleaf wrapper with similar leaves in the filler and binder. The Honduran Corojo leaf that is added to the filler has been ages for 6 years. You would think that that alone would be enough to produce a great stick. Camacho stepped it up another level by storing them in bourbon barrels that imparts a truly unique flavor.
Don't think it's like one of those cigars that were popular in the 90s where they took a cigar and dipped it into whiskey to give it that fruity flavor, similar to some aromatics with heavy toppings. This cigar really has a flavor profile like non other.
Produced by Davidoff of Geneva

This line is produced in the Davidoff of Geneva's Dominican factory. You can definitely taste the bourbon but it's not overpowering. In fact the slightly peppery, sweet spice taste is what stands out.

It's a strong smoke for sure, but they didn't overdo it. Just adding the aged Corojo was a good move, it adds just enough flavor before the whole cigar is put in the barrel.

For a Honduran brand, I really love the fact that they went outside the box and took a chance with these American tobaccos. I think it really paid off for them. Between those tobaccos and the fermentation process, it makes me want to add this to my humidor for sure.
Cigars International link: https://www.cigarsinternational.com/p/camacho-american-barrel-aged-cigars/1494508/
Jr Cigars link: https://www.jrcigars.com/cigars/handmade-cigars/camacho-cigars/camacho-american-barrel-aged-cigars/
Smokingpipes link: https://www.smokingpipes.com/cigars/camacho/moreinfo.cfm?product_id=178085

Habano and/or Natural
Habano is a tobacco that has been grown from a Cuban seed. They also grow them in places like Nicaragua, but Cuba is the origin. Habano – Havana.
This tobacco is typically darker and stronger than a Connecticut but has slightly less flavor than a Maduro. Great for the occasional cigar smoker or piper that likes medium strength.As far as size recommendations, in general, I suggest the Toro.
For the most part Habano cigars tend to be flavorful enough to still satisfy without needing to be a Lancero.Toros are a bigger, fatter cigar. They will have at least a 50 ring guage. A bit shorter than a Lancero they are usually around the 6 to 6 1/2 inch range.
Like a bigger pipe bowl they are intended to be smoked longer and slower. A Toro can easily take you well past an hour smoke.
Jamon Plasencia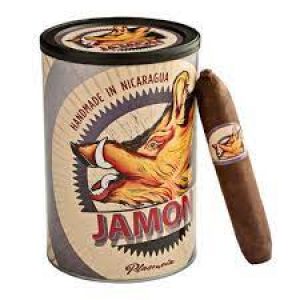 This is a JR Cigars exclusive but we found it with one other online retailer. It's an inexpensive cigar that is competing above its weight class and doing very well.
It's a puro which means that all the leaves in the cigar are grown in the same country. In this case Nicaragua. They can be from different regions as it is with the Jamon. The fillers come from Jalapa, the Habano binder leaf comes from the volcanic soils of Ometepe which are dark and oily. All wrapped in Viso Habano, also from Jalapa.
The cigar is a Perfecto with a little pigtail cap. From what I hear, it's like many of the cigars that came out of Cuba before the embargo. I don't remember what those tasted like, but if it's true, I believe it. It is exactly what I imagine those cigars tasted like. Earthy with a lot of the heavy flavors like coffee and nuts.
It's a great tasting cigar that also looks cool. Not only the cigar itself but the packaging in the can is great as well. It's something you will want to keep to repurpose and have on your desk. It looks like it was made a hundred years ago. Did I mention the great price? The can comes with 12 cigars and we got them for less than $5 a stick.
Cigars 4 Me link: https://www.cheapcigars4me.com/Jamon-by-Plasencia_p_2606.html
JR Cigars link: https://www.jrcigars.com/item/jamon/perfecto/PLJA.html
Le Bijou by My Father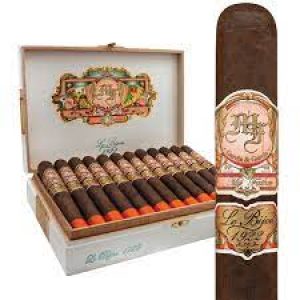 My Father does not make any cigar that isn't wonderful. This is no exception. It was the Cigar of the Year in 2015 and honestly could be every year.
Le Bijou is French for "the Jewel" which is very odd considering they didn't use a Spanish translation. La Joya. Oh wait, that has already been taken, no wonder.
It is certainly a full bodied cigar and it's so rich and satisfying. It owes that to the Havano Oscuro wrapper. I'm sure that's what gives it such a high rating, a 97. Ratings like that don't come around that often.
Le Bijou has a complex flavor that comes across smooth. If you're a Cuban cigar lover, or wanna-be, this might be as close as you can get. Maybe even better. For as full bodied as it is it doesn't leave your room with a thick haze that sets off the smoke detector upstairs.
My Father is proud of this cigar, as they should be. it has everything you could want. It comes highly, very highly, recommended.

Cigars International link: https://www.cigarsinternational.com/p/my-father-le-bijou-1922-cigars/1411599/JR Cigars link: https://www.jrcigars.com/cigars/handmade-cigars/my-father-cigars/my-father-le-bijou-1922/Smokingpipes link: https://www.smokingpipes.com/cigars/myfather/moreinfo.cfm?product_id=291520
La Imperiosa by Crowned Heads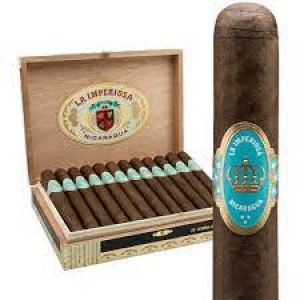 Most of the people reading this are going to be "pipe guys" being on the the most prestigious, influential pipe smoking website in the world, so I can use some references other people might not get. Crowned Heads is like the Cornell & Diehl of cigars. They found their niche and go at it full blast.

What C & D's does with their small batch blends, Crowned Heads does with lines like this La Imperiosa. Of course being cigars they have to give them fancy Spanish sounding names instead of The Beast or Carolina Red Flake. Jeremy Reeves has it a lot easier in that department.

Just like the small batch blends, these cigars are sought after by cigar lovers. The harder they are to get the more people want them. This particular cigar is worth the hunt. If you have the chance, get some.

It is blended similar to the Las Calaveras 2014 which was a huge hit. Without a doubt a great cigar. The problem is they don't make them anymore. Crowned Heads decided to fill this demand by having the My Father factory in Nicaragua produce this as a regular production cigar.

It has an oily wrapper and made with dark Ecuadoran Habano tobacco leaves. The filler is a blend of Nicaraguan tobaccos that blend very well together.

It's a full bodied cigar that has a bit more of a peppery taste without anything sharp on your tongue. It does have a little bit of a fruit taste but I wouldn't think of this as an after dinner cigar. More of a cigar lounge kind of smoke.

Halfwheel's impression of La Imperiosa. https://halfwheel.com/la-imperiosa-magicos-2/180010/
Cigars International link: https://www.cigarsinternational.com/p/crowned-heads-la-imperiosa-cigars/1496441/
Cigars.com link: https://www.cigars.com/cigars/handmade-cigars/crowned-heads-cigars/la-imperiosa/

Maduro
Normally the darkest of the cigars and a tendency to be the strongest in nicotine. Great for the well established cigar smoker or piper that hangs out in Mr. Krantz's Bookshop.
For the Maduro I suggest a Churchill. Maduro smokers tend to have a little more experience in cigars. The Churchill length is definitely a challenge for the first-timers. It needs careful attention to the pace of smoking and periods of resting.
Churchills have a ring guage almost as big as the Toro, 48 to 50 but have the length of a Lancero. Churchills are 7 inch cigars. Expect it to take you an hour and a half to two hours to smoke one.
When it comes to Maduros, don't let it intimidate you. The tastes are fantastic and if big bold flavor is your thing, try one out. Having said that, I picked out cigars that are on the lighter side of the Maduro spectrum. A good place to start out if you're not sure.
Padron 1926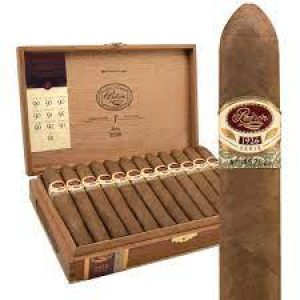 The Padron 1926 is a cigar that is really well constructed. Top notch. The quality of all the tobaccos, starting with the wrapper are perfect. The cigar burns so nice, at least the one's I've smoked, that I've never had a problem with uneven burns or anything like that. I wish all cigars were made this well.

It's more full-bodied than you might expect. There is a lot going on flavor-wise but it has that woodsy kind of taste to it. Leathery would be another thing that comes to mind. The reviews I've read boast a complex flavor but I didn't get that. And I mean that in a good way. It's a straight forward cigar that hits the spot when you want a decent cigar.

I can almost guarantee you that unless you hate cigars, you will enjoy this. You almost can't go wrong. The price is just on the edge of getting expensive but good enough that you shouldn't pass it up if you're curious.

Cigars International link: https://www.cigarsinternational.com/p/padron-1926-series-cigars/1474727/
Smokingpipes link: https://www.smokingpipes.com/cigars/padron/moreinfo.cfm?product_id=20746
Afrique by Montecristo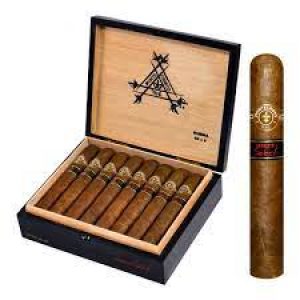 This was a bit hard to get as I couldn't find it in any local brick and mortar, but after reading so many good things I wanted to try one. Totally worth it! Of all the cigars on this list, it might be the sleeper. I asked five cigar smokers if they ever tried this cigar and only one had. I think it's something, that for now, is under the radar.

It is made from African tobaccos, which I know you're thinking Cameroon. But it also has tobaccos from Tanzania. It's a little different from Cameroon cigars which I am used to. Like the Arturo Fuente Don Carlos or some of the CAO cigars. I'm assuming it's from that Tanzanian leaf.

Very exotic and spicy. But not harsh in any way. There are no sharp edges on this cigar, it's quite creamy.
Montecristo has a reputation that might cause you to presume a certain quality. In this case, it lives up to the Montecristo name and I would gladly smoke this cigar regardless of it's prestigious band.

Being a Maduro it makes you think strong, but this is more on the medium side. The taste on the other hand is huge.

JR Cigars link: https://www.jrcigars.com/item/montecristo-afrique/kubwa/MXAFKU5.html
Mike's Cigars link: https://mikescigars.com/montecristo-afrique-kubwa
Montecristo 1935 Anniversary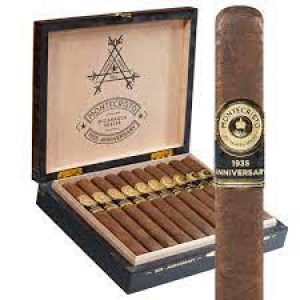 This is a tribute to the very first Montecristo Cigar on it's 85th Anniversary. Master blender AJ Fernandez was brought in to help recreate this cigar. I have no idea if it's anything close to the original cigar, but it doesn't matter, on it's own it's a hit.

It's a Nicaraguan puro, even made in their Nicaraguan factory. A little more full bodied than the above mentioned Afrique, but not so much that I'd take it out of that medium to full category. Maybe just a little.
I see it in product descriptions listed as full bodied but I'm not positive. Is there a category between medium/full and full? It's like a Chardonnay. A white wine that thinks it's a red.
There is some sweetness to this cigar which makes it nice to smoke. I could easily see me getting a whole box of these when I get done writing this.
Cigars International link: https://www.cigarsinternational.com/p/montecristo-1935-anniversary-nicaraguan-cigar/2036257/
Smokingpipes link: https://www.smokingpipes.com/cigars/montecristo/moreinfo.cfm?product_id=417607
JR Cigars link: https://www.jrcigars.com/item/montecristo-1935-anniversary-nicaragua/toro/MX35TO.html

Briar Report Picks
The following are the picks from the Briar Report Staff. Each contributed one selection and added their comments.
La Gloria Cubana Series R
Phil's Pick
This could be my favorite cigar, I'm not sure. It definitely is the cigar I smoke the most. My intentions were to switch exclusively to Lanceros in 2021 but this cigar is not available in that size. It doesn't matter, it would always be my exception anyway.
For this beauty, the bigger the better. They come in both Natural and Maduro wrappers, both are excellent. It depends on what mood you are in deciding between the two. Usually I tend to gravitate towards the Natural. They also come in many different sizes (except the Lancero), go for the big ring gauges.
There is something about this cigar that really stands out for me. It has an impressive 92 rating, and I've never found a better cigar. Considering the quality and the price, this might be the best cigar you can get in my opinion.
Sure, it happens to be one man's opinion, but in this case I'm right.

Cigars International link: https://www.cigarsinternational.com/p/la-gloria-cubana-serie-r-cigars/1411516/
Smokingpipes link: https://www.smokingpipes.com/cigars/gloria-cubana/moreinfo.cfm?product_id=26690
Opus X by Arturo Fuente
Jensen's Pick
There is no more storied cigar than the Opus X from Arturo Fuente. It represents luxury and the finest product in the cigar industry.
Cubans get all the press but what Cubans won't admit is that they wish they made a cigar as good as the Opus X. They rely on the mystique of Cuban brands like Cohiba to draw customers, but if you took the bands off and did a side by side with Fuente cigars, I think Cohiba would be holding the short end of the stick (pun intended).
The line has grown so much over the years, which now includes the Anniversary and Lost City editions. The price tag is what holds most people out and they can be hard to get. But that shouldn't stop you from enjoying this cigar. At least from time to time. Maybe on your birthday or something like that.
Even the boxes they come in are top notch. You can use it for a humidor.
From the Arturo Fuente website: https://arturofuente.com/fuente-fuente-opus-x/
Lost City from Cigars International link: https://www.cigarsinternational.com/p/fuente-fuente-opus-x-lost-city-cigars/1411742/
Perfexion from Smokingpipes link: https://www.smokingpipes.com/cigars/fuente/moreinfo.cfm?product_id=191788
Arturo Fuente 858
Bill's Pick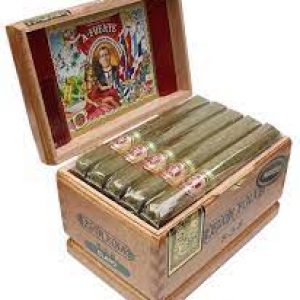 This is the best cigar there is. Do you know why? Because it doesn't cost a fortune like those other ones.
Sure I could pick some fancy-schmancy pretentious cigar but nobody is going to try them. These are very affordable so you can smoke one everyday.
The taste is right up there and I can get 4 or 5 for the price of one on the top shelf. Do yourself a favor and grab a box of them.
While you're smoking one you can think about all the money you're saving. If you don't like them, send them to me!
[Editor's note: Do not send him anything]
JR Cigars link: https://www.jrcigars.com/item/arturo-fuente/8-5-8/AF8.html
Smokingpipes link: https://www.smokingpipes.com/cigars/fuente/moreinfo.cfm?product_id=26103
Arturo Fuente's description:The classic 8-5-8 has been pleasing Arturo Fuente fans for decades. A rich nutty blend of aged Dominican fillers covered by a rare African Cameroon wrapper producing a smooth, mild, and savory smoke.
Bonus Cigar
Editor: We were turned on to this cigar reading the Voodoo Review blog. It turned out to be everything Donald wrote about and became one of our favorite cigars to not only smoke, but to recommend as well. Not at the top of our list but highly recommended nevertheless.
Magic Toast by Alec Bradley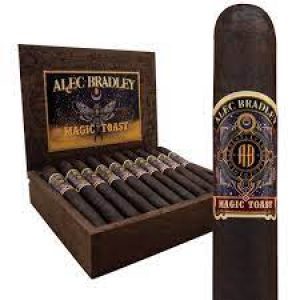 The Magic Toast was debuted at the IPCPR trade show in 2018, now they are called the PCA and they blow off their trade shows.

Magic Toast features Nicaraguan and Honduran fillers with a Honduran wrapper. The leaves they selected are dark and tasty, although thin. I would recommend you punch this cigar rather than cut it.

I did a complete review of it on my blog Voodoo Review, which you can read here.
Cliffs Notes Version

Flavor wise it is very reminiscent of the Black Market Estelí. Notes of chocolate and vanilla with a hint of leather. It also has a little sweetness, almost a Caramel taste. The cigar is not infused so the blend is still pure Tobacco, I find the subtle flavors refreshing.
The smoke it produces is thick and white, but not annoying. It has a brilliant white quality that dissipates quickly to blue and gray, with a pleasant cigar room note. Strength is slightly more than medium and no signs of tar in appearance or flavor. Recommend having a small beverage on hand. It feels a little dry but you probably won't be needing to drink more than a few sips.

Overall, Magic Toast is cool and inspiring, a true masterpiece or the Alec Bradley moto "Live True". I highly doubt you will be disappointed in any way with this cigar. The flavors are great and consistent, it does not heat up or tar up.

Alec Bradley's description: https://alecbradley.com/cigars/alec-bradley-magic-toast/
Cigars International link: https://www.cigarsinternational.com/p/alec-bradley-magic-toast/2016274/
Smokingpipes link: https://www.smokingpipes.com/cigars/alec-bradley/moreinfo.cfm?product_id=427578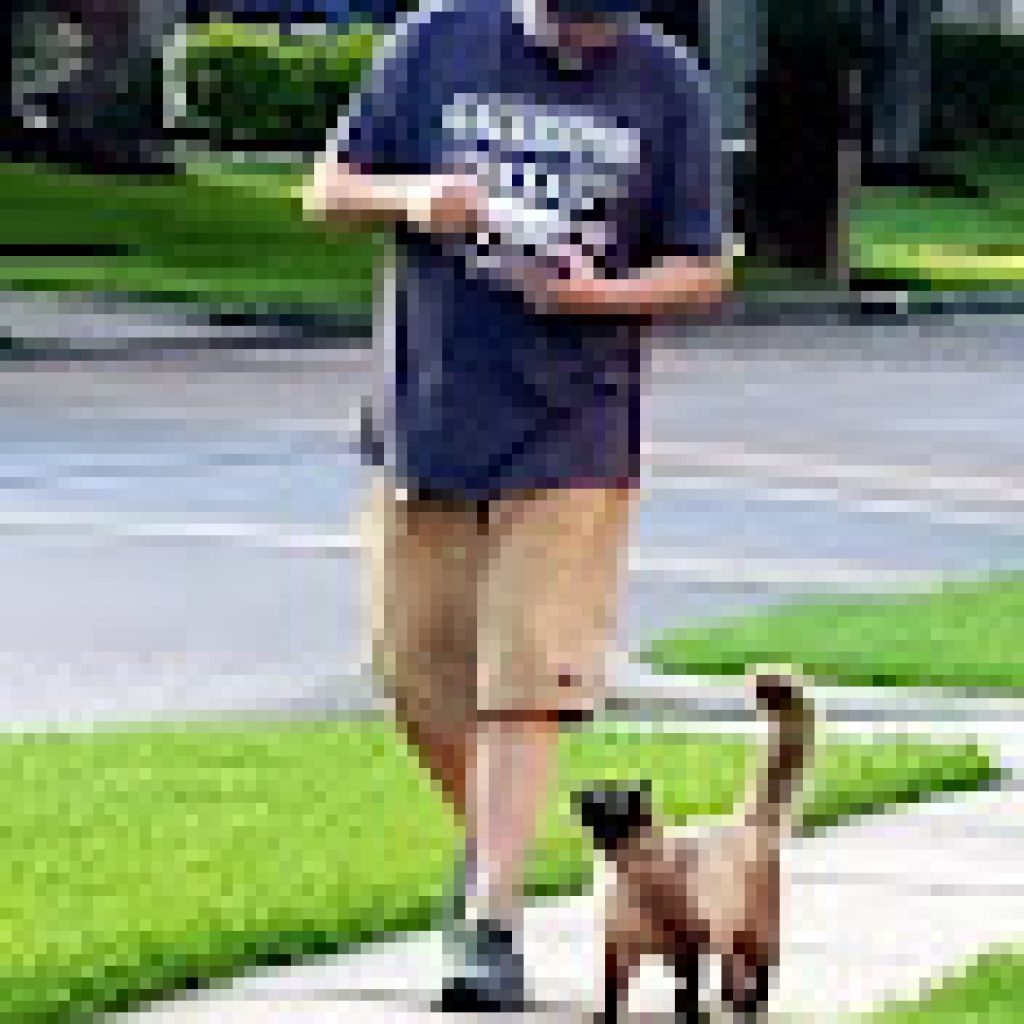 Donald Hughes hosts his own YouTube Channel of the same name. He regularly hosts live "tailgate" style shows and is the YouTube Pipe Community's resident Cigar Expert. https://www.youtube.com/channel/UCMq-LkP7bO-GIukYAw9oZSg/featured