Briar Report's 2020 Predictions
For the second time, we are sharring our predictions for the upcoming year. Last year we received such a big response that we had to do it again.

To get ready this year, the logical thing to do was to go back and look at our predictions from last year. That was a bad idea. It was a shock to find out that not one of our predictions had come true. What a disappointment that turned out to be. You might think the odds would be that we'd get at least one right. It was a sobering realization of just how inept our prognostication game really is. Or so it might seem.

Well, the New Year brings a clean slate. Last year was just practice. This year we decided to put our heads together and prove that our prophacy skills are up there with the best of them.
New Way of Doing Things

We also had a change in the way we made the predictions. Last year, If I remember correctly, alcohol was involved. This year we showed up at the Saturday Staff Meeting with our biggest pipes. The thought being that there would be less distractions from too much packing, tamping and lighting. We could all get ourselves situated and concentrate on the task at hand.

The goal was to come up with predictions that were not obvious, but felt the conditions might be just right in 2020 for them to come true. We think that we have achieved that goal quite well.

Now that the preliminaries are out of the way, let's get right into the Briar Report's Predictions for 2020.
The Official Predictions

1 ) There will be a silent coup attempt against Mayor Tant. The main focus will be an unfounded impeachment attempt citing gross abuse of a torch lighter. Untold amounts of money will be spent trying to smear him, but in the end they will find nothing.
2) There will finally be enough interested members in the YTPC to start a YTPC hockey league. The Canadian team, the Maple City Leafs will win the first ever Eddie Cup. Sponsored by The Pipe Nook.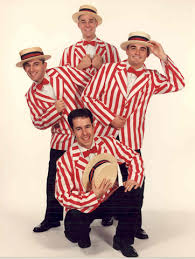 3) After rave reviews from his appearance on the brtv Public Access Channel, Aristocob will form his own Barbershop Quartet. Aristocob and the Country Gentlemen will enter the Barbershop Harmony Society's annual competition and will come in second. Loosing out in the Championship round to an established group from Metairie, LA.
4) Herferville, OH will be the next municipality to raise the smoking age to 21. Although the proposal to ban flavored tobacco products will be shot down in a unanimous vote on the floor of the town council.
5) In an upcoming Briar Blues challenge, Mike will throw the biggest curve of all time when he sends everyone the clipping from his lawn mower.
6) Wharfe Valley Boy incorporates a cooking show into his YTPC channel. In the first episode he will make Beef Wellington then review Cornell & Diehl's London Fog.
7) [ This prediction has been deleted by the Briar Report Legal Council.]
8) When law and order breaks down, Professor Walker will be called back into service and will have to put on the Blues again. But instead of quelling rioters, he ends up chalking tires in front of Maxine Water's house where parking is limited to two hours.
9) New York raises the smoking age to 99 years old. One of the unintended consequences is Briar Report's Bill Needleman makes a fortune selling cigars outside the local OTB.
10) Maui's Doghouse in Wildwood, NJ becomes the new home of the National Hot Dog eating contest when a scandal erupts at Nathan's at Coney Island. Taking advantage of the venue change, inferior Nathan hot dogs are replaced with Sahlen's, undoubtly the best hot dog in the world. The first Maui Dog Championship will be won by Matt Stonie. Joey Chestnut will finish 5th. 
Let's See How We Do
Not a bad list if I do say so myself. I have afeeling that this time next year we are going to be looking back on this and be quite pleased with ourselves. My final prediction is that a lot of these are going to come true and our clairvoyant abilities will finally be proven to the world.