Briar Report Magazine Event Calendar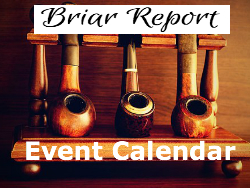 With so much positive feedback from the launch of our new magazine, we wanted to say thank you to everyone who jumped onboard and is helping us to see what works and what doesn't.
One of the most popular features is the Event Calendar. This resource is going to be for anyone to promote their event. We see it as a way for YouTube channels to be able to get the word out when they are having a contest or just going live. So often you don't even know someone held a live event until after the fact, this should help solve that problem. If your pipe club has a meeting or a fundraiser, or even if you're having a Christmas party and you want to let the world know, we'll get it added.
You will notice that if you click on an event it takes you to a post that has additional information including a link to the event's host. Clicking on "view all events" will take you to our calendar which has an overview to the entire calendar not just the next half dozen events coming up.
For now, to get any event added, email us at editor@briarreport.com. Include in your email the name of the event, date and time (along with time zone) and a URL that you would like us to link to. For example if you're having a Live Chat on your YouTube page you may want us to link to your YouTube's home page.
In the future we hope to just have a pop-up form on the main page where you would just be able to fill it out yourself, pending review of course, and to have a brief description of the event. You would be able to include requirements for a VR and list of prizes. But making those changes takes time and knowledge of the web code that is beyond this editors grasp right now. We will get our resident geek to get to work on it as soon as he's finished with a couple other projects we have him on.
We hope this becomes a valuable tool for everyone. Hopefully you will take full advantage of it and don't hesitate to add your event. This resource is for all of you.
Briar Report Editorial Staff
editor@briarreport.com