Briar Pack Challenge No 2
Starting with challenge number two, the Briar Blues Briar Pack challenges will become viewer interactive. What does that mean? It means that we are going to be holding contests, drawings and even challenges just for the viewers.
What you are not going to see is one blend after another going through the group, with them trying to guess what it is. Sure there will be some of that, but that's what everyone does. The Briar Pack isn't everyone.
What Kind of Challenges?
There is no telling what each challenge is going to be. They will be unique for each round the Briar Pack faces. It might be as simple as entering a drawing. Possibly drawings held for people who are active in the comments section of the Briar Pack videos (on the Public Access Channel and on Briar Blues). There might even be a time when you are asked to guess a blend using just the descriptions from Briar Pack videos. Now that would be a challenge!
Unlike the Briar Pack which is group already chosen and put into place, entering into these challenges is open to anyone and everyone. If there are any special rules or instructions they will be laid out in each individual challenge.
The Loot
We know what you're thinking. What kind of loot can I rake in if I win one of these challenges? That too will vary and be dependent on the difficulty of the challenge. There might be a challenge that is very difficult and we might not even have a winner. In that case the prize offered might be more valuable than the normal offering. You never know.
Where to Find Out What the Challenge Is
This first one we'll present it in this post, being simple enough. In the future watch out for details in the Briar Blues videos on brtv where he will lay out not only the challenge for the Briar Pack, but the challenge for the viewers as well. You will also be able to read what the latest challenge is in the Briar Report Magazine on www.briarreport.org. You may recognize that website since it's the one you are on now.
Judging These Challenges
The person drawing the winner or judging the challenge is going to be Mike from Briar Blues or his designated representative. The challenges are real. The rulings are final. You are about to enter the courtroom of Judge . . . oh, never mind. What Mike says goes.
Keep in mind pulling all this together is not exactly easy (or cheap) so everyone will have to understand. For example if the challenge is going to be a drawing (like this first one will be) it is impractical to have a live drawing and show everyone's name and all that. It's nice to be able to do it, but we are not going to set any restrictive precedence. Everything will be fair and if you doubt it, we are sorry for you.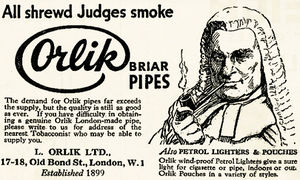 Round 2 Challenge
It's actually the first viewer challenge, but it's for round two. We wanted to make this as simple as possible so people can get a hang of where to go and what to look for. The Briar Pack has eight (8) people in it, their videos can be seen on the brtv Public Access Channel. Just click on the Public Access Television icon. The videos that explain the challenges and reveal the blends are posted on the Briar Blues Channel. Same page, but select Briar Blues.
You will notice that there are four gentlemen and four ladies in the Briar Pack. For this challenge they will be divided into two groups, the guys and the gals. They have already been sent the exact same pipe tobacco for round two. The name of the blend is unknown to them. They will try the tobacco, describe it the best they can and even make a guess to what it is if they like. The judges will determine which team, as a whole, came closest to determining the identity of the blend. One of the teams will be declared the winner of the round.
The challenge for the viewer is to predict which team will win the challenge. You can pick either team by sending an email to editor@briarreport.com and in the subject line put;
Briar Pack Challenge 2 – Ladies
or
Briar Pack Challenge 2 – Gents
You can put guys or gals, just make sure it's in the subject line so we don't have to open every email to see your guess. It must contain "challenge 2" and your guess.
Don't send in another guess for the other team. ONLY 1 guess per person. If you send in two you will lose both entries. Don't try to fake us out using another email address either. We are on to that trick.
The Draw
We will have two lists and after Mike declares the winner he will use the appropriate list and randomly select one of the names.
The winner will receive a $25 gift card from Smokingpipes.com. A $25 value!
Deadline
A few days before Briar Blues puts out the reveal video we will cut off entries. Don't know the date yet, but anticipate that it will be in about two weeks, depending on how long it takes for everyone to get their videos done.
If you watch our Twitter feed we will give you plenty of warning when the deadline is approaching. If not you should put in your guess soon so you don't miss out.
The Future
As stated earlier, this is only the first of many viewer challenges. Not too tough since you really don't have to do anything. Going forward you may be asked to be more involved. You never know what to expect.
Good luck to everyone that enters and to the Briar Pack teams.
Side wagers are allowed.