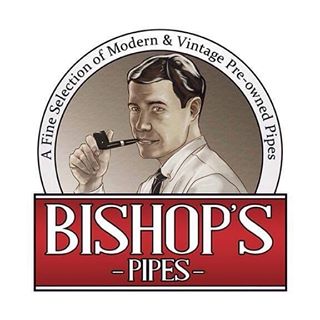 What is Bishop's Pipes?
Bishop's Pipes is a great place to look if you like Estate pipes and restored tobacco pipes. They have a fine selection of not only modern but vintage pre-owned pipes as well.
Mike from Bishop's Pipes talks about what Bishop's Pipes is and how they got started.
"Bishop's Pipes is a company that started in April 2018. I had always had an interest in pipes & pipe smoking over the years. In 2017, my wife's grandfather passed away and I was asked by my mother-in-law if I wanted his pipe collection to which I quickly said yes.
I sorted through the 100 or so various pipes and saw a few that grabbed my attention and it sparked something in me that made me want to clean them up and give them a try for myself. Something about those old pipes from decades ago really interested me.
I conducted some online research on what it would take to clean them up and was surprised at how nice they looked once they were restored. I smoked out of several of them and really became nostalgic at how I was able to bring these old pipes back to life and to put them to good use again. Around this time, my wife was in-between jobs so money was tight. Rather than seek a part time job in the evening, I decided to make a small investment and purchase a pipe collection that I had seen for sale on the internet. My plan was to restore them and attempt to sell them to pipe smokers via online forums and Facebook. Sure enough, the pipes sold rather quickly and the proceeds were used to purchase more pipes. Fast forward to almost 2 years later, and Bishop's Pipes is a living and breathing business!"
What can you expect from Bishop's Pipes?
Affordable ultra competitive prices
Quality work and a clean restored pipes
Superb customer service & satisfaction
An eclectic variety of pipes of all shapes, sizes, and brands
How To Contact Bishop's Pipes
The best way to see what Bishop's has to offer and to contact them is via Bishop's Facebook Page. You can easily keep in touch with them there. https://www.facebook.com/Bishopspipes/
To see the latest pipes, Instagram is also a great place. Look for them at bishopspipes. https://www.instagram.com/bishopspipes/
Free Pipe Give Away
Jean Panzer from the YouTube channel with the same name, hosts the Bishop's Pipe give away each month.
How it works is, on the last Saturday of each month Jean presents three pipes hand selected by Mike from Bishop's Pipes to be given away.
If you are a subscriber to the Jean Panzer YouTube channel and are of legal smoking age where you live you may enter the drawing for those pipes. Just leave a comment in that month's video saying "I'm in" and you are entered.
Two weeks later on Friday, Jean holds the drawing. The pipes will be sent directly to the winners from Bishop's Pipes.
The whole process starts all over the next month when you can enter and try to win one of the next three pipes.
Contact
If you want to send an email to Bishop's Pipes please use this email address mcurcio77@gmail.com.