BRTV Bistro Mug
16 oz Bistro Glossy Coffee Mug
The mug is ceramic and has a wide body and large handle. It is imprinted with the BRTV logo both front and back.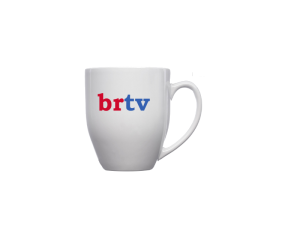 The mug is $20 and the shipping is included*.
Supplies are limited.
*The inclusive price for shipping only applies to orders within the United States. If you live outside that area please contact us before ordering and we will calculate the shipping rate. editor@briarreport.com
Also if you want to order more than one mug contact us first as well. Adding to your order will most likely not increase the cost of shipping that much. We will look to see if we can get you a better rate. Contact us and find out BEFORE ordering.