Article In The Spectator Casts Good Light On Pipe Smoking
Ghost Cob made a big announcement yesterday. He picked up a new sponsor on the Ghost Cob YouTube channel, Ruediger Hats. Ruediger produces well-made hats from high quality 100% Australian wool and natural or handmade straw material. They go through more than 74 steps prior to being sold, and have many quality inspections before the hat products leave the factory. 
Shawn unboxed a very cool wide brimmed fedora during the announcement which looks great on him. He also gave out a special Ghost Cob coupon code for 20% off any purchase. Use GHOSTCOB20 at checkout. 
As many may know, I'm a big hat person. I love to wear them even at home. No ball caps. I know some will get mad at me for saying so, but caps are for boys, hats are for men. In the summer I mostly sport a straw hat and in the summer a beaver felt fedora. The exception is the flat Cap, but I like the Newsboy style. That's just a personal thing and many different hats looks good on different people.
Ruediger has a pretty good selection and I'm sure there is at least one that will catch your eye. Hit the link above and check them out. 
The French Connection
The closest I get to France is French Press Coffee. I've been there before, but have no desire to go back. Nothing agains the country, I'm just fine where I'm at. As mentioned in yesterday's Blob, Flat Cap Piper & Lady Fire have no such hangups and hopped on a jet and spent a weekend there.
Of course, they made a video that will be coming out tomorrow April 13th at 2:30 pm Eastern. I can't wait.
The Pipes Are Calling
There was a delightful article in The Spectator yesterday about pipe smoking. Really, you say. I know, it's odd to see that. If you look on our news site you have one nice article or story about pipe smoking, flanked by two rotten ones. Governors piling on taxes or banning tobacco. Mr. Robin Ashenden is a famous writer, founder and former editor of the Central and Eastern European London Review. No slouch is he when it comes to putting thought down on paper.
The article was not what I expected, that's for sure. It was a wonderful read and is worth your time. Surprisingly, he mentions a few YouTube channels known for pipe smoking. I'm sure you could guess which ones. The funny thing is how he captures the spirit of finding yourself watching someone open a box. Doesn't make sense, but you find yourself doing it. 
I have the link to it on the news site and encourage all of you to share it with others. It's nice to see a main stream author like Mr. Ashenden write about pipe smoking. 
Big Sale on Peterson Tobacco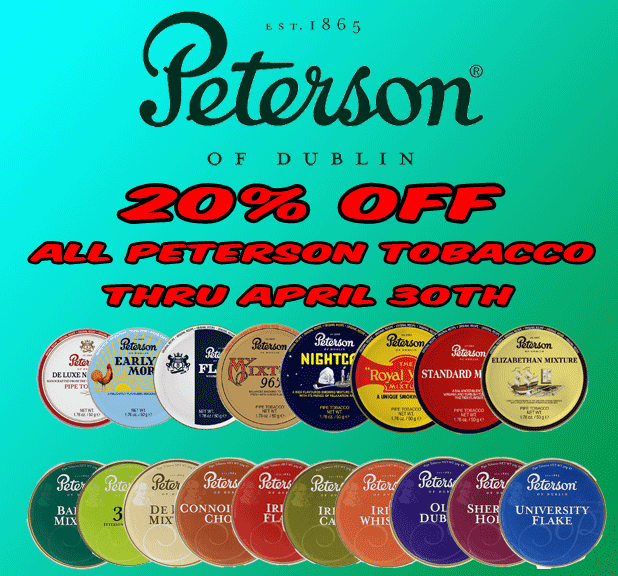 Iwan Ries & Co. is having a 20% off sale on all Peterson Tobacco. The sale runs from now until April 30th. That is right up my alley, especially since my favorite blend tends to be a little more expensive than usual. Saving 20% is like buying four and getting the fifth one free. 
I would give you a link to Iwan Ries, but I've joked around so much saying no link for SmokingPipes, that it wouldn't be fair to them to give out links to other non-advertisers. I'm sure you can easily find it. 
---
Speaking of advertisers, Tobacco Pipes Japan is the place to go for the best artisan pipes you can find in the world. In the newsletter I linked to an amazing Blowfish design from Satoshi Kosaka, Honey Blowfish. What a pipe!!
And that's only one of many you can find on Tobacco Pipes Japan. Hit the image below and look around. Even if you don't buy something, it's like looking through a museum.