Are Pipe Tobacco Reviews Useful?
Happy Anniversary to Mr. Paladin Piper's who celebrated his 5 year anniversary on YouTube this past week. Wow, does time fly. Tempus Fugit, as we say in the biz. It's the motto of the National Association of Watch & Clock Collectors for those interested. Nobody?
OK, this is a pipe smoking blob, I get it. Not only do I get it, I'm totally fine with it. Love it, in fact. One of the things mentioned in today's wildly popular, and growing by leaps and bounds, newsletter is the influx of new people into pipe smoking. Hobby, fine art, pastime, take your pick.
If you run across any of those chaps, be sure to point them in the right direction. I'm sure you all have your favorite YouTube channels and such. With a little humility, I sure hope you would point them to the biggest source of pipe smoking news and information on the internet, and maybe even that before mentioned newsletter. And if reading Blobs is their thing, well!
Sure would appreciate it.
Are Pipe Tobacco Reviews Useful?
Watching the latest Pipe Cottage video and the subject of blend/pipe reviews came up. Dr. Harrelson said that they are just subjective and might not be valuable. While he is correct that those things are subjective, it does not mean they have no, or little value. Maybe in the grand scheme of things, but out of ten zillion videos that are uploaded each day, I'm sure it's nowhere near the bottom of the value scale. Have you looked around YouTube?
What I get out of such videos is the fact that I don't try hardly as many new blends as I used to. My cellar is well stocked with the things I know I like and building on that is what's important to me. Buying every new blend that comes down the pike is not something that interests me. Not anymore.
The danger of that, if you can call it that, is I may pass over something that I could potentially really love. But like Dr. Harrelson states, one person might love a blend while another might not. But if you know the tastes of a reviewer and they match your own, when they really like something there is a good chance you will as well.
Finding the right match can be extremely helpful. When Mike from Briar Blues reviewed Cobblestone Virginia Plug I knew it was something I had to get. His tastes are parallel to my own, with the exception that I would put DNR ahead of Escudo and he would reverse that. By the way, he was right about Cobblestone.
Even reviewers who's tastes are the opposite of my own, I'm glad they still make the videos because there are people out there that will find it useful, even if it's not me, and I appreciate that.
The gentleman from Kentucky made a good point, but I stand by my enjoyment of such videos. He was a tad agitated at the time, so he might walk that back a few steps.
---
The Man With The Pipes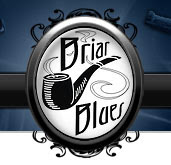 It just so happens that Briar Blues is the sponsor of today's Blob. Don't get sidetracked on his pipe tobacco reviewing skills. The pipes he carries at Briar Blues is where it's at. The kind of pipes that are right in the sweet spot. Higher than what one might consider "middle of the road" so they are perfect for a growing collection.
Neither cheap or so high end that you are priced right out. The foundation of the serious pipe collection. Castello, Radice, Asikyan, Don Carlos, Ser Japoco. I could keep on going.
January is Ashton Month at Briar Blues and if you use code Ash15 at checkout you get 15% off all Ashton pipes.
Check out Briar Blues and if you're not already, consider joining the Insider's Club so you don't have to rely on me to find out what's new over there.
---
Who Names These Blends?
Another guy who's reviews I cherish is Mr. Dale Piper. He just did one on Watch City Cigar's Mistletoe Jam.
Too late for my Christmas season, but a delight to watch anyway.
New Size For the Series R
Did you see that the La Gloria Cubana Series R is getting a monster in it's lineup? You may or may not know, that is my favorite cigar. In the last year or so, I've been mostly buying Lanceros which the series R does not come in that size. I stick pretty much with the Churchills or Robustos. But a 7/70! That I gotta try. The MSRP on that is going to be $12.29 which is pretty good. I think I pay a hair less than $10 for the Churchills. [please note how the dollar sign goes before the number]
One day when STG is schmoozing me to come on board with the Briar Report media group, I'm going to snag me a bunch of those sticks when I'm in their corporate offices.