Another Stay Lit Cigar Review & Some Codgers
You don't normally see a weekend Blob, but i've been so light lately that I have to do them when I can. Plus weekends don't mean much to me. I had to look up and see what day it was. Could be Wednesday for all I know.
Ed The Armchair Piper drew the winners in his 3rd Anniversary Give Away. Congratulations to the winners and to Mr. Ed for the milestone. What would the YTPC be without The Armchair Piper? Nowhere, he's the best.
Yesterday on his live show, Eddie from The Pipe Nook asked if anyone would be interested in him carrying custom pipes. Like a Pipe Nook Pipe of the Year, or a 10th anniversary. Something like that. Personally, I think that's a fantastic idea. I hope he does it. If you agree, let him know. The more people who pipe up (pun intended) the better chance there will be that he does it.
He also mentioned that the Phoenix Pipe line is being phased out. They are actually letting some shapes go as they sell out and if there's enough rod stock to make a few new shapes you might see a limited run of those. But overall, if you have been thinking about adding one to your collection, you might want to do so before it's too late.
Flat Cap's Stogie Review This Morning
In the last Blob, I mentioned Flat Cap Piper's cigar video that is coming out today, but didn't have the link at the time. Well, here it is. They come on at 9 am today, Saturday April 1st.
Only the second episode and already very popular. If you can watch it live, its the best way. Otherwise try to watch later in the day.
Cigar guys might not agree, but reviewing a cigar is much harder because the taste profile is much smaller. In other words, one tastes a lot closer to another, unlike pipe tobacco that has a wider range. Yell at me if you want, but that's my opinion. Not saying I don't like cigars, because I do like them, but they don't compare with pipe tobacco.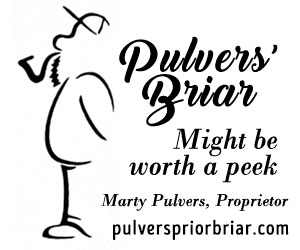 Statler and Waldorf
A new episode of YTPC Theater came out yesterday afternoon and it seems that Alfie and Reggie were trying to sneak a pipe in the basement and were busted by Ruby. What a couple of sad sacks. Who is afraid of an old lady puppet? I did notice something about Alfie while I was watching. While you don't see many pipe smoking puppets, he's not a sock puppet is he?, I did think he probably never experiences tongue bite.
That might be one advantage he has over the rest of us. Actually, to be honest, I'm not exactly sure he has a tongue. I can see there's something in there when he's talking but it seems kind of flat and thin. Probably one of Ruby's coasters glued in there.
He doesn't smoke too fast so he probably doesn't have to worry in the first place, but if I were him I'd be awfully careful with the matches. If you know what I mean.
By the way, don't tell Ruby I called her an old lady. It was just a phrase I used. She's sweet, and there's no reason to get her mad. Especially at me.
If you're interested, there's also a new video out from Old Man Things. He doesn't hide in the basement, he hides in the shed.
Platinum
In the latest Pipes & Cigars ad that came out. Not the first one today, the 14th one yesterday, they announced the new Captain Black Platinum. That's not fair. I'm not really and aromatic smoker and even less so on the codger blends. But I have smoked my share of CB in my time and I'm tempted to check this out. Probably only smoke one bowl, but I'm interested to see what they did to it.
The advertising states: Captain Black is the number one packaged pipe tobacco in the US and has been for many years, so when they have a big announcement, it's a major deal for pipe enthusiasts everywhere, and this one is huge! Get ready for Captain Black Platinum.
This blend of naturally sweet Virginias and rich Burleys is finished with a top note that's pleasant, but not cloying, and the aroma is smooth and enjoyable. The flavor is mellow enough to enjoy at any time of day and continues Captain Black's position as the premier aromatic brand of pipe tobaccos.
We'll see if they have it locally. If not I'll see what some other codgers have to say.
Puzzle
Speaking of codgers, the new Pipe Puzzle is out and it's Codger Blend themed. Matthew did a great job on this one, but he isn't quite codgery enough. You can tell he's got some codger in him, but no where near enough for this month's puzzle. He enlisted Mr. Paladin Piper to lend a hand. When it comes to codger know-how he's the guy.
They did a pretty good job on the Word Search puzzle and I didn't realize there were so many codger blends until I saw them all listed.
You know what would be a great challenge? Smoke all those blends in one year. I wouldn't want to buy them all, but if you had a group of people and they all bought a few and shared , it might be possible. I can hear Pat the Paladin Piper now, "what an easy challenge, I do it all the time."
That's it for the weekend Blob. If I get any extra time I have to start on the newsletter. They don't write themselves, you know.