Announcement From The Bothy
The Briar Bothy announced an upcoming give away yesterday that will include a Castello pipe. The news release is printed in it's entirety below.
"Castello-enthusiasts, you might want to pay attention to this one. In order to drive up subscriptions so I can do live shows, I am giving away 3 brand new pipes, one of which is a fairly unique Castello. Subscribe to my YT channel and keep your ears open for GAW-related news!"
We will certainly keep informed of any updates.
Another announcement/correction type thing is that I left the new show from Papa Bear's Nook off the weekly live show schedule. We did mention it last week, and I think it was even in the newsletter as a stand alone story, but I didn't carry it over for some reason. This is going to be a weekly show. Fridays at midnight so look for it on the calendar as a Saturday listing. I'll get that posted as soon as I have time. Friday night pipe tobacco and colognes, a subject that might interest you. And if not, stop by anyway just for the chat.
Uno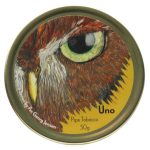 You have probably seen the new Sutliff blend Uno by now available at Smokingpipes. Not sure if I want to get any. No doubt I'm intrigued. Looks a little on the strong side from what I've been smoking lately, but that never stopped me before. The are two problems, if I like it, then I have to immediately reorder and get a bunch because they are doing that limited release thing again. The other problem is I never just order a tin of something. As long as an order is coming, I start cramming everything under the sun in the cart and I don't want to spend the money right now.
On the fence on this one, maybe I'll wait for the first few reviews to come out.
Here's what Smokingpipes says about this new series; The Birds of a Feather series is a limited-edition, mini-series crafted by Sutliff and developed by Danish master blender Per Jensen. All blends in the line are characterized by the inclusion of select rare tobaccos, including Rustica, St. James Perique, Katerini Perique, and other specially sourced varietals, with each mixture highlighting a specific leaf or pairing of leaves for unmatched flavor and body. Every tin in the collection is adorned with avian-inspired artwork, giving flight to the Birds of a Feather theme.
If I had to guess, Sutliff and Smokingpipes make a good pair and they wouldn't do something unless it was first class. Both great companies. I'll bet it's worth a shot.
Should One Stick To The Topic?
Some people feel that if you're going to have a channel for something specific like pipe smoking you should stick to the subject. If you want to do something else you could start another channel. there is some logic there, but I don't think most people would classify their content under a single subject in the first place.
People like to talk about a million different things and I often find myself engrossed about something I previously had no interest in. What I do appreciate is that the titles of the video are descriptive, or the thumbnails are accurate enough so I know what to expect.
Don't title a video saying you are doing a pipe tobacco pairing between Admiral's Choice Cherry Cavendish and 7-eleven jalapeno roller dogs, then in the actual video you talk about the woodchuck that got under your shed. That's a blatant bait & switch right there.
Now if I see a YTPC channel with food on the thumbnail, I'm going to be clicking on that for sure. Which might be the opposite point I'm trying to make. But what I'm saying is I don't care if it's a "pipe channel" if you want to talk about another subject, give me a clue so I can decide. Probably still watch it, but I might save it for later.
What's For Dinner?
Yes I watched Hiking Pipes make Chicken Cordon Bleu. Yes now I want it. I'm weak, what can I tell you? Follow his example. Click bait or not, he was honest and I got exactly what I expected. I appreciate that.
Speaking of food (oh no, I shouldn't have gotten on that subject. Thanks Craig!) just finishing making my way through the Briar Blues cooking contest from last year. All the stuff I'm not allow to have. I figured that making these recipes would be OK if I spread it out. Only making one every couple of months. So after I get my latest A1c number and it's good, I go ahead and make the next one on the list.
Took me quite awhile to make my way through it, but there weren't that many entries. Not the most participated in contest, but ended up being good for me. People did a pretty good job and entered some great recipes.
I need to take a break for a little while.