An Essay on Pipes From The Master
If I wasn't already excited to listen to the final episodes of County Squire Radio, I really am now. Over the past week, there have been some great videos from people who attended the live recordings and party that was held at The Country Squire. The Pipe Cottage with The Spurgeon Piper and Eddie Gray, and The Pipe Nook with Mr. Gray himself, are the one's I'm talking about.
Their descriptions alone make me wish I would have gone to that event. The interesting part, aside from what went on down there is a hint of possibly them having events in the future. Maybe on the level of a Pipe Show, or just a get together of pipe smokers. Either would be fantastic. You can never have too many of  those, and can you even imagine if The Country Squire hosted something like that?
On The Cusp
If you hit the link to The Pipe Nook's video you will have noticed he is a hair width away from 10,000 subscribers. Hopefully if you were not a subscriber you are now. He also mentioned it in the video. I'm talking a dozen or two away. If anyone deserves to have a pipe smoking channel with over 10k subs, The Pipe Nook is right at the top of the list.
Although Briar Blues should also be there. He's also close, but not as close as The Pipe Nook. If you're reading this I'll assume you are subscribed to both.
Armchair Piper, Ed is very close to 1,000 subscribers and he's hosting an anniversary give away that we talked about on, I believe, Tuesday. All the rules are listed on that post and given in Ed's video.
I'm quite far away from 1,000 subscribers myself and I don't deserve a single one of them. Maybe one of these days I'll put something up just for the fun of it.
JcPipesNKnives announced the winner of a CRKT Fulcrum knife. A sort of impromptu give away that he held this past week. He didn't make a major announcement for the give away, so if you want to catch any more of those in the future it's best to keep up with him.
Essay
Mr. Malcolm Guite, I never know which title to use for him. Dr., Fr., Mr., Rev., he's so accomplished I feel that what ever I use it's inadequate. Anyway he read an essay that he had written about pipes that was published as part of the book Ordinary Saints. an anthology from Square  Halo.
What a  wonderful piece. Something you should really read or listen to him read. Of course, you should be smoking a pipe while you do.
He was smoking DeLuxe Navy Rolls while he read his essay, and so was I when I listened. The perfect experience in my opinion.
---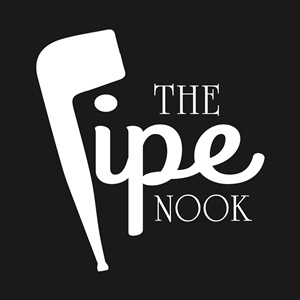 ---
New Series On Pipe Makers
The series St. David Pipes did on Famous Pipe Smokers has come to an end. No fear, he's picking right up with a new series on Pipe Makers. If it's even close to the detail and history as the last series, we are in for a big treat. I can't wait for him to start putting those out. I'm sure they take a lot of time to research and put together. The work really shows.
As I write this, the only one he has out is an episode about Savinelli. Although, there may be another by the time you read this. He dropped the episodes in the previous series pretty quickly. Just checked, Peterson is on the way.
I thought I saw another one yesterday on an Artisan pipe maker, but I can't find it now.
Tobacco Regs
The FDA put out a proposed change to it's rules on tobacco manufacturing. If you read through it, the whole thing seems like a way to make it easier for the lazy bums at the FDA to do their jobs. They make it sound like it's for health reasons and things like that, but it's just another way for them to come down on companies for "violations".
Power sure does make people stupid. Once they get a taste for it, they can never get enough. It seems perfectly natural for those that have never produced a thing themselves their whole lives. It's actually kind of sickening.
Summery
Here is a summery of what the proposals intend to do;
establishing tobacco product design and development controls;
ensuring that finished and bulk tobacco products are manufactured according to established specifications;
minimizing the manufacture and distribution of tobacco products that don't meet specifications;
requiring manufacturers to take appropriate measures to prevent contamination of tobacco products;
requiring investigation and identification of products that don't meet specifications to institute appropriate corrective actions, such as a recall; and
establishing the ability to trace all components or parts, ingredients, additives and materials, as well as each batch of finished or bulk tobacco product, to aid in investigations of those that don't meet specifications. 
Sounds pretty good, but that's as far as people will read. Until the day when the brown shirts show up and start doing their inspections. It's such a farce. I've seen government workers in action first hand. Don't want to give you any particulars for legal reasons, but let me just say they are corrupt.
They will go to the tobacco plant and have themselves a nice little breakfast spread while they "review paperwork". Then they will start poking around, not knowing what they are looking at for an hour or two. Then lunch time when the administration at the facility will take them out and "take care of business". So corrupt. I hate it.
Anyway, that's your government for you. Working so hard to protect you. 80% of them should be in jail as far as I'm concerned.
Good thing this is on the B Side so most people won't read it.