Academy of Pipe Smoking Arts & Sciences
The list of things I need to do grows but I get distracted so easily. Watching Simon show off a new Lumberman, beautiful. On my list was to email the ASMR Piper, aka The Briar Bothy, aka Mark V.V., aka Mini Padre. I wanted to tease him about not making a video after he said last month that he was going to get on it. Good thing I didn't because he and Padre Piper put out a new video that I saw early this morning. Yesterday by the time you read this. He would have made me look foolish, as if I didn't need any help.
Love to see the tag-team videos since we get to catch up with two channels with just one video. In that video they were joking around about the name of the Pipe Week Awards, Padre came up with the name Academy of Pipe Smokers. Little did he know that the Awards actually come from a very similar "official" organization. They would not have know that since I don't believe either one of them has actually won an award themselves. ACMR Piper did get one vote, but the ballot was spoiled so it wasn't counted. Unlike some elections, this one doesn't allow cheating.
On the bottom of each award that the winners get is the name of the organization. Right below where I sign it, IN INK. Here is an image from an actual award (this one was from the Curmudgeon Piper's Funniest YTPC Channel Award)

Only members of the Academy vote in those awards.
So, Padre and Mark were more right than they even knew.
Sharing Content
The morons at YouTube, I can call them that because they would never read this, and they are morons, are treating pipe smokers just shamefully. Have you noticed that videos are being restricted? People that used to show up in my feed all the time no longer are. A perfect example would be Mr. J. Mouton. It's one of the reasons I've been sharing content from some of the artisans like him. It's just not fair. Don't give me anything about the rules and all that, they aren't doing anything wrong. I see people with stuff to sell all over YouTube. Running their businesses right on their platform.
Some of these carvers use YouTube just to show what they have coming out of their shops. What's wrong with that? If you don't want to buy a pipe or have any interest, don't click on it. But why restrict the videos?
I try to share things here and there, but it's only a drop in the ocean. It's up to us to help spread the word if you have any interest in them succeeding or you appreciate their work. I highly encourage you to mention and/or share videos if you have any kind of presence of your own. Just mentioning something like "London Calling with Simon put out a video showing a few new pipes, you should check it out". Include links if you want but at least help get the word out.
Simon, Professor Walker, All Briar'd Up, Asikyan, J. Mouton just to name a few. If you see something that I missed, let me know I'll do anything I can to help out.
You'll notice the photo I used for the image of today's Blob is a J. Mouton pipe. One with fossilized Mammoth Ivory. I have a very similar Mouton pipe just like it and can't say enough about it. I love it as much as any other pipe I own, it's just magnificent. YouTube and other internet slobs might not appreciate it, but I can't say enough about it.
The only way this hobby is going to keep going is for us to do some of the leg work ourselves. I know guys like that appreciate the mention, even if you're not going to buy one yourself.
Available Pipes
In that light, here are a few of the pipes J. Mouton just made videos about. There were several, but I'll just pick out a few that caught my eye.
A Br'er Series Fat Egg with horn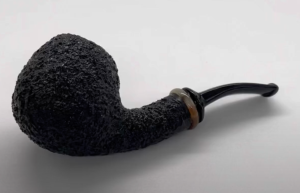 Oval Shank Billiard with Fossilized Whale Spine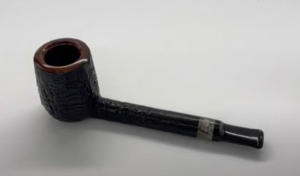 Bushido Series Shield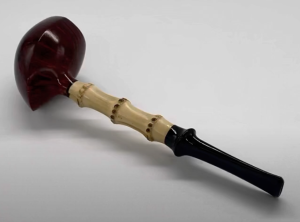 You can click on each photo to see more about that particular pipe. In the case of J. Mouton pipes head over to Cup O' Joes or Tobaccopipes.com to purchase one. Or you could always email Mr. Mouton.
Last But Not Least
Smoke Rings Around The World is exactly one week away. Is Dr. Bo Gust able to produce the one ring that rules them all? We'll find out next week. Not only have I been practicing, I've been attempting to do the smoke ring within a smoke ring trick. So far, impossible. I can't imagine my reaction if I were ever to accomplish it. Then be able to reproduce it at will. That would be the greatest. Baby steps.
Here is the official description if you don't know what it's all about.
On Thursday Sept 15th everyone will do smoke rings that day (one week before Hobbit Day) for "Smoke Rings around the World". No prize, no challenge, just for fun and just the thought that Smoke Rings will be smoked around the world that day. It is a fun event with no reason for it at all. Greg "the Tunnel Take", Dr. Bo Gust, "the Pipe Whisperer" and hopefully others will do videos on how to make Smoke Rings to be posted before the 15th. Martin from "Over A Pipe Live" will be doing something special in his live that night, so be on the lookout. Plus, maybe others, but those are still in the works. 
Like last year if people want to record their attempt and upload to YouTube, as "unlisted" and in MP4 format, Armchair Piper will make a little video about smoke rings smoked that day for later release or they can put up their own video.