246 Years – It's Been A Pretty Good Run
The plan was to not Blob today because of the holiday, but the newsletter is coming out and many people come to the Blob from that. I would hate to have nothing for them. There are a few timely items in the newsletter that should not be overlooked. Eric The Blue Collar Pipe Smoker's annual Independence Day history lesson came out today. That is a must watch video as I've ever seen. They are fantastic. This year is about General George Washington. I'm writing this the night before and I just can't wait.
Also, today we are publishing the list generated from Yardism's Question of the Week, #9. He wanted people to recommend three books they think other people would like. There were quite a few replies and we took them and published them all in one place. There are some really good books on that list and some that are interesting and worth looking into. Here is a link for you. I called it the Summer Book Club because I didn't have a better name to use.
Eric The Blue Collar Historian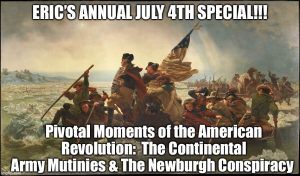 Independence Day is the day I look forward to because Eric The Blue Collar Pipe Smokers puts out his 4th of July video. Do I like them more than his his Golden Age of Pipe Smoking videos. That's a tough call – maybe. As has been the case in the past, I'm familiar with the stories he tells, but he always throws a tidbit in there that I was unaware of, or comes at it from a different angle that makes me really think.
This year the subject is General Washington and I'm very excited. There are a few things I really look forward to each year on the 4th. Hotdogs with my Pappy's hotdog sauce. Telling people not to blow their fingers off. Yardism's reading of the Declaration of Independence and most of all Eric's annual video. Well, after the hotdogs.
Remembering LaDon
One other item I'd like to highlight from the newsletter is the tribute video Peter Piper NYC made. It's the one year anniversary of the passing of Mr. LaDon Mott. His son Mottzilla is having a give away as a memorial, and a lot of replies have already been made. It was very nice of Peter to make such a touching video. Take a look at it and head over to Mottzilla and check out the give away.
Canada Day
While we are several days past, I'd like to wish all our neighbour's to the north (the extra u is for you) a Happy Canada Day. I know it's come and gone, but I usually like to make a point of it on Twitter. Since I'm on a Twitter vacation you won't find me there and I forgot to put it in the Blob on Friday. It's the price I pay for doing these a day ahead. I have to actually think ahead.
I don't know if you eat hotdogs on Canada Day or watch Eric the Blue Collar Pipe Smoker, or even blow your fingers off, but they are great traditions here that you might consider adopting. Maybe you can get one of your Canadian YTPC members to make a video about the Battle of Quebec. When you successfully held off a much superior invading force with strong fortifications and a willingness to stick it out. Even though you were protecting the rat British forces that were fighting the Patriots.
But now all these years later you are safe from having to look at your neighbour's car in front of his garage and be assured that the French part of the signs are bigger than the English parts.
So happy holiday to everyone whether you're American or Canadian. What? Canadian's are Americans too, when did that happen?
Sorry British readers, this is our day, you can make fun of us on the Queen's Birthday. Canadian's have the best of both worlds.