Join Flat Cap and Lady Fire as they give their first impression on 13 blends with a Christmas theme. They will give their ratings on Room Note and Flavor.
At the end of each video each will give it either a thumbs up or a thumbs down for a maximum rating of 2 thumbs up.
Link to the Flat Cap Piper YouTube Channel.
Schedule

Starting on Sunday December 6th and appearing each day at noon time until December 18th. The Blend Schedule is as follows:

Dec 6th Sutliff Cinnamon Delight
Dec 7th C &D Jolly Old St Nicholas
Dec 8th Hearth &Home Slow-Aged First Snow
Dec 9th Sutliff Frosty Mint
Dec 10th Match Holiday Mixture
Dec 11th Hearth & Home Egg Nog Pipe
Dec 12th Boswell Christmas Cookie
Dec 13th C & D Golden Days of Yore
Dec 14th Norman Rockwell Santa's Surprise
Dec 15th C & D Corn Cob Pipe (and a button nose)
Dec 16th McClelland's Holiday Spirit
Dec 17th Sutliff Christmas Spice
Dec 18th McClelland's Christmas Cheer
Coquito
To get into the spirit of Christmas and the Flat Cap Piper and Lady Fire Christmas Blend videos, they have shared with you their wonderful recipe for Coquito.
You can mix yourself one and sit down while you watch the review videos.
Step by step video instructions can be found on Flat Cap Piper's channel.
Ingredients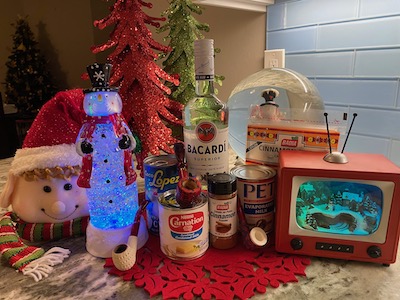 1 can of coconut cream
1 can of evaporated milk
1/2 teaspoon of cinnamon
1 can of condensed milk
1/2 cup of rum
Mix all ingredients in a bowl with a mixer then pour in a glass bottle to chill. Before serving shake the bottle well. Put a cinnamon stick on the cup to add a nice extra touch.
Enjoy